'Below Deck Med:' What Happened to João Franco's Alter Ego?
One reason João Franco hesitated to return to Below Deck Mediterranean was because of how he behaves when he has had too many cocktails.
Last season, he'd get amped on alcohol and lash out, usually at chief stew Hannah Ferrier. But he didn't stop at Ferrier. Franco would dish it out to anyone within close proximity. After his first wild blackout drunk night, Franco revealed to the crew that when he drinks he transforms into this caveman personality he not-so-lovingly referred to as alter ego, Jezebob.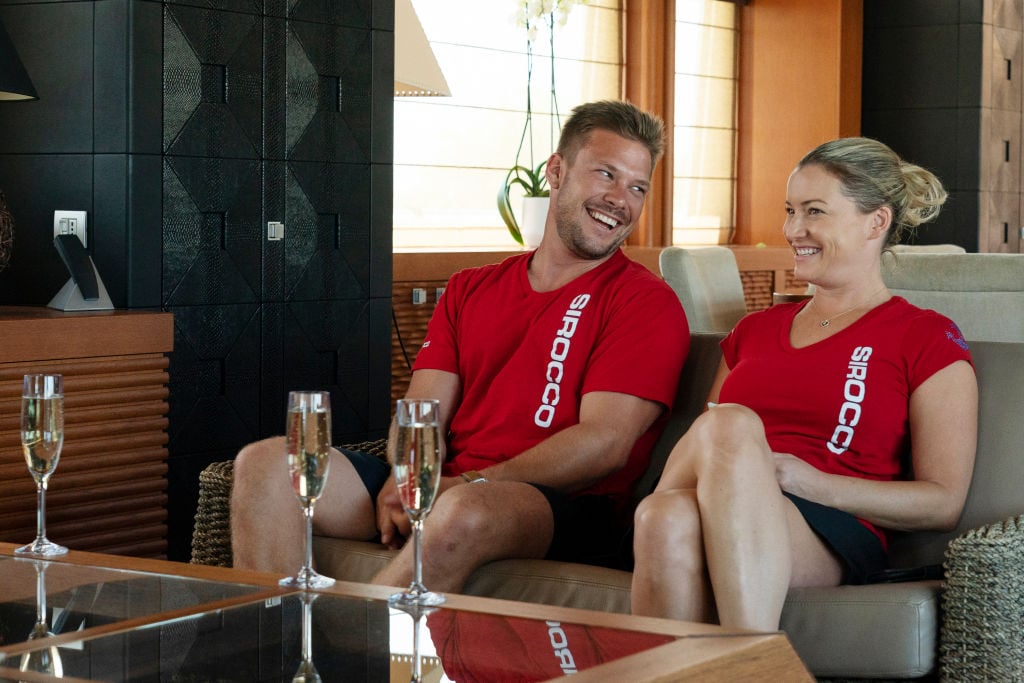 This season though, Franco was determined to keep Jezebob in the can. In a confessional interview, he said, "I cannot let Jezebob come out this first night," he says. "I'm a leader now. I have to set an example because if they lose respect for me, I'm done." Cue the Jezebob montage.
How bad is Jezebob?
Truthfully, Jezebob is basically just a sloppy, obnoxious drunk. He's too flirty and primal. In one video clip, viewers returned to last season when Franco/Jezebob is digging his fingers into a gallon of ice cream. Chef Adam Glick is holding the ice cream and looks a little freaked out as he orders Franco to back off.
Unfortunately, whenever the crew would hit the town in between charters, Franco would get super hammered. Even though love interest Brooke Laughton didn't seem to mind, he ended up alienating several crew members.
As a result, the truth hurt. A lot. Close friend and deckhand Colin Macy-O'Toole told Showbiz Cheat Sheet, Franco was horrified when he watched the footage. "Joao had the hardest time with it because of some of the things he said or ways he was acting on the boat," he said.
Franco hasn't made friends with Jezebob yet either
Before the season aired, Franco told Showbiz Cheat Sheet he didn't want to return to the show because of his behavior. "I watched up to episode eight and just stopped," he remarked. "I didn't realize how involved, for example, my flirting was with Kasey [Cohen] and Brooke [Laughton]." He adds he really didn't know how bad it was until he saw the footage.
He really tried to keep Jezebob to himself last year but it didn't seem to work. "Even the first time I went on I was like 'I'm not going to get drunk,'" he laughed. "Of course the first night we went out it came out [Jezebob]. It actually helped me to see the negative."
This season is an entirely new Franco. The first night on the town showed a very adult Franco sipping club soda at the restaurant. He is relaxed and friendly with the crew.
In fact, who is this guy?
When the crew hits the club Franco ends up having a heart to heart with Ferrier outside instead of doing nonstop shots. During their talk, Ferrier tells Franco about Chef Mila Kolomeitseva's homophobic comments. To which he shares that homosexuality is illegal in Zimbabwe and a close family friend who was gay ultimately committed suicide as a result.
The crew returns to the yacht after partying and in the past Franco would be bulldozing his way through the kitchen. This time viewers probably asked: who is this guy?
After a very civilized post party nosh sesh, Franco puts the drunk crew to bed. Then he proceeds to clean the kitchen and entire crew mess area. After he confirms the area is neat and tidy, he finally catches some sleep. If viewers hadn't already fallen in love with him by now, this will certainly put them in his corner.