'Below Deck Med': What Was the One Thing João Franco Was Most Worried About This Season?
Captain Sandy Yawn's incredible yacht dock from a recent episode of Below Deck Mediterranean drew massive applause. She managed to skillfully maneuver the massive vessel into a tight slip with surgical precision.
Her deck team was seriously on their game too, confidently calling out distances as crowds swelled onshore. Yawn was cool as a cucumber. She remained completely calm as she safely guided the boat.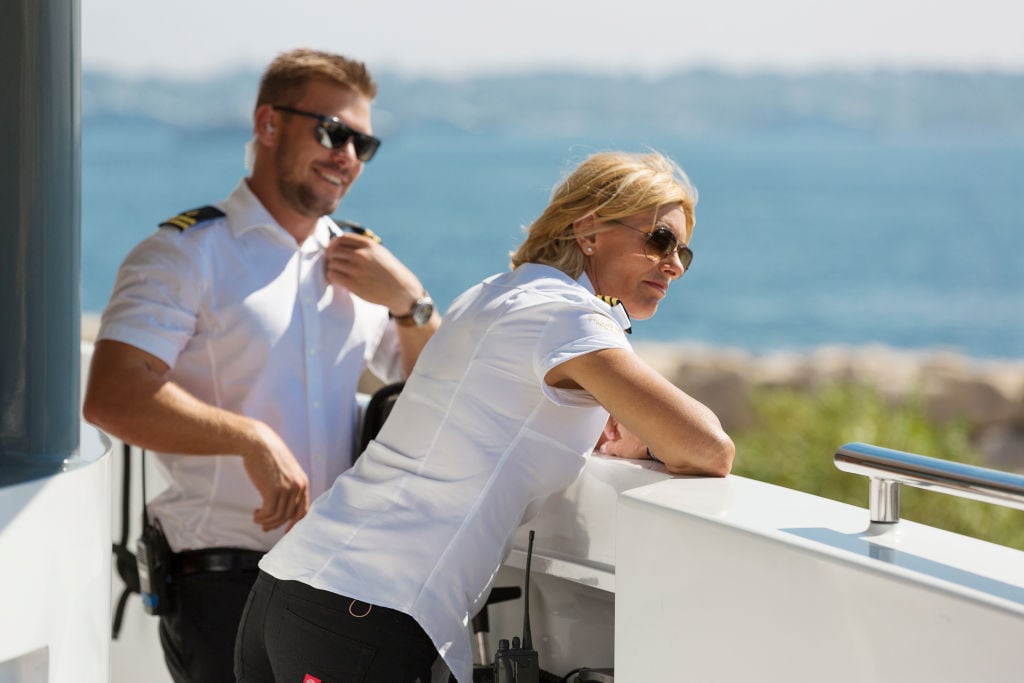 After the boat was secured in the slip, Yawn was ready for ice cream. Fans marveled at her expertise on social media, but what didn't viewers know about that killer docking job? Yawn and her team offer special insights into what viewers didn't know during the Below Deck Med After Show.
The only thing he's been worried about
When Yawn realized the weather was going downhill she decided to find a place to safely dock the yacht in St. Tropez. Bosun João Franco and deckhand Colin Macy-O'Toole remarked how docking was "tight."
Cameras followed Franco who was expertly calling out distances as the deck team worked in concert. "Hands down I think before I even started this season it was the only thing I've been worried about," Franco remarks.
"The reason why is because I've never done it," he continues. "And I know the pressure on it." A producer asks if Yawn knew this was the first time Franco had done this and he laughs, "No. Why would I tell her that?"
Communication is key
While Yawn and crew docked the boat like a boss, Franco said the situation was far more nerve-wracking than what viewers realized. Like Yawn, Franco stresses the importance of communication. "The epitome of a perfect relationship or communication on a vessel, if you really want to boil it down to one point, it's this point," he remarks.
"Sandy's and my communication … she works in feet, I work in meters," he continues. "That's the first problem. Then you also have to consider you've got fenders. And you're pushing multi-million dollar boats away from you for you to fit."
He continues by describing the situation. "So, I've got the stern, But, I trusted Travis to be at the bow," Franco describes. "With all due respect to Colin, not knowing that kind of situation, I had to rely on Travis. But I also trust him to do it because he's got the experience."
This is how often yachts dock this way in the Med
Franco goes further to explain the serious challenges with the situation. "We secured the two lines and then when Travis pulls up on the anchor," he continues. "I know it's coming before it, that was the only time I was relieved. I was like, 'OK we're done.' The boat stopped. As soon as you can tell the captain to switch off the engines, that means everything's safe."
Producers then ask deckhands Jack Stirrup and Travis Michalzik how often captains encounter such a tight squeeze in the Med. "You usually do it a lot in the Med," Stirrup calmly remarks. "Because you've got Monaco, St. Tropez and the docks are tight. So you've got to be calling back to the captain saying like you're a meter away. You're about to hit the boat. You're the eyes and ears for the captain." Stirrup asserts while it was a tense moment, it wasn't something to get overly stressed out about.
Yawn says, "It was great. João called it for the first time. And I didn't know it was his first time. And he did a great job. But I've done that a thousand times,' she says shrugging. "So for me, it was no big deal." Franco adds laughing, "That moment was the highlight of my season. That and seeing Jack clean something."