'Below Deck Med': What's the One Thing Chef Ben Would Do Differently on the Show?
Chef Ben Robinson from Below Deck Mediterranean recently reflected on his six seasons on the franchise. He shared his favorite and least favorite moments being on the show. Plus, he offered insight into what he'd do differently if he had a chance.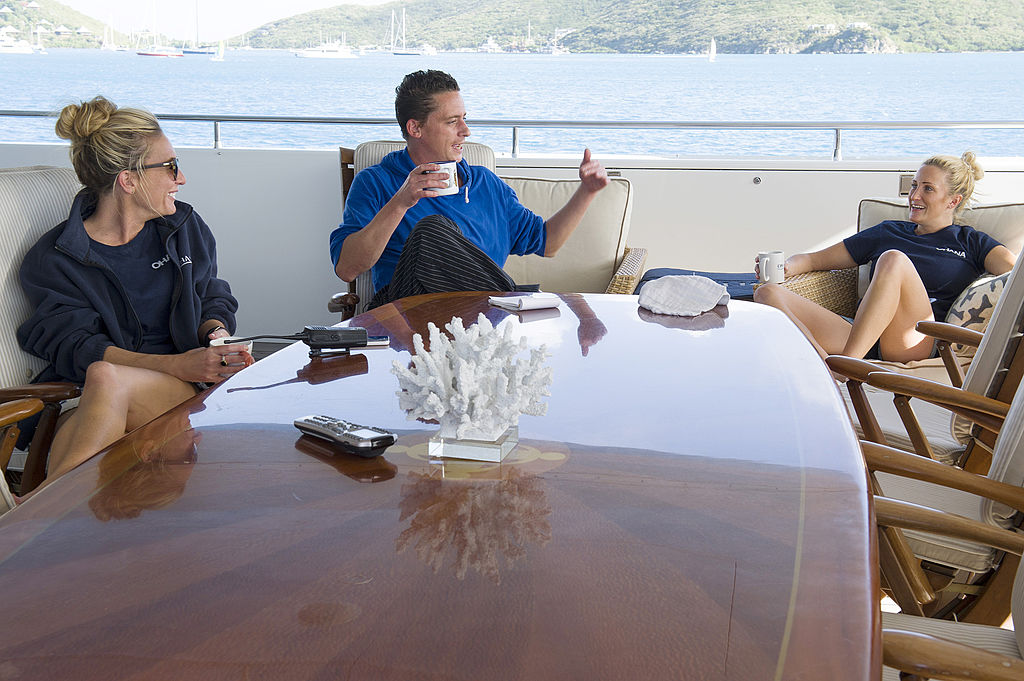 Robinson is the only crew member to appear on both Below Deck and Below Deck Med. He's worked for all three captains and with all three chief stews, plus a number of repeat crew members. When it came to who would make up his dream team, Captain Sandy Yawn and chief stew Kate Chastain were the first two crew members to come to Robinson's mind.
Even though Chastain is someone he'd love to work with again, their working relationship is something he'd like to improve. The two had friction during their last season working together. They both concluded they are better friends than co-workers, but does Robinson see a path to a healthier working relationship?
He doesn't live with regret … except for this one thing
Robinson recently told Bravo's The Daily Dish he doesn't live with regret and that he'd do the show again if given the opportunity. "Yeah, I'd probably do all of it over. But I try not to live in regret," he shared. "But obviously, there's lots of things that made me [go], 'Ooh, that was a bit nasty.'"
He then said he wasn't thrilled with some of the contentious banter with Chastain. "I started to grow very comfortable yelling at Kate, and it didn't really do anyone any favors," he reflected. "I think she dug her heels in and just made me an angry bastard. So I would have changed that. Just probably my temper and frustration at times I would have changed."
Robinson adds he and Chastain are too much alike, which can sometimes create a tense situation. "Kate and I, despite our ups and downs and our volatility, I do believe we are, for whatever reason, probably spiritually joined at the hip," he said when he learned Chastain recently chose him as her favorite crew member. "We're both Capricorns. We're both of a certain intelligence. We know how to piss each other off. We could be great friends one minute, then at each other's throats the next. It's healthy. It's a little volatile, but it's fun. I'll return the same sentiment. I think she's probably my favorite for sure."
He also wishes people understood what he faced on Sirocco
Robinson shared that he loved being on Below Deck Med season four. But he boarded the boat dealing with significant sciatica pain, plus the galley kitchen was a nightmare.
"There's nothing that really stands out as a major regret," he told Bravo's The Daily Dish. "I know that people are getting me for being frustrated or taking my frustration out, but people who think that can go screw themselves because imagine if you were in my shoes and you were thrown onto a boat in the middle of France and had eight charter guests arriving in one hour and you were in a complete dump of a kitchen, half of everything was broken, you didn't know what you had, where anything was."
He adds, joking, "And if you can pull that off without any frustration, then you should go and live out the rest of your life in a temple with the Dalai Lama."