'Below Deck Med': When Did Chef Ben First Realize He Was Interested in Cooking?
Chef Ben Robinson from Below Deck Mediterranean has been a fan favorite since the Below Deck series launched in 2013. Robinson's proven culinary skills combined with his significant charm made him a popular persona on the seaworthy docudrama.
Robinson appeared in three and a half-seasons of Below Deck and one and a half seasons of Below Deck Med. He swooped in to save the day twice when the chef was fired. Robinson always showed a passion for food and his perfectionist attitude was always on full display when he was on the show.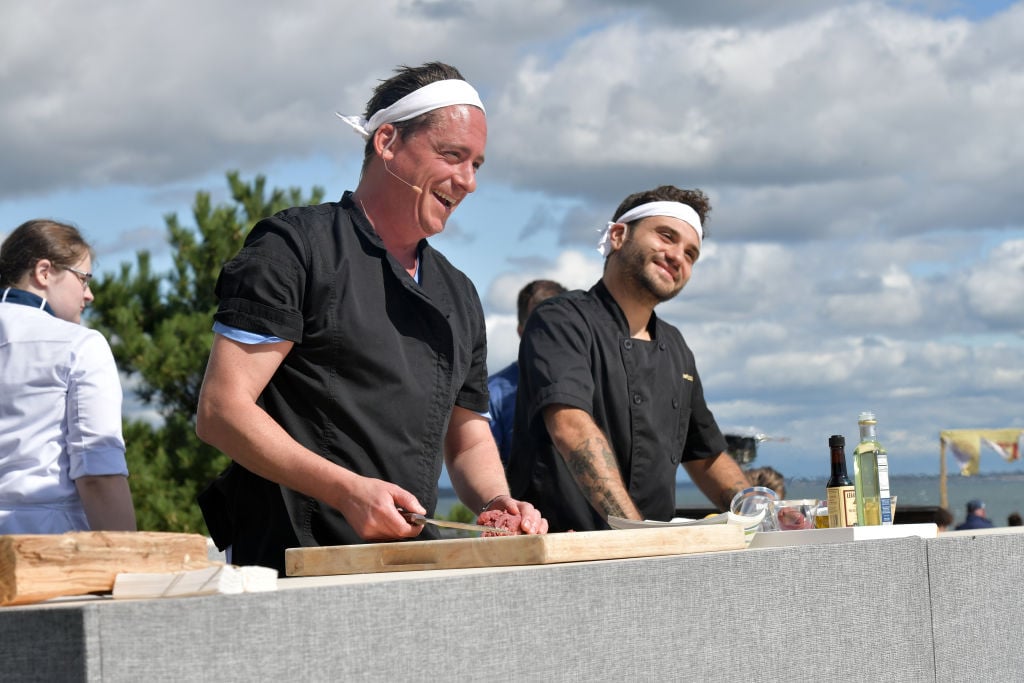 He shared some insight into where this passion for food came from, plus when he knew that cooking was a career he'd like to pursue. He chatted with Cape Cod Life about his roots and how food, family and living on the Cape paved the way for him to become the chef he is today.
Robinson knew he had a passion for cooking at a very young age
While some people may discover they have a culinary talent later in life, Robinson knew during his formative years. "I was 5 years old when I first realized I was interested in cooking," he told Cape Cod Life. "I had an amazing relationship with my mother, and she taught me to cook." He adds that he knew all of his mother's sauces by the time he was five and a half.
He attributes life on the Cape to his love of food, especially seafood. "Growing up on Cape Cod gave me an amazing set of arrows for my quiver," he continues. "We would dig for clams on the beach, catch striped bass and eels off the dock in North Bay, and find bluefish in The Cut. It was just an amazing experience." 
Robinson counters his life on the Cape with his experiences in England. He attended boarding school in Britain, which allowed him to get a feel for the farm to table flavor.  "My experiences on the Cape were very opposing to my incredibly rural upbringing in England, where we had orchards and vegetable gardens and a river," he shared. "It's just so different from the Cape. It was quite a privilege from a culinary standpoint to have these two opposing forces, and it's interesting now that this is my profession, when in my formative years it was really such a privilege."
When did Robinson get into yachting?
Robinson has been in the yachting industry long enough to know being a yacht chef is a grueling job. As Robinson approaches his 40th birthday, he recently shared that he's been in yachting for more than a decade. Before it was revealed that he would finish the Below Deck Med season, he responded to a fan tweet about why the job was so tough. "Most Charter Chefs have a 5 year expectancy. I did it for 13. Head chef on the largest #yacht age 28. Crew and guest require 300 plates a day on #BelowDeckMediterranean#BelowDeck on your own… We look forward to your job application."
He was the head chef on yachts for over ten years, which included the largest sailing yacht in the world. But by 2008, he was looking to pivot to a job on land. Then Below Deck came calling.
"When 2008 hit, I was actually trying to get out of yachting, but I decided to get back on a boat. I found this advertisement for 'Below Deck,' so I applied—I'm not going to lie, I'd had a couple of drinks," he shared with Cape Cod Life. "I wrote them this rather funny email, and the rest is history."