'Below Deck Med': Which Crew Member Was João Franco Romantically Interested In?
After last season of Below Deck Mediterranean, João Franco probably decided that a crew romance was a bad idea.
He dated stew Brooke Laughton but at the same time was flirting with stew Kasey Cohen. The entire love triangle blew up in his face during the reunion. Although he and Laughton continued to date, they seemed to end their relationship on a sour note.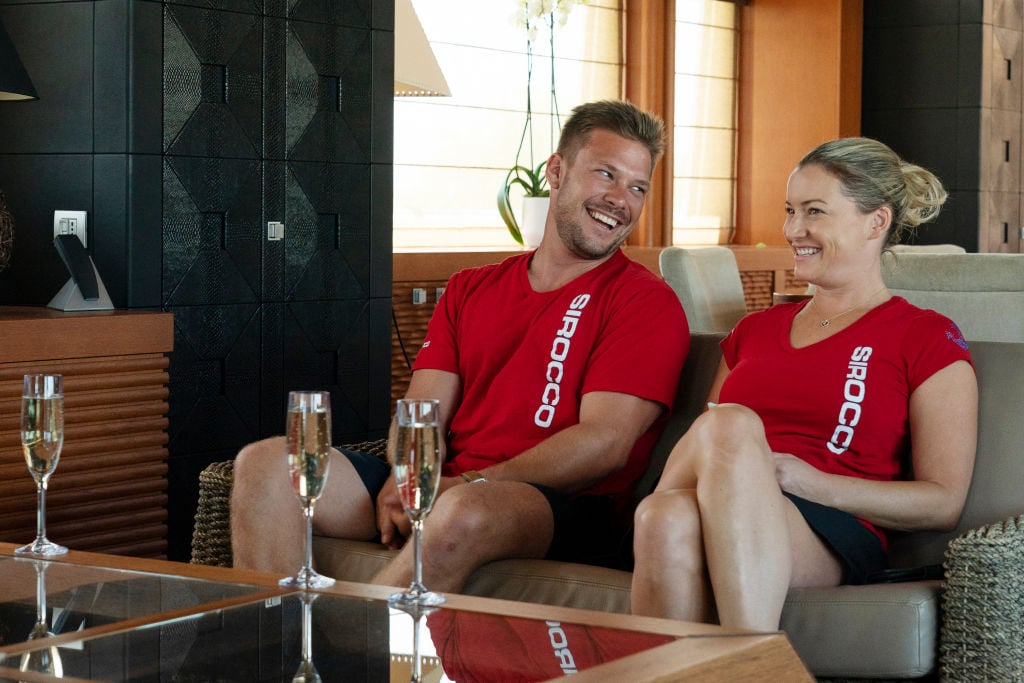 Today Franco is in a relationship with a non-Below Deck cast member and seems to be very happy. But did he want to hook up with one of the ladies on Sirocco this season? The crew dishes on who he may have had his eye on … or did he?
Did he really like Hannah Ferrier?
Chief stew Hannah Ferrier and Franco seemed like they could never be in the room together after last season. However, they set aside their differences and actually worked harmoniously side by side this season. Their working relationship appeared to be on solid ground, but did Franco catch feelings for the chief stew?
During a recent episode, Franco teased about being jealous that Ferrier and deckhand Travis Michalzik kissed. Ferrier seemed a little taken aback asking to confirm that Franco meant only hypothetically. Franco laughed and said, of course, it was a hypothetical. But was it?
"It's so weird," Ferrier says to Captain Sandy Yawn during the Below Deck Med After Show. The other crew members, including Yawn and Michalzik, thought Franco's comment was a little odd too. Michalzik wondered if Franco asked the question because he saw the rest of the crew hooking up and he didn't' have anyone.
Could he have been secretly in love with Aesha Scott too?
Franco seems to have sent stew Aesha Scott mixed signals during the season. When the crew went out on the town, deckhand Jack Stirrup was enthralled with Scott's beauty and told her she looked amazing. But Franco remarked that Scott looked like a Russian prostitute. Scott and Stirrup were perplexed why Franco seemed to come for her. "Maybe he was a little bit jealous or whatever," Stirrup wondered.
"He calls me a Russian prostitute but he also says I remind him of his mum," Scott asks. "They really don't show it much but Joao used to flirt with me like all the time."
So was Franco actually interested in Scott? Maybe. "There was a moment with Aesha where I thought she's awesome, she's a really nice girl," Franco says. "Then she got a little too outgoing and then it was … wow." Scott says some people mistake her friendliness for flirting. Once she and Stirrup started to hook up, Scott says Franco turned on her.
But Franco insists Scott's outrageous behavior "smacked him in the face." He adds he was pretty shocked when Scott openly farted in front of the crew. "There's no room for imagination right now," he says laughing.
Did Franco try to meet other ladies?
Although Franco had too many ladies on his radar last season, he still may have wanted to hook up with someone. A producer asked Chef Anastasia Surmava and Scott if Franco and deckhand Colin Macy-O'Toole met a lot of women.
"I think him and Colin tried to talk to ladies," Surmava recalled. "But for the most part, I don't think it pulled for either of them." Scott has her own theory has to why neither scored. "I don't know, I think Colin's a lovely guy but he doesn't exactly have game," she says.
Surmava wonders if Macy-O'Toole was "cockblocking" Franco. Cue the bar footage of Macy-O'Toole partying less than hard but still having a blast.