'Below Deck Sailing Yacht': Gary King Makes It Clear He Favors Alli Dore Over Sydney Zaruba
Gary King from Below Deck Sailing Yacht admitted he's more attracted to Alli Dore than Sydney Zaruba.
He made this revelation during a recent appearance on Watch What Happens Live with Andy Cohen, which may explain why he was less than flirtatious with Sydney Zaruba during the latest episode.
King played a Clubhouse game, "Pick Your Perfect First Mate!" on the show. Host Andy Cohen presented a series of scenarios and King had to choose between Dore and Zaruba. King leaned heavily in Dore's favor, admitting he was attracted to Dore first. He also said she had a warmer smile and made him laugh more. King said Zaruba was better at her job and was a bigger flirt.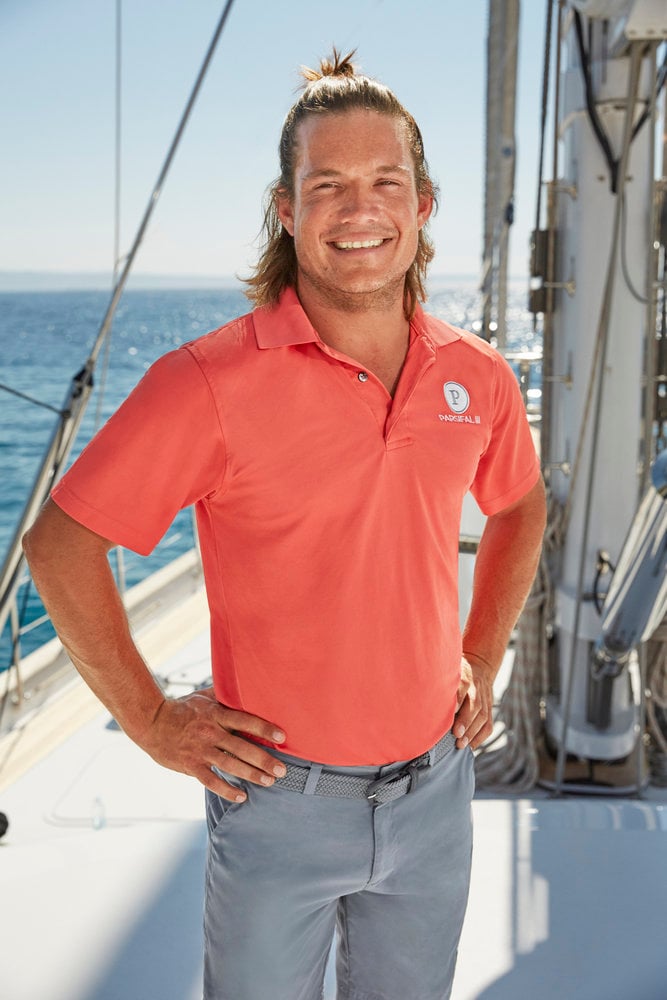 Gary King creates the first 'Below Deck Sailing Yacht' love triangle
King laughed as he played the game but it was clear which crew member he preferred. But he slept with Zaruba and he's also her boss – will this cause a problem this season? You betcha. Previews tease that King becomes entangled in a love triangle as the crew's relationships become strained.
In a preview, King tells Colin Macrae he plans to hook up with Dore that night. King is seen whispering to Dore as Zaruba is now supremely confused. However, Dore reminds King she shares a room with Zaruba. Suddenly King is confronted with his hookup with Zaruba.
RELATED: 'Below Deck Sailing Yacht': Daisy Kelliher Says Season 2 Has a Lot of 'Love Triangles' and Foursomes (Exclusive)
Chief stew Daisy Kelliher teased to Showbiz Cheat Sheet the season was filled with love threesomes and love foursomes. "There were a lot of love triangles," she dished. "And love foursomes. I don't know what was going on. I couldn't keep up with people, to be honest."
The love triangle creates tears on 'Below Deck Sailing Yacht'
Kelliher said the hookups mean that there will be plenty of tears this season too. "I think people want to think that sex is just fun," she said. "But sex always leads to tears. Like it always does. Like, oh we're just having a good time and then the next morning you're on. And that was fun … but not if it always leads to tears."
While King is currently at the center of the drama, Kelliher doesn't think he hooks up with the most people. "There are a few [crew members] that are equals," she said in terms of the number of hookups. "And I don't even think it's Gary. No, it's not Gary … I don't think. But I think there's a load of them who are on an even keel."
RELATED: 'Below Deck Sailing Yacht' Miracle Season Could Have Ended Because of Sick Charter Guest or Crew Member, Captain Glenn Reveals
Kelliher may also be involved in some of the hookup drama, but she wouldn't spill. "I think definitely not being biased, honestly I think it's going to be a really good season," she said. "Like it was really full-on every night. I was like, whoa is this actually happening? I was like, is this happening?"
Below Deck Sailing Yacht is on Monday at 9/8c on Bravo.