'Below Deck Sailing Yacht': Which Character From 'Shrek' Is Paget Berry's Twin?
Does Paget Berry from Below Deck Sailing Yacht look familiar but you can't put your finger on it? The first mate recently joked about how he resembles "Prince Charming" from the animated movie, Shrek and now fans can't unsee the character who is Berry's doppelganger.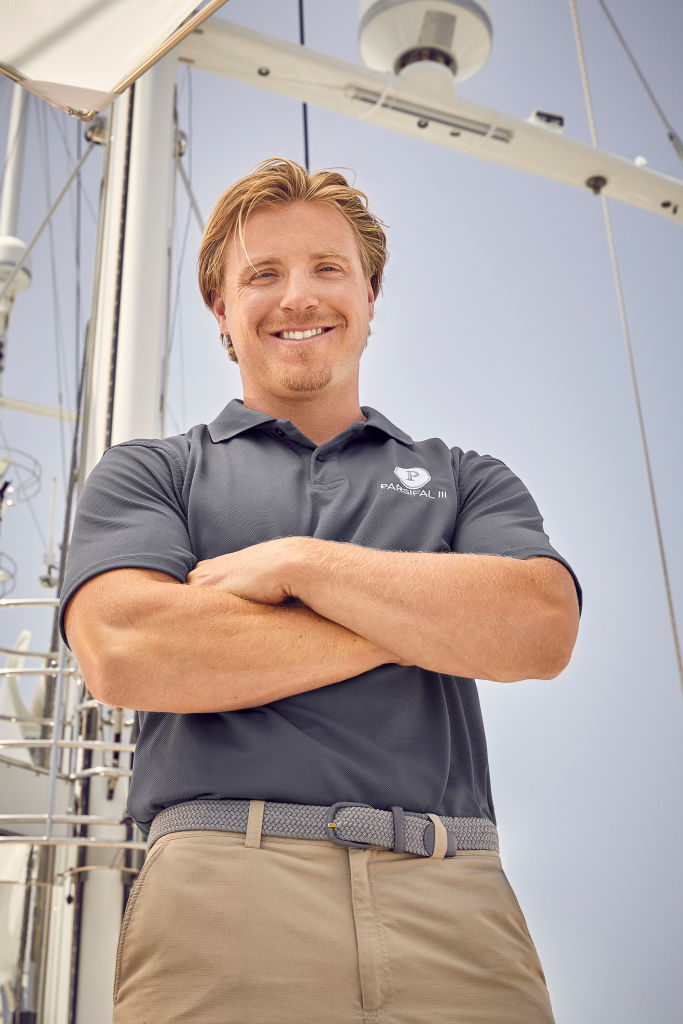 Berry shared a photo on Instagram with the uncanny comparison. "Okay guys, I been getting a lot of comparisons these days and it has been settled! Prince Charming from Shrek is the winner😂 You may now resume your lives👌🏼," he captained the photo.
Fans agreed and responded they can totally see the similarity. "Lolololol I've actually thought this for years 😂," Kassie Duggan, girlfriend Ciara Duggan's sister replied.
Apparently this was a crew decision
One person remarked that Berry actually resembled another animated character. "Seriously? I was thinking more Kristoff from frozen. 🤷🏼‍♀️🤷🏼‍♀️ ," the person wrote. But Berry said the decision came down to the crew he's quarantined with in Italy. "All my current crew mates made the decision🤷🏼‍♂️," he replied.
He took some ribbing from another person on the post. "Hey, at least it's an upgrade from potato!" Berry bantered back and forth with the person and Duggan eventually joined in too. "You'll take anything big boy," she joked.
The Below Deck Sailing Yacht account was here for the banter too. "Living for this side convo. 😂🙌." Adding, "OMG that is amazing. 😂 hey, he was the heartthrob!"
Another person asked Berry if stew Georgia Grobler referred to him that way. Grobler and Berry have had a pretty flirtatious relationship on the boat. But Grobler hilariously wrote, "No, I said Shrek."
He recently did this very 'Prince Charming' thing for a guest
Berry was asked to deliver a birthday cake to a guest shirtless. While some crew members would have no problem stripping down, Berry admitted he struggled with body image, but wanted to make the guest happy.
"When I was in school, I was a little bit chubby," he shared in a confessional. "And I was bullied for it. I still feel as though there's a part of that inside me. Like as soon as I take my top off. I still feel really self-conscious like someone's going to be like, Oh f**k, 'Why are you doing it if you look like that?'"
He delivered the cake but only after doing massive amounts of pushups and pullups beforehand. While he was a good sport, he confessed he was stressed about the delivery.  "I'm sh*tting myself," he laughed in a confessional. "It's bigger than people realize. For me to go out and do that." 
Berry is also Ciara Duggan's 'Prince Charming'
Berry and Duggan have been working and living together on a yacht in Italy. The couple shared what it was like while in isolation during the pandemic and really seem to be making the most of the situation.
"Now that we are in the thick of the quarantine how is everyone coping? I know that people who work on yachts are in a pretty fortunate situation, working on a boat is a little like quarantine anyways! You get used to it!" Berry remarked on Instagram.
Duggan posted about the couple's life traveling together too. "Reminiscing about the first time @pagetberry and I went to Bali and I learned how to make several traditional Balinese/Indonesian dishes 😍✨," she shared along with a gorgeous photo of pasta.
Below Deck Sailing Yacht is on Monday at 9/8c on Bravo.