'Below Deck' Season 7: Kate Chastain Threatens To Quit, Now We Know Why
Below Deck star Kate Chastain might be ready to say goodbye to the yacht life. A season 7 trailer shows Chastain quitting the series after dealing with some major drama. Producers have not said why the chief stew seemingly had enough, but she recently opened up about what happened and revealed why she jumped ship.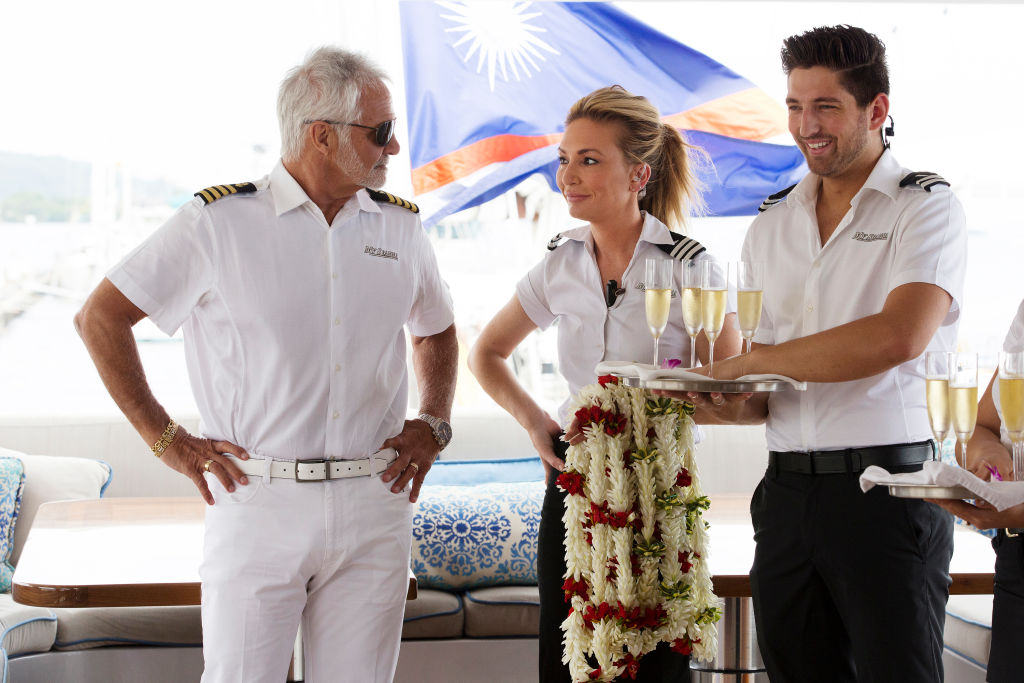 Chastain opens up about 'Below Deck' season 7 drama
The clip features a heated moment between Chastain and Ashton Pienaar. At one point during their argument, Pienaar is shown yelling at Chastain, "Everybody feels that way about you, Kate!"
In response, Kate Chastain tells the bosun that he needs to go and find himself a new chief stew before walking away.
"OK, great. Go find another chief stew. I quit," she shared.
The trailer, unfortunately, did not reveal what the two were arguing about, or why things got out of control so quickly. But Chastain recently opened up about the drama and offered a glimpse at what's ahead.
According to Bravo, Chastain revealed that she was surprised by the turn of events this season. She also assured fans that she actually did not jump overboard but did leave everyone hanging.
"I always surprise myself, I'm full of surprises," Kate Chastain stated. "I didn't technically go overboard but I did kind of jump ship."
When it comes actually quitting the series, Chastain assured fans that she is not going anywhere. She did, however, admit that the drama got to her and that the stresses of the charter season made her very frustrated.
Sadly, Chastain did not offer any details about her beef with the rest of the crew, so fans will have to tune in to find out exactly what went wrong.
Kate Chastain dishes on Bravo's 'Real Housewives'
Aside from her Below Deck drama, Chastain recently dished on which cast members of the Real Housewives of New York could handle the charter season.
While most of us would crumble under the pressure of life on the yacht, Chastain believes there are several RHONY stars who could handle the yacht life.
This includes Dorinda Medley, who Chastain thinks would make a wonderful stewardess. The Below Deck star believes Medley's desire to make things nice would definitely help her when things got busy.
Chastain also thinks that Medley would be a great person to work alongside, which is an important trait when you work with the same people for weeks on end.
Medley aside, Kate Chastain also mentioned Sonja Morgan, who reminds her of Kat Held from the first two seasons of Below Deck.
The reality star was also asked who would be her dream guest onboard the charter. In response, she revealed that she would love to host Patricia Altschul from Southern Charm — and we have to admit that would be an amazing pairing.
What about Hannah Ferrier?
During the season 4 finale of Below Deck Mediterranean, Kate Chastain weighed in on the drama surrounding her counterpart in Hannah Ferrier.
As always, the reality star live-tweeted the finale and did not hold any punches when it came to Ferrier's behavior.
In fact, Chastain defended Ben Robinson and Captain Sandy Yawn's criticisms of Ferrier in a tweet. Although she did not mention Ferrier by name, she assured fans that Robinson and Yawn are some of the best professionals in the business and have great judgment.
Some fans, of course, called out Chastain for throwing shade at her supposed friend, which is when things got extra nasty.
In reply, Chastain told Below Deck fans that she does not consider Ferrier a friend because of the way she has talked about her behind her back.
Based on her comments, it is safe to say that Chastain and Ferrier will not be making amends anytime soon. Now, all we need is for Andy Cohen to have them both on his show so they can hash out what went wrong.
In the meantime, it is definitely going to be interesting to see how Chastain handles the drama this season. She has gained a reputation for being difficult to get along with, but it looks like she will make a lot of enemies this year.
Here's to hoping Chastain can pull it together before the situation spirals too far out of control.
Fans can watch Kate Chastain in action when new episodes of Below Deck air Monday nights on Bravo.