'Below Deck': Was Abbi Murphy's Departure the 'Plane Ticket Home?'
Captain Lee Rosbach from Below Deck told the Watch What Crappens audience that someone from the Valor crew receives the dreaded 'plane ticket home."
Rosbach made a surprise appearance at the Bravo comedy podcast live show and weighed in on the season. Hosts Ronnie Karam and Ben Mandelker first ask who gets fired, even though they know Rosbach cannot reveal that detail. But Rosbach shares, "There is a plane ticket." Viewers know that for Rosbach, giving someone a plane ticket is code for "you're fired."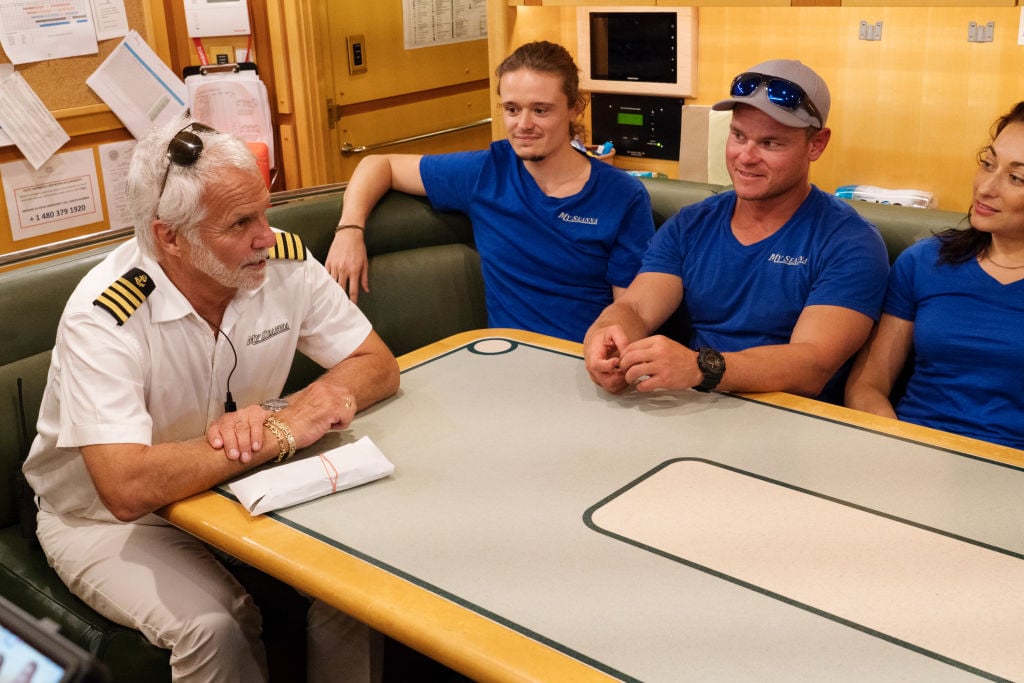 When deckhand Abbi Murphy quits, Rosbach hands over her passport and her portion of the tip. Although Murphy told bosun Ashton Pienaar she couldn't make it much longer, she agreed to finish the charter. Since Murphy isn't the one getting fired, does that mean another crew member will ultimately be sent home?
The season 7 trailer tells the story (maybe)
Before the season opened, Bravo dropped the Below Deck trailer that shows Rosbach (possibly) firing someone. In a yet to be aired scene, Pienaar is seen talking to Rosbach about a crew member who is not fitting in. "There is this part of our crew that is just not bonding with the rest of us," he shares.
The team has a meeting with Rosbach looking somber. "I'd like to go into the next two charters a man down," Pienaar continues. Rosbach looks pained and curses as he hears the information. "If anybody doesn't think I won't fire somebody in the middle of a **** charter, they don't know me," he shares. He is also filmed telling someone to pack their bags too.
While the clip implies someone gets fired, the trailer could have been edited to give that appearance. However, Rosbach affirmed during his Watch What Crappens appearance that someone indeed does "get the plane ticket."
Does that mean someone still gets fired?
Now that viewers know Rosbach didn't fire Murphy, who gets fired? One suspect is chef Kevin Dobson. Rosbach seems to be struggling with the chef's performance, but also his attitude. Dobson redeemed himself this episode after butting heads with both Rosbach and the interior. He rallied in the kitchen and seemed to reduce the amount of bickering with chief stew Kate Chastain.
But Dobson complained when Rosbach called him out and claimed the crew wanted to see him fail. "Trust me I have no interest in seeing you fail at all. It makes us all look bad if you do," Rosbach shared in his blog. "Stop feeling sorry for yourself and do what we both know you can. Life will get a bunch easier on you if you do."
Beyond Dobson, Rosbach hasn't had many issues with the crew now that Murphy has left. However, a mystery crew member replaces Murphy. When Pienaar asks for the CV, Rosbach assures Pienaar he is already familiar with the crew member.
So the bigger question is, who does Pienaar want to send to the chopping block? While he seems to have a close bond with deckhands Tanner Sterback and Brian de Saint Pern, previews show some arguments with the deckhands. Or could Pienaar have trouble with the mystery deckhand from the past?