'Below Deck:' What Are Kate Chastain's Biggest Pet Peeves?
As someone who works in the service industry, Kate Chastain from Below Deck has a pretty high tolerance for crazy guest requests. But when it comes to some people's quirky tendencies, it is like hearing nails on a chalkboard for Chastain.
She recently dished during a Bravo digital original about what are some of her biggest pet peeves. From vegans to people who back into a parking space Chastain has a lot to say about lifestyle choices some people make.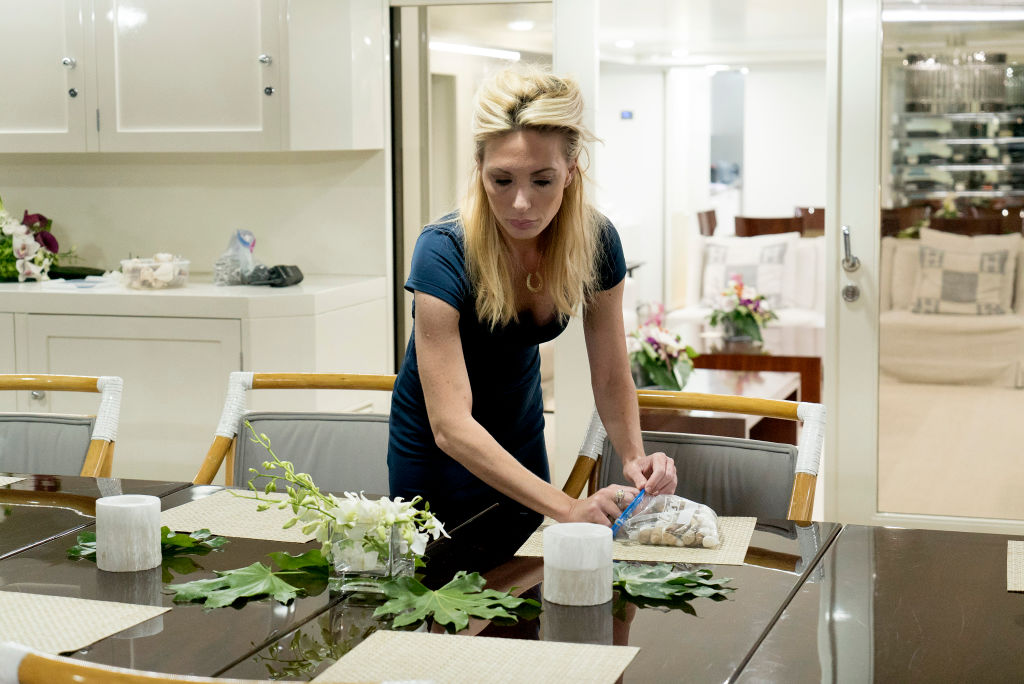 Because she had quite a few pet peeves to share, Bravo had to break down the list into two parts. How many of these pet peeves do you share too?
Social media shares and cell phone usage
Although technology is a major part of everyone's everyday life, there are a few aspects that get underneath Chastain's skin. While she seems to love kids, she isn't a huge fan of your sonogram photo on social media. "Do not post your baby's sonogram on any social media," she asserts. "Because it's creepy. I'm just scrolling, scrolling, scrolling and there's the inside of your uterus!" She adds, "I don't want to meet your child until it has fully formed eye sockets."
If you like to use your phone's dictation software, you may be on Chastain's list. "Like, too lazy to use your fingers?" she asks. "Or do you want to feel like this is your personal assistant. It's like people who want to boss something around."
Dining and food
Even though she's happy to serve it to charter guests, she thinks "brunch is bulls**t." She says, "You wake up early on a day off, pay extra for normal eggs. Drink sh***y champagne and orange juice. Overpay for that." She adds that she's now drunk and her entire day is a wash.
Don't get her started on vegans. "Vegans must be the most dull humans on the planet," she shares. "Because they have so little hobbies or so little to do that they are going to worry about every single meal. No milk, no eggs. It's like I want to make my life as difficult as possible."
She's not a fan of the oddly shaped, overly tall Don Julio 1942 Tequila bottle either. "It's so tall, it's so dramatic," she says. "I can't fit in that cupboard, can't fit here … no. It's like 'I'm a special bottle, I don't fit into your cupboards.' Also, it's tequila. After a couple of drinks do you really know what brand you are drinking?" She adds that mojito drinkers don't necessarily need all that "green stuff" in the drink too. "We can make the mojito taste minty without the leaves that are like going to get stuck in your teeth," she exclaims.
People's personal affectations
She's not a fan of people who like to tinker with a perfectly good name too. "Never trust anybody who spells their name with an unnecessary vowel or a different spelling," she says. "Or people with a double name. 'My name is Timothy John.' Oh, OK, Timothy? 'No, Timothy John!' Well, why do you need two?"
Chastain also joins many people who get annoyed with those who back into a parking space. Especially when they insist on making other drivers wait while they perform the maneuver. "Never trust someone who backs into a parking spot," she remarks. "Because they are either one, trying to show off their parking skills while we all wait. Two … what are you going to make a fast getaway? You stealing something? The only people who need to make a quick exit are bank robbers."
There's a good chance Chastain liked deckhand Jack Stirrup's hair. She prefers the man bun even though most people moan when they see it coming. "It's when it's un-bunned, it looks too lackluster," she observes. "It's like, put a curl in there."
She also likens Mini Cooper drivers to pug owners. "I bet if we did a Venn diagram of Mini Cooper owners and pug owners it would be like this," she says crossing her hands over each other. She says because both are like, "look at this weird, kind of quirky thing that I have?" She adds, "No! It looks like ET got put into a compactor and it's gross and snorting."