'Below Deck': What Is Involved in Interior Yacht Detailing?
Below Deck stews are often seen wiping down surfaces and endlessly cleaning cabins. In fact, it seems like cleaning and laundry literally never ends.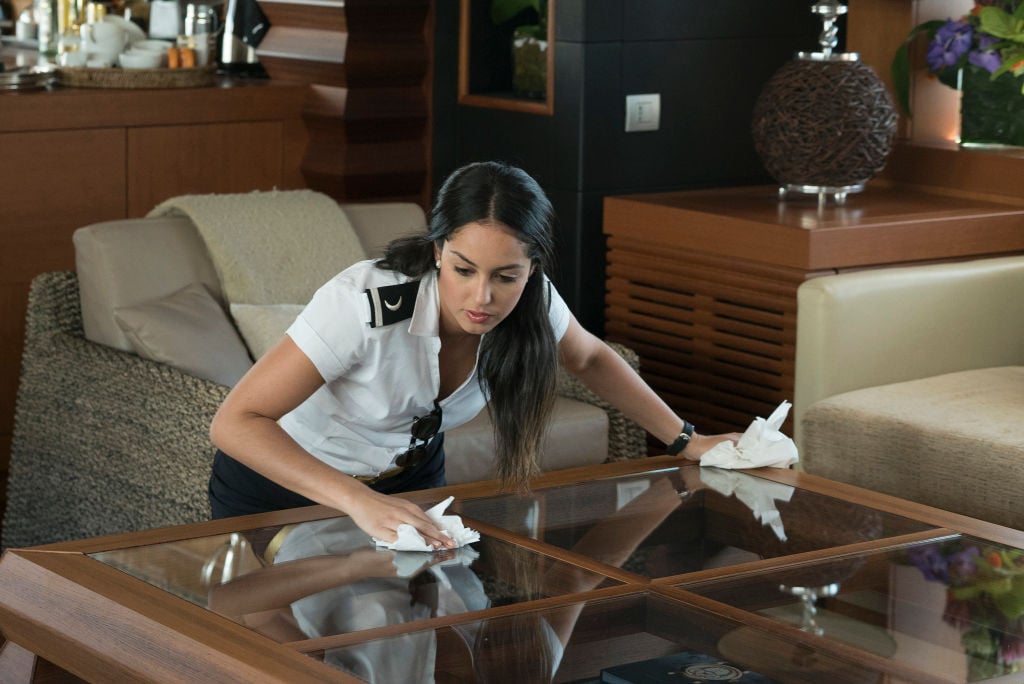 Cleaning can be pretty intense. CNN shared how detailed cabin cleaning becomes while on charter. "It's pretty crazy," according to chief stew, Gemma Hulbert. "When we go into every guest cabin on a daily basis we open every product, every piece of makeup, every item of face-wash and we check the cap. You clean it so it looks like it's just come directly from the shop. If it's foundation you wipe everything perfectly clean."
Although stews maintain a high level of cleanliness during the charter, sometimes a full interior "detail" is in order. This is when the interior team performs an even deeper clean when guests aren't on board.
Yacht detailing addresses nearly every surface
The interior team may need more than a few days to tackle detailing depending upon the boat size. "Also known as yacht valeting, yacht detailing involves the thorough wash-down, disinfection and steam clean of every single surface on board, from the bulkheads and ceilings right down to the smallest of air conditioning vents," according to Yachting Pages Media Group.
Detailing may also mean the stews take inventory of items on board and organize supplies. But first every dust particle, smudge, stain, and surface must be scrubbed and refreshed.
How often do stews need to detail the boat? "It [yacht detailing] is not done every day, however it is done weekly, monthly and/or seasonally, depending on the workload of the yacht, the specific travel plans and the maintenance schedule," according to Kylie O'Brien from The Stewardess Bible.
Clean surfaces first
Although stews should have been cleaning surfaces on a regular basis, detailing surfaces goes a little deeper than what is done routinely. First, all dust should be eliminated from the interior. Talullah Rodger, an ex-chief stewardess, shared tips with Yachting Pages Media Group. Rodger suggests using a vacuum to remove dust from ceilings, bulkheads, partitions, windows, floors, and furniture.
Stews should then get into wipe own mode. "Wipe down the cabins, starting at the top and working your way down," O'Brien recommends. "Begin with the deck heads, light fittings, bulkheads and any materials on the wall, then clean down the glass and window coverings. Drop down the blinds and pull the curtains closed. This way you will be able to clean the material well, and at the same time, you can check it is all in working order."
Then dive deeper
Once surfaces are cleared, stews should then detail the finer areas of the interior. This includes grooves in the joinery, handles, screws, switches, and fastenings.
Rodger suggests this is the phase where the stews will need those cotton balls and toothpicks. "This third clean, as it were, is when only a toothpick or cotton bud will reach. You will be expected to clean between the air conditioning and extractor vents, around the edges of the ceilings and skirting's, down where the bed meets the wall, underneath the shower tray and between any screws or fittings."
"This is when you will see stew's detailing the plugs and pipes with cotton buds to remove all hair and soap scum. A toothpick or cotton bud in alcohol is also usually used to disinfect the buttons on the telephones and remote controls."
Restore and restock the yacht
Once everything is shiny and clean, stews should also give the floorboards some attention too. "Stews must generally clean out the bilges under the yacht's flooring, not only for good housekeeping, but for additional storage space," according to Yachting Pages Media Group. "Stagnant water and grime can collect in the bilges, and a stew must therefore give these oddly shaped spaces a good clean before storing bedding, tableware, stationary and more in well-sealed vacuum-pack bags.
The boat will also need to be restocked and prepared for new guests. Restocking involves refilling bath amenities and condiments too. Also, "Don't forget to check the guest compendiums for missing pens and notepads, small cracks by the bed and hard-to-get places in the cabin for nasty 'dust bunnies'. These areas are notorious for being overlooked," O'Brien said.