'Below Deck': Who Made Kate Chastain and Captain Lee's Dream Team and Which Crew Member Do They Both Really Want?
Captain Lee Rosbach and chief stew Kate Chastain from Below Deck have been asked on several occasions to assemble their dream crew. As Below Deck season seven is about to launch, once again they offer their new lineup.
Chastain has a few surprises on her list, considering some of her stew dream members were those who she feuded with on the show. Rosbach and Chastain's list differed with the exception of one crew member in particular. They both wanted this person on their dream team.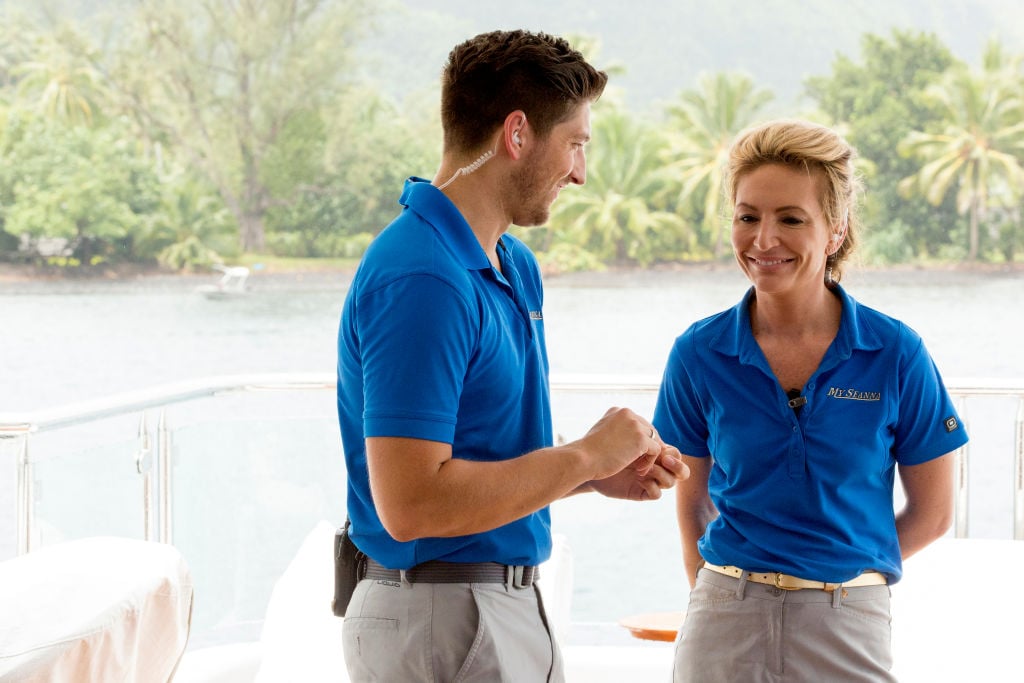 Not a surprise, Rosbach said he'd absolutely want Chastain as his chief stew. The two have a harmonious working relationship and he says in a digital original, that he trusts her. "Kate," he says. "Without a doubt. We just work well together. With Kate, I don't have to worry about anything." But who else made their lists?
They can both agree on this crew member
Rosbach and Chastain were asked to identify crew members from both Below Deck and Below Deck Mediterranean. Not surprising, both Chastain and Rosbach would love to have deckhand Colin Macy-O'Toole on their dream team.
"I'd like to throw Colin in the mix," Chastain says. "Cutie Colin." Then Rosbach echoes Chastain's pick. He also adds another Below Deck Med deckhand to his list too. "And maybe Jamie [Jason]," Rosbach adds. "I didn't see anything that would lead me to believe there would be a conflict. Or any difficulty in working with either one of them."
Both Macy-O'Toole and Jason remained drama-free during their season(s) on the show. Both deckhands have also met and become friendly with the Below Deck cast members. In fact, Jason is currently dating Chandler Brooks, who was the bosun for a few episodes during Below Deck season six.
These 'Below Deck' crew members also made the cut
Chastain said her favorite crew was season six … give or take a few crew members. "Honestly, the Below Deck season six Tahiti crew, they are kind of are my dream crew," she says. "Give or take a couple of them." Chastain worked extremely well with second stew Josiah Carter and eventually with third stew Laura Bentancourt. She also marveled at the talents coming from the kitchen, courtesy of chef Adrian Martin.
She would also love to see some of these former stews return … a few she had a contentious relationship with on the show. "Love Amy [Johnson]," she says. "Love Kat [Held]. She's funny. Jen [Howell] made me laugh." Chastain had a strong working relationship with Held but had Johnson in tears during season two. She and Howell had a snarky relationship, often crossing the line with each.
Chastain also pondered what it would be like to share chief stew duties with Hannah Ferrier from Below Deck Med. "And I would like to work with Hannah just because I wouldn't mind splitting some of the responsibilities," she remarks. "Hannah and I have discussed co-chief stewing. I'm not sure if that would work. In theory, it sounds good. Co-chief stews is not a thing in yachting, but maybe it should be."
Catch Chastain, Rosbach and the crew when Below Deck returns Monday, October 7 at 9/8 central only on Bravo.