Benedict Cumberbatch Refuses to Take a Role If He and His Female Co-Stars Aren't Being Paid the Same
Benedict Cumberbatch says he won't sign on for a movie, TV show, or any acting role for that matter if his female counterparts on the project aren't paid the same as him.
The 43-year-old Sherlock actor who most recently starred in the record-breaking film, Avengers: Endgame, as Doctor Strange (he's set to reprise the role in a sequel to his Marvel character's first stand-alone film), told Britain's Radio Times in 2018 that he wouldn't accept a role unless his female co-stars were paid the same. 
Benedict Cumberbatch on equal pay: "Say, 'If she's not paid the same as the men, I'm not doing it.'"
A long outspoken supporter of feminism and a feminist himself, Cumberbatch said equal pay is a "central tenet of feminism," according to HuffPost.
It's about implementation," he said. "Equal pay and a place at the table are the central tenets of feminism. Look at your quotas. Ask what women are being paid, and say: 'If she's not paid the same as the men, I'm not doing it,'" he added.
Cumberbatch is one of two male employees at his production company and 'proud' of it
When he sat down for the interview last year, Cumberbatch had recently started his own production company, SunnyMarch.
During the interview, in between promoting his newest project, Patrick Melrose, produced by SunnyMarch, Cumberbatch said he and his business partner, Adam Ackland, were happy to be the only men on staff.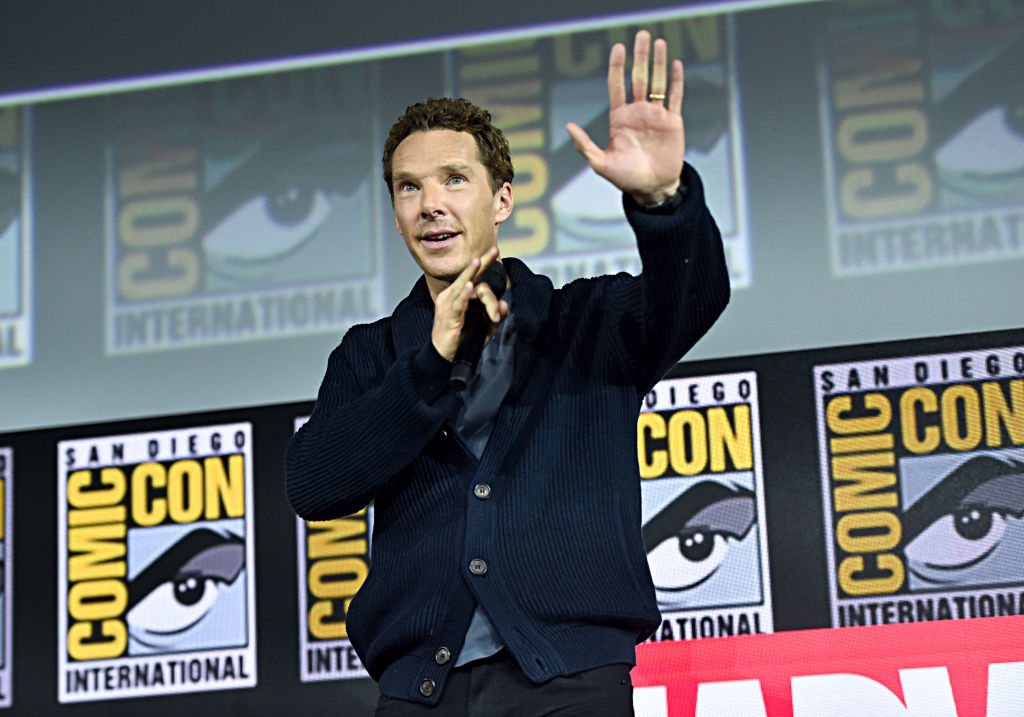 "I'm proud that Adam and I are the only men in our production company," he said. 
Cumberbatch continued, saying he'd use his name to allow the production company to tell stories centered around women.
"Our next project is a female story with a female lens about motherhood, in a time of environmental disaster," he said. "If it's centered around my name, to get investors, then we can use that attention for a raft of female projects," Cumberbatch added. 
Certainly, with Cumberbatch coming off of the high-grossing film of all-time, Avengers: Endgame, he'll have some serious negotiating power with future projects that he can leverage to bridge any potential wage gaps between him and his female co-stars. 
Peggy Carter approves of Cumberbatch's equal pay strategy
Not exactly Peggy Carter from the Avengers movies, but the actress who played her, Hayley Atwell, applauded her co-star for his stance on equal pay in an Instagram post. 
"'Equal pay is a central tenet of feminism.' YES, Benedict, 👏🏼👏🏼👏🏼 any sexist trolling in the comments section will be deleted and the account blocked. Have a lovely day 😊," Atwell captioned a screenshot of Cumberbatch's interview she shared with her followers. 
This wasn't the first time Cumberbatch made his feelings about feminism known. In 2014, Cumberbatch posed in a t-shirt with the slogan, "This is what a feminist looks like," made by Fawcett Society, a gender equality organization.
His photo appeared alongside those of other actors such as Tom Hiddleston and Joseph Gordon-Levitt wearing the same shirt for Elle UK's feminism issue, according to Time. 
Cumberbatch has a slew of roles in the works based on his IMDb page so expect to see the actor a lot in the future.