What is Bernie Sanders' Net Worth?
Bernie Sanders, who ran for president back in 2016, recently jumped back on the campaign trail to join the race for 2020. Although Sanders became much more well-known after the 2016 race, he's had a successful career for many years. However, he's referred to being poor in the past. But how much has Sanders earned from his hard-working career?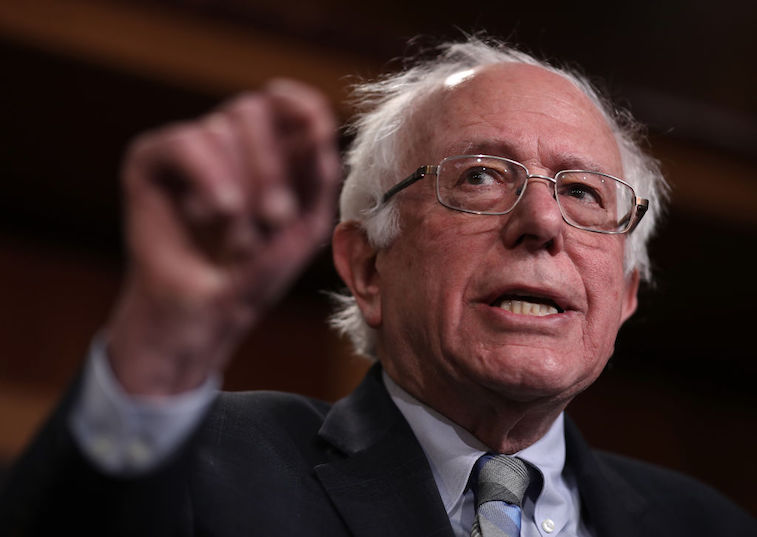 Sanders reportedly only makes $200,000 per year as a senator
Although $200,000 is a hefty salary for many, it's actually pretty low for a senator. Sanders once said that he is "one of the poorer members of the United States Senate." When Politifact looked into the statement, they found Sanders to be in the bottom one fifth of U.S. Senate members in terms of minimum net worth. However, it doesn't mean he's poor at all. Sanders has been a Vermont U.S. senator since 2007; he was endorsed by both Chuck Schumer and Barack Obama during his campaign, which helped him win the race.
In 2016, he raked in more than $850,000 in book earnings
Sanders may have a low salary compared to other senators, but he definitely isn't struggling financially. According to CNBC, Sanders earned more than $1 million in 2016, and the majority of that income came from book royalties. "Our Revolution: A Future to Believe In" was released in 2016 and landed at No. 3 on the New York Times Bestseller list. The reviews of the book were a bit mixed, but it ultimately added a lot to his net worth.
His total net worth is estimated around $2 million
Sanders' book earnings definitely added a solid amount to his net worth. His senator salary, plus the book earnings and any other paid appearances he's had along the way have all helped him accumulate a net worth estimated around $2 million. However, some suggest having a net worth in the millions is interesting for Sanders, since he often promotes the idea that there is too much economic inequality in the United States.
Sanders recently announced a presidential campaign for 2020
Sanders competed against Hillary Clinton in the 2016 election, but he lost to Clinton, who then lost to Donald Trump. However, Sanders decided he wasn't done trying to change the country just yet. On February 18, he announced a bid for the 2020 presidential election, which is already pretty crowded on the democratic side.
Some of Sanders' most notable policy changes back in 2016 were an increased minimum wage of $15, Medicare for everyone, and tuition-free college education. Although these ideas sounded great in theory, not everyone was convinced they were feasible, and Sanders ended up the runner-up in the Democratic primary. "… As result of millions of Americans standing up and fighting back, all of these policies and more are now supported by a majority of Americans," Sanders said of his decision to run again, according to The New York Times.
Sanders will join plenty of others on the democratic side for the election, including Kamala Harris, Elizabeth Warren, and Cory Booker.
Check out The Cheat Sheet on Facebook!