5 of the Best Bodybuilding Documentaries to Watch on Netflix
For many athletes, bodybuilding isn't just a hobby — it's a way of life. Their exercise plans, diets, and free time are all entirely consumed by the desire to sculpt the perfect physique. Some bodybuilders don't take their ambitions very far; others are driven to achieve ultimate victory and join the ranks of Arnold, Ferrigno, and Coleman.
Over the years, the media has paid a lot more attention to bodybuilding. Where once the public only heard about the Mr. Olympia competition when it rolled around every year, now there's a lot more awareness about the sport. Some of it is positive — whole online communities have sprung up to support and encourage fellow bodybuilders. Other media has focused on the dark side of the sport — namely performance enhancing drugs.
The documentaries on this list cover every aspect of bodybuilding, and they're guaranteed to pump you up, whether you're interested in learning more, or looking for a little inspiration.
1. Pumping Iron (1977)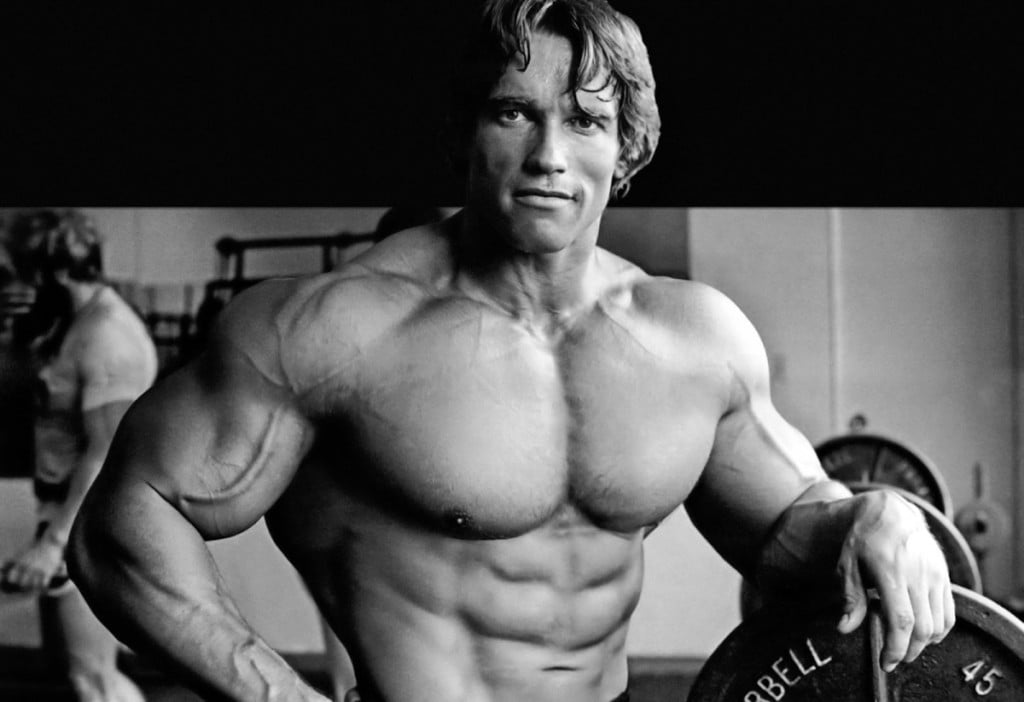 Before he was the Terminator, and then the Governator, Arnold Schwarzenegger was a full-time bodybuilder. Pumping Iron follows him and other professional bodybuilders in the months leading up to the 1975 Mr. Universe and Mr. Olympia competitions. It gives viewers an entertaining and often educational look into this insanely competitive world, from the way the athletes train mentally and psychologically to the pressure they feel as competition days draw close. It also gives us a chance to see these larger-than-life men in a new light — as humans, enjoying time at home and celebrating after their competitions are over.
Some of the best segments in Pumping Iron feature Schwarzenegger's rivalry with fellow bodybuilding bigwig Lou Ferrigno, including their in-depth demonstrations of how they built their world class physiques.
2. Bigger, Stronger, Faster* (2008)
Steroids are one of the most controversial subjects in the sports world — but especially where bodybuilding is concerned. Bigger, Stronger, Faster* follows three brothers, all bodybuilders, and their individual experiences with performance enhancing drugs. One brother is staunchly against them. The others speak to the pressure they've felt to use them in order to keep up with the insane competition they face. We also get to see the ramifications that each brother faces due to their choices.
3. Generation Iron (2013)
Like Pumping Iron before it, Generation Iron follows some of the most recognizable bodybuilders in the world as they train for the elite Mr. Olympia competition. Only this time, it's the 21st century, and the sport has changed a little. With appearances from Schwarzenegger, Ferrigno, and one of the sport's newer icons, Jay Cutler, the film is a mix of instructional inspiration and gritty realism. It highlights the extreme discipline and restraint that builders like Dennis Wolf and Branch Warren had to exhibit to make it to the top. And it feels like a celebration of the sport, even when it shines a critical eye on some of its practices.
4. Fittest on Earth (2016)

The newest documentary on our list is about the 2015 Reebok CrossFit Games, in which male and female athletes try to outdo each other in a series of grueling physical tests. The winner of the event earns a cash prize, and the title of "Fittest on Earth." The five day event involves 13 separate tests that include everything from swimming to weightlifting. While not exclusively about bodybuilding, Fittest on Earth is a fascinating behind-the-scenes glimpse into the world of elite athletes.
5. CT Fletcher: My Magnificent Obsession (2015)
Another newer offering, CT Fletcher: My Magnificent Obsession follows the powerlifting legend who, 2005, flatlined on the operating table during open heart surgery. Dealing with life-threatening hyper tension, the athlete has poured his heart (and cash into his Iron Addicts brand, which includes gyms and merchandise. From the producers of Generation Iron, the film details the ups and downs of the life of one man who refuses to give up on his passion.
Additional reporting by Becca Bleznak. 
Check out Entertainment Cheat Sheet on Facebook!