The Best Christmas Episodes Of Your Favorite Shows On Netflix
It's time to get in the Christmas spirit! If you don't have time for an entire Christmas film, why not check out one of these episodes of some of the best shows on Netflix. From The Office to Black Mirror, these are the holiday episodes you need to watch this year.
'The Office' Season 2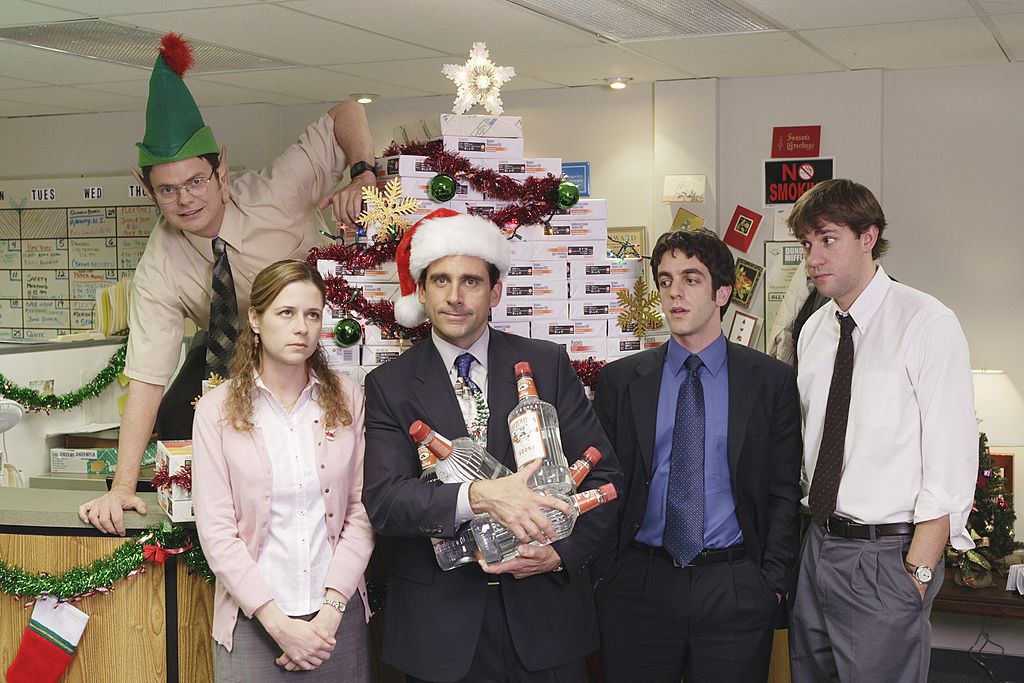 Like most comedies that run for many years, The Office has its fair share of Christmas episodes. There's the fruitful-yet-cringeworthy "A Benihana Christmas" in Season 3, the hopeful "Classy Christmas" in Season 7, and the practically perfect "Dwight Christmas" in Season 9. But the first entry is hard to beat.
Simply titled, "Christmas Party," this episode is essential in laying the groundwork for Pam and Jim's eventual relationship. It's one of the first times we get to see the gang really loosen up, and everyone is at their best (or worst, depending on the character). This is definitely a good choice to get in the holiday spirit.
'BoJack Horseman' Christmas Special
Onto another, much darker comedy next. BoJack Horseman being a Netflix Original Series, it has what many other shows under the streaming service's banner have accumulated over the years: A Christmas special. And boy, is it special.
"Sabrina's Christmas Wish" was released in Dec. 2014, in between the first and second seasons of the acclaimed series. In it, BoJack and Todd the Horsin' Around Christmas specials of the same name. It's sort of both an excuse for the show to make a "lighter" episode and some commentary on the character and his life.
'Schitt's Creek' Season 4
The hit comedy Schitt's Creek — which has only just begun to get the recognition it deserves — is currently streaming in its entirety on Netflix. And though the show has stuck with a January through March/April season every year, it offered up a special bonus Christmas episode in 2018.
"Merry Christmas, Johnny Rose" aired as part of the 13-episode fourth season of the series, though it came out just before Season 5 began. In the episode, Johnny thinks back to past extravagant holiday parties that the Roses would throw, and decides to try and recreate one on a budget. What he learns is that things are much better now than when the family was wealthy.
'Friends' Season 7
Like The Office, there were plenty of great holiday episodes over the course of Friends' run. And while we might suggest watching all of them one last time before the series leaves Netflix forever, it's possible you don't have time for that. In which case, this is the episode we recommend.
Season 7 is right around the time Friends started to dip in quality. However, "The One With the Holiday Armadillo" is a great episode. In it, Ross, who is desperate to teach his oft-forgotten son, Ben, about Hanukkah this year, dresses up in the only costume left at the store. Of course, then Chandler gets in his way…
'Black Mirror' Season 2
If you're not into holiday cheer, and you'd rather celebrate Christmas with a darker kind of show, you're in luck. The Black Mirror Christmas special, "White Christmas," is also available to watch on Netflix. And it's a long one, running 73 minutes total.
In the special, two men, played by Jon Hamm and Rafe Spall, are living together in a cabin. One Christmas Day, they recount the details of what led to them being there — and yes, they're very dark tales of technology gone wrong. If you like Black Mirror, but somehow skipped this one, we suggest amending that right away, because this is a really good one.