10 Best Japanese Horror Movies of All Time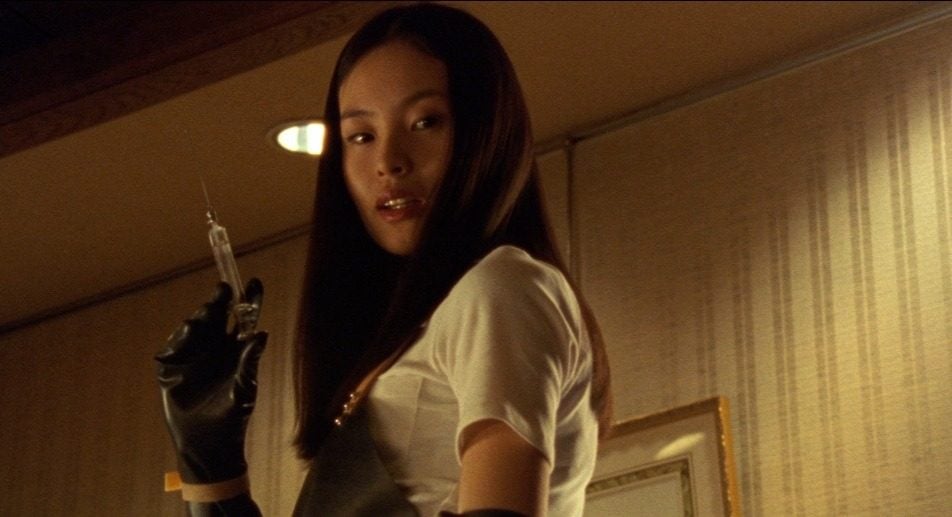 Throughout cinema history, many classic horror films have shocked, appalled, and terrified audiences, often in the best ways. Horror cinema has the distinct ability to elicit particularly strong responses from moviegoers, and across the world, few nations have mastered the art of scaring us like Japan. In fact, films from the nation are regularly referred to as J-horror, earning their own sub-genre due to their unique stylistic and thematic elements. Over the years, a number of these films have been remade (mostly unsuccessfully) by Hollywood. There is, it seems, no substitute for genuine J-horror. So let's take a look at some of the finest examples of J-horror ever to hit theaters, listed by order of release.
1. Kwaidan (1964)
This classic from director Masaki Kobayashi is actually an anthology comprised of four shorts based on folk tales by Lafcadio Hearn. Celebrated at the time of its release, the film received the Special Jury Prize at the Cannes Film Festival and was nominated for an Academy Award for the Best Foreign Language Film. Translating to "ghost story," Kwaidan is certainly one that horror aficionados should be sure to track down.
2. Onibaba (1964)
Named after the monsters from Japanese folklore, this film written and directed by Kaneto Shindo centers on two women who kill soldiers during a 14th-century civil war in order to steal their possessions. Over the years, the film's reputation has only further developed, earning it praise for its filmmaking style.
3. House (1977)
Using a cast of mostly fresh talent, this Nobuhiko Obayashi film was originally released in Japan as a double feature with a romance as the bill's other half. In fact, it received negative reviews upon its initial release but has come to be recognized as a unique cinematic experience in and of itself.
4. Ring (1998)
This is one of the few J-horror films on our list that was remade in the United States and had a successful transition. The film's premise, of course, centers on a deadly videotape that somehow sees viewers die seven days after viewing it. We'll bet you've seen the 2002 English-language version, but this one might be even better.
5. Audition (1999)
Filmmaker Takashi Miike is known for his fearlessness behind the camera, and this is one of his most terrifying projects to date. Based on the novel, Audition takes a romantic comedy premise and turns it into something that nightmares are made of. Just masterful filmmaking all around.
6. Suicide Club (2001)
This independent horror film from writer and director Sion Sono centers on a rampant series of mass suicides happening across Japan, and the controversial premise caused quite a stir in film festivals. Ultimately, the film — known as Suicide Circle in Japan — developed a cult following and inspired a prequel.
7. Ju-on: The Grudge (2002)
There is no Sarah Michelle Gellar in this version. While actually the third entry in the Ju-on franchise, this Japanese classic is far more chilling than its American counterpart and kicked off an entire franchise, including sequels, novels, comics, and even a video game. Even if you didn't care for the American version or its sequel, definitely check this one out, as it's a remarkably different beast in many ways.
8. Dark Water (2002)
Hideo Nakata directs this horror drama — which, yes, was remade in 2005 into a Jennifer Connelly film — with visual panache and scored a horror classic in the process. The story centers on a single mother and her daughter who encounter supernatural phenomena when they move into an eerie new apartment. While its setup is familiar, Dark Water does more with it than audiences may expect.
9. Marebito (2004)
Takashi Shimizu — the man behind the Ju-on franchise — is behind this one, which follows a cameraman (Shinya Tsukamoto) investigating reports of mysterious spirits lurking in the Tokyo subway system. The film has been heavily lauded for both its originality and how earnestly it clings to the inspiration of what came before it. Marebito is a modern classic from a filmmaker with a proven track record in the genre.
10. Noroi: The Curse (2005)
Found footage films don't always work, but when they do, they can be among the most effective horror films out there. This one from director Kôji Shiraishi is one of the more ambitious films and soars all the higher because of it. Centering on a documentary filmmaker chronicling seemingly unconnected paranormal incidents, Noroi: The Curse has been criticized for its longer-than-usual length as well as its overly complex plot. However, this is all part of the experience to its admirers, and the film is a must-see in part because of its divisive nature.
Follow Robert Yaniz Jr. on Twitter @CrookedTable
Check out Entertainment Cheat Sheet on Facebook!