The Best Psuedo Christmas Movies to Watch On Christmas Day
Merry Christmas, everyone! If you're reading this, you're looking for a movie to watch on Christmas Day — specifically, one that isn't the usual romantic comedy or classic tale about the holiday season. Well, you're in luck. Here are a few films that are "Christmas-adjacent," so to speak.
'Die Hard'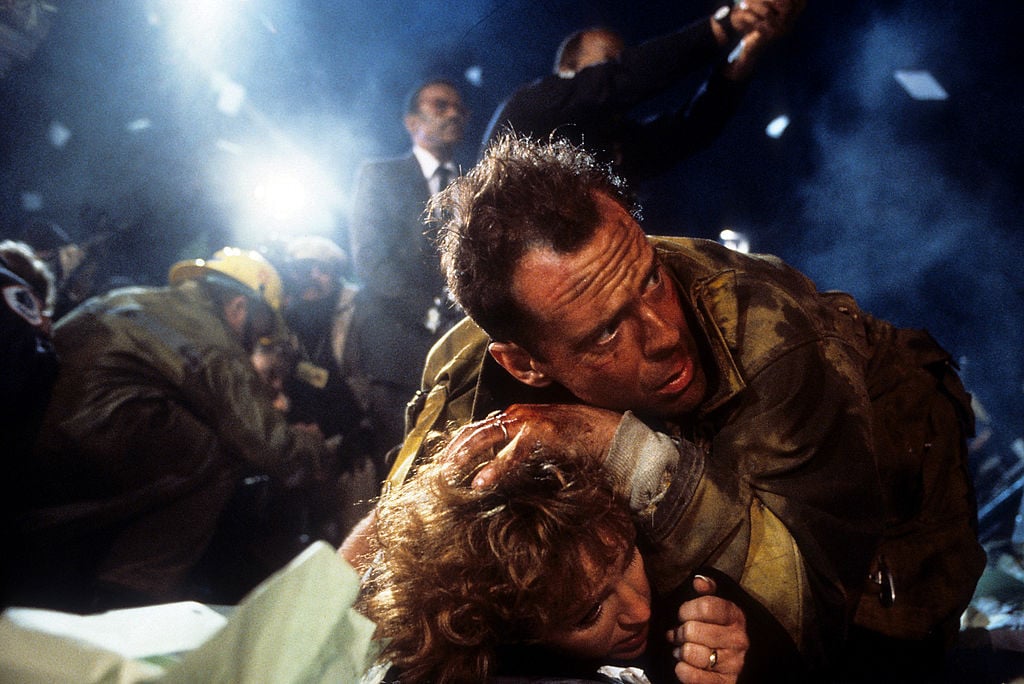 Every year, the internet erupts into the same debate: Is Die Hard a Christmas movie? There are quite a few strikes against it: For one, the 31-year-old film was released in July 1988. That doesn't exactly scream "holiday marketing."
But here are the facts: The action in the film takes place on Christmas Eve. There's a holiday party involved — and one that specifically takes place on that night, a tradition that only exists in Christmas movies. The female lead is named Holly, for Christ's sake! At the very least, Die Hard is a Christmas-adjacent film.
'Kiss Kiss Bang Bang'
From straight-up action thriller to a more darkly comedic crime flick, Kiss Kiss Bang Bang is part of a trend. Director Shane Black has a thing for setting his movies at Christmastime, despite there being very little of the actual holiday involved in the plot.
Regardless, the box office flop but critical success, like Die Hard before it, follows one man (Harry, played by Robert Downey Jr.) as he attends holiday parties. The movie came out in the U.S. in October, making it just at the cusp of the holiday season.
'Gremlins'
Arguably, Gremlins is, in fact, a Christmas movie. It revolves around Gizmo, the titular creature, being given as a gift for the holiday. And much of the ensuing chaos is Christmas-themed, with decorations heavily incorporated into the madness.
Additionally, the movie does have a holiday message — albeit a strange one — about the struggles of the season (Kate's reference to her dad's death being a prime example). But a horror-comedy isn't exactly what many would consider "Christmasy." And, like Die Hard, it was released in the summer months. Thus it's only "sort of" Christmas title.
'The Nightmare Before Christmas'
The holiday season, arguably, begins as soon as Halloween is over. So The Nightmare Before Christmas is a unique film in that it bridges that gap, taking characters from the spooky holiday and bringing them into the Christmas.
The Nightmare Before Christmas was, naturally, released just in time for Halloween. So many consider it to be a film about that holiday. But it's kind of impossible to tout one and not the other. And given its title, this is a movie that could certainly be watched on Christmas Day, even if it goes against the usual traditions.
'Iron Man 3'
After Black directed Downey Jr. in his triumphant return to show business, the actor returned the favor by getting him a gig on the third and final film of the Iron Man trilogy. Thus marks the only Marvel flick that can be also be classified as a Christmas movie.
This one might be the biggest stretch of all the entries on this list. It was released in May, but then again, the MCU is on a strict schedule, so we'll let that slide. But Iron Man 3 does take place in December, feature Christmas music, and plenty of other references to the fact that it's the holiday season. So we'll allow it. Oh, and Disney+ says it is.