The 10 Best Rolling Stones Albums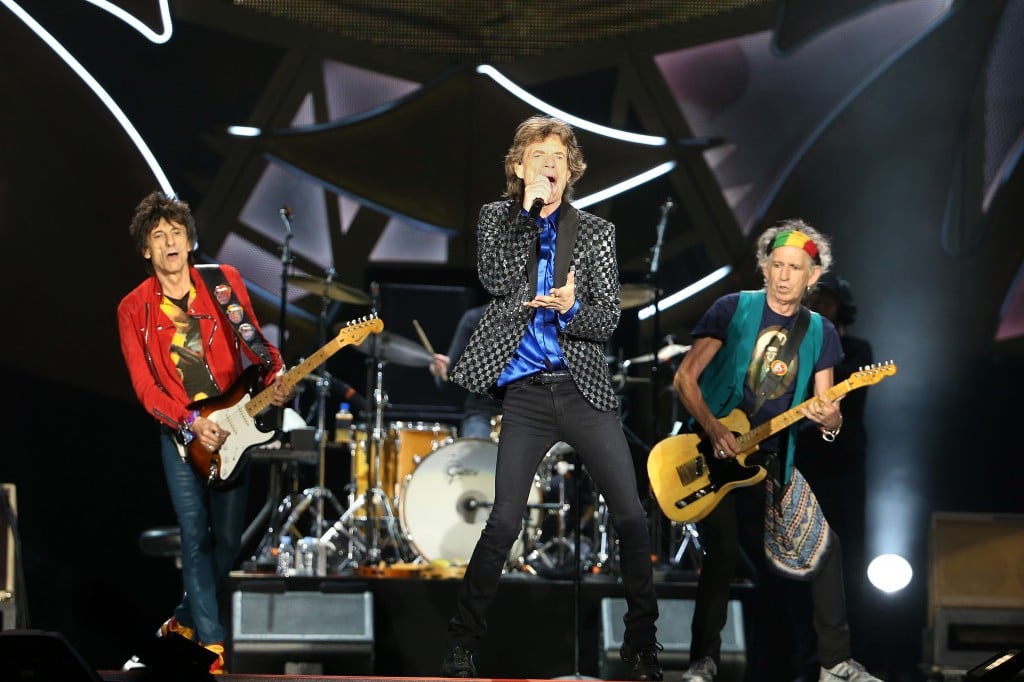 The Rolling Stones might be rock's greatest band and they're certainly the most enduring, still going 54 years after forming in 1962 (in stark contrast to their early career media rivals, The Beatles). Though their greatest recordings are a long ways behind them, The Rolling Stones, led by strutting singer Mick Jagger and bluesy guitarist Keith Richards, are still defying expectations by touring consistently to great acclaim.
Beyond their obvious talents for penning memorable riffs and vocal harmonies, their lasting appeal comes from their diverse influences. By drawing upon many genres, most falling under the umbrella of American roots music, the Stones helped define the shape of rock 'n' roll with a classic discography spanning decades. With the release of Blue & Lonesome, their first studio album in 11 years, only a month away, we're counting down our favorite Rolling Stones albums from their extensive (and I mean extensive) career.
10. Goat's Head Soup
The Stones' follow-up to the rollicking Exile on Main St. sounds considerably more tired — which isn't necessarily a bad thing when the tiredness yields heartbreakingly beautiful songs like "Coming Down Again" and hit single "Angie." Though the band was burned out on all sorts of drugs and struggling through a muddy production-style that emphasized funky '70s keyboards, they still sound great.
9. Their Satanic Majesties Request
Their Satanic Majesties Request isn't what '60s listeners wanted from The Rolling Stones, and it drew the ire of critics and fans alike for following The Beatles into psychedelic territory — even the album cover looked like Sgt. Pepper's, for crying out loud. But the album is more entertaining and original than it first got credit for, a good-humored exploration of psychedelic music with fascinating rhythms and arrangements. This isn't the Stones most of us know, but it's hard to care when the songs are as strong and interesting as "2000 Light Years from Home" or "Citadel."
8. Aftermath
After a few thrilling, but flawed early releases, the Stones finally came into their own on 1966's Aftermath. The production is clean and the songs are all originals. They're still heavily indebted to their American influences but often outpace them in terms of sheer melody, creativity, and musical diversity. The hits are plentiful here ("Paint It Black," "Under My Thumb," "Mother's Little Helper") and it's impressive not one of them sounds remotely the same.
7. Out of Our Heads
Or is this when the Stones truly came into their own? It's not quite as clean or well-known and includes a few covers that don't compare to the original compositions as well as a few that come close to surpassing them ("Mercy Mercy" and "I'm All Right," the latter recorded live). But despite its flaws I tend to think of this as the ultimate distillation of the band's early stage, youthful and messy and brilliant.
6. Some Girls
Often regarded as a return to form after a few disappointments, Some Girls doesn't quite compare to the Stones' best releases of the late '60s and early '70s, but it comes awful close while still daring to do its own thing. This is evidenced by the album's two biggest hits, disco triumph "Miss You" and the funky "Beast of Burden." "Before They Make Me Run" and "Just My Imagination" drag it down a bit, but it's hard to fault a record that's this much fun.
5. Between the Buttons
As with Their Satanic Majesties Request, Between the Buttons is often overlooked simply because it doesn't fit the enduring image of The Rolling Stones. It's all delicate piano pop and orchestral balladry, remembered chiefly for the hits "Ruby Tuesday" and "Let's Spend the Night Together." But every track is a masterwork in catchy melody and layered arrangement that offers something new to notice with each listen.
4. Beggars Banquet
After forays into psych and baroque pop, The Rolling Stones returned to their roots — blending blues, soul, and country influences into a delicious rock 'n' roll stew. The goofy acoustic numbers are almost too goofy, but the more earnest ones ("No Expectations" especially) are pure beauty. They're all the more beautiful when contrasted with iconic, anarchic rockers like "Street Fighting Man," "Sympathy for the Devil," and
"Stray Cat Blues."
3. Let It Bleed
How can a record that starts with "Gimme Shelter" and ends with "You Can't Always Get What You Want" be any lower than third? In between those two masterpieces, both contenders for the band's best song of all-time, the Stones follow the formula pioneered on Beggars Banquet, alternating between loose acoustic numbers like "Country Honk" or the hilarious title track and kick-butt rockers like "Monkey Man" or "Live with Me."
2. Exile on Main St.
Exile on Main St. is about as close as you can get to hearing The Rolling Stones play an intimate barroom setting now that they're strictly limited to playing enormous arenas. A communal feeling pervades throughout the stripped-back affair, a wonderfully raw collection of 18 tracks whose rich melodies are only outnumbered by their diverse influences.
Even more forgettable tracks like "Sweet Black Angel" and "Turd on the Run" seem a vital part of the record, even if they can't compare to the drunken singalong of "Sweet Virginia" or the raucous good time of album opener "Rocks Off."
1. Sticky Fingers
With Sticky Fingers, a few snot-nosed Brits basically invented southern rock by fusing goofy country, earnest southern soul, raw blues, and dirty rock 'n' roll. This is possibly my favorite album of all-time and one of the select few LPs with no extraneous or forgettable tracks. From the Santana-esque jam of "Can't You Hear Me Knocking" and vulgar riffage of "Brown Sugar" to the loveliness of ballads like "Moonlight Mile" and "Wild Horse," this is the perfect distillation of the thrilling contradictions and immeasurable songwriting skills that make the Stones, the Stones.
Follow Jeffrey Rindskopf on Twitter @jrindskopf
Check out Entertainment Cheat Sheet on Facebook!