Beth Chapman Dead At 51: How Dog The Bounty Hunter And His Wife Faced Her Cancer Battle
Duane "Dog" Chapman has confirmed the sad news that his wife and fellow Dog the Bounty Hunter star, Beth Chapman, has passed away. Beth died after a prolonged battle with throat cancer that began in the fall of 2017. While the Chapmans mourn the passing of their beloved family member, here is how Dog and Beth faced her cancer battle head-on.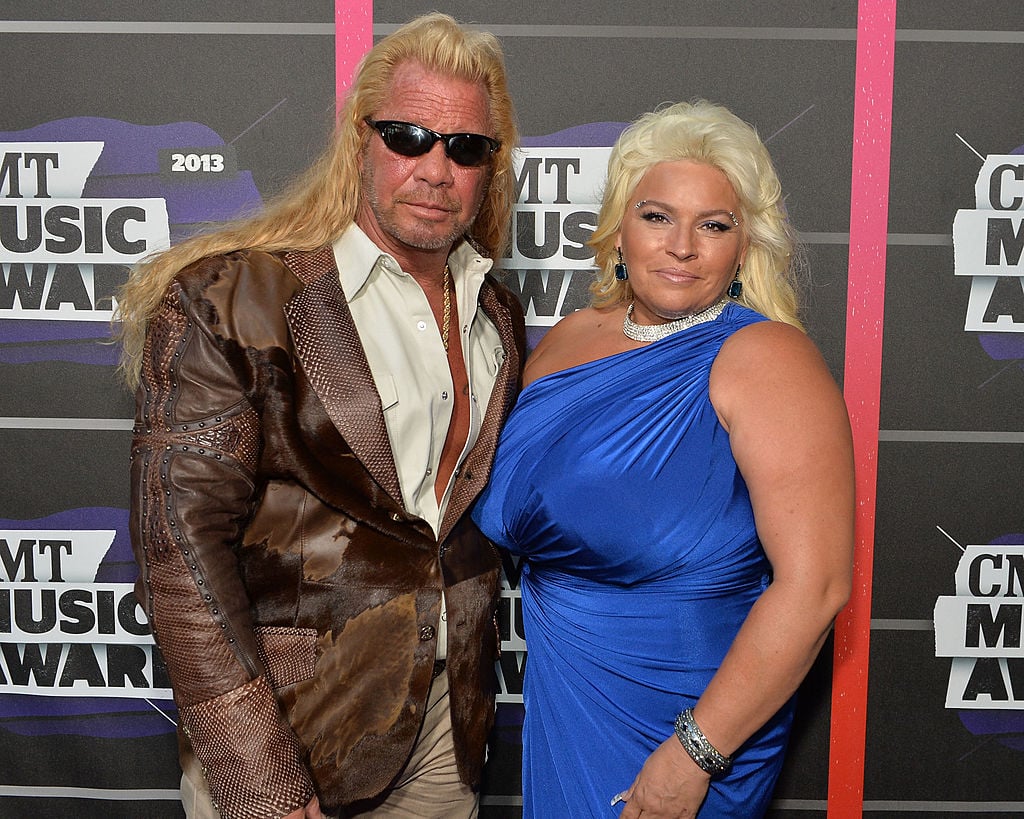 Beth and Dog announce cancer news
In September of 2017, Dog and Beth Chapman revealed that doctors had diagnosed her with stage II throat cancer. Beth later shared her thoughts about the diagnosis and said that she wanted to keep a positive attitude about the disease. She also promised to fight cancer with all the will power she could muster.
"I knew I couldn't let it take me over," Beth shared. "I had to keep moving, every day, moving forward… So I take it each day at a time. And I'll fight it with all that I have."
According to People, doctors performed surgery on Beth to extract a growth from her throat. While everyone was optimistic about the surgery results, Beth's recovery was harder than they expected. At the time, Beth and Dog revealed that they were taking everything in stride and were determined to beat cancer.
Despite the difficult recovery, a pathology report later showed that Beth was free of cancer. Dog broke the good news during a special on A&E titled, Dog & Beth: Fight of Their Lives. The special was an emotional one for the Chapmans, though it ended on a positive note.
Beth Chapman's cancer returns
This past December, Beth and Dog opened up about her renewed battle with cancer and the non-surgical options they were exploring. The Dog the Bounty Hunter stars announced that Beth was looking at chemotherapy but that doctors only gave her a 50 percent chance of survival.
They were also exploring alternative options in Houston and Boston, mostly because they were unhappy with the prognosis. Although she battled throat cancer in 2017, the disease had spread to her lungs a year later.
To help pay for their mounting medical expenses, Dog started bounty hunting full time once again. Although the chances of her beating cancer were not good, Dog and the rest of Beth's family made sure to cherish each and every day with her. They were also determined to remain positive about the situation and never gave up on finding a cure for their mom.
In fact, amid her fight with the disease, Beth regularly updated fans by sharing photos of her family on social media. This includes pics of her husband, whom she says stuck by her side at every turn.
Beth Chapman leans on Dog for support
In an Instagram post this past May, Beth revealed that a lot of her strength comes from Dog's unwavering support. She also told her followers that spending time with Dog is her top priority and that their love story is one of the greatest ever. It is unclear what kind of treatment Beth received in her final months, though we know for sure that she opted against taking chemotherapy. Speaking to a church in Florida on Mother's Day, Beth explained how she was relying on her faith in God to help her through and that she did not like the idea of undergoing chemotherapy.
Family, meanwhile, clearly paid a large part in Beth's fight with cancer, and it is good to know that she got to spend a lot of quality time with her loved ones before the end.
Dog announces the sad news
Dog took to Twitter to confirm the sad news of Beth's passing. Dog revealed that Beth passed away at exactly 5:32 in the morning, which is the same time she would get up in the morning to hike a nearby mountain called Koko Head. A source close to the family also revealed that Beth was surrounded by loved ones when she died, including her husband, who was holding her hand when she left.
Apart from Dog, Beth Chapman is survived by four children: Bonnie Chapman, Cecily Chapman, Dominic Davis, and Garry Chapman. Beth appeared on Dog the Bounty Hunter for eight seasons and the couple's spin-off, Dog and Beth: On the Hunt, which last aired in 2015.