What is Beto O'Rourke's Net Worth?
Beto O'Rourke recently announced that he's running for president in 2020. If that name sounds familiar, it's because he put up a major fight to unseat incumbent senator Ted Cruz in Texas last year. Although he lost the Senate race, he made himself widely known and opened up Texans' eyes to the possibility of a blue state. Now, he's going even bigger: The White House. But how much is this politician from El Paso, Texas worth?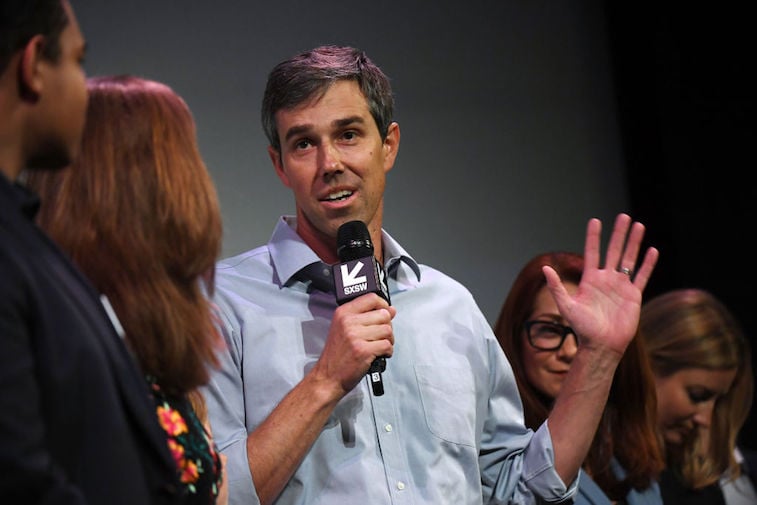 O'Rourke had a brief music career before going into politics
Over the years, O'Rourke has gained a reputation as being someone a little more laid back and unpolished; he actually had no interest in politics when he was young. Believe it or not, he was largely into punk music as a teenager and eventually formed his own band. According to Rolling Stone, O'Rourke first found love for punk music when he listened to "London Calling" by The Clash for the first time. He began reading punk zines and later formed a band where he actually went on tour. The GOP tweeted a photo of O'Rourke's band's EP back when he was running, hoping to burn O'Rourke. But it backfired a bit and made some people realize that O'Rourke was actually a breath of fresh air.
He received a bachelor's degree from Columbia University
He may have loved punk music, but he also focused on school. O'Rourke attended a private boarding school in Virginia, and despite continuing his passion for punk music, his grades didn't falter. He enrolled at Columbia and eventually became the captain of the heavyweight rowing crew team. In 1995, he graduated with a Bachelor of Arts in English literature. O'Rourke, who is also fluent in Spanish, never thought the degree would eventually lead him down the political path, but his father changed his mind.
His father helped him break into politics, and he eventually worked his way up
O'Rourke's father had been a politician for most of his life. When O'Rourke graduated from Columbia and returned to El Paso, he wasn't originally looking for a career in politics. He had been shy as a child and hated when his dad would prompt him to introduce himself to new people. But he said that looking back on it, he's glad his father pushed him. O'Rourke began volunteering on various campaigns but didn't consider running for office until someone he liked wasn't re-elected. In 2005, he was elected to the El Paso City Council. He was then elected to join the house of representatives in 2012.
Today, he's worth an estimated $9 million  
O'Rourke's political career only continued to grow from there. He ran a town hall every month and was adamant about giving voices to minorities, especially those in his own district, who were largely Hispanic. He held a congressional seat until 2018, when he decided to run for senate against Ted Cruz. Although he lost the election, he empowered those in Texas who didn't agree with the state's red-party politics. And now, he wants to make an even bigger difference by running for president. O'Rourke's successful political career has earned him an overall net worth of around $9 million, as of 2015. Despite having plenty of money, he speaks up for those who don't have as much privilege.
Check out The Cheat Sheet on Facebook!