Beyoncé's Album Didn't Give Anyone Else a Chance for VMAs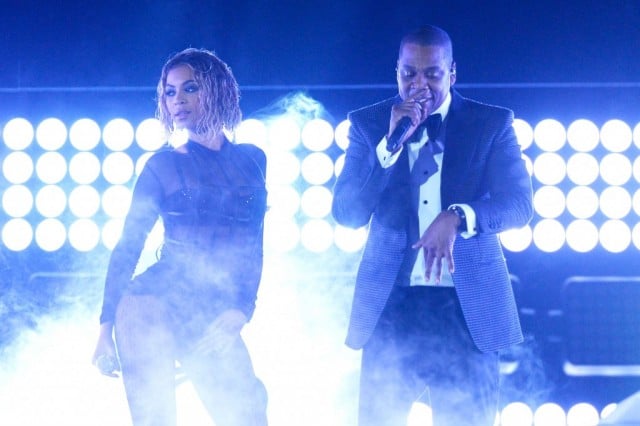 Beyoncé predictably leads the nominations for MTV's Video Music Awards with the videos from her self-titled fifth album, which was dropped as a surprise at the end of last year with no press hype and no warning on the unsuspecting public. Beyoncé was referred to as a "visual album," with an expensive, top-notch music video made for every track on the record before it was even released, which naturally made her a shoo-in for the VMAs.
Beyoncé is up for eight awards, including Video of the Year and Best Collaboration for her hit with husband Jay Z, "Drunk in Love." She's also nominated for Best Female Video, Best Choreography, Best Video with a Social Message, Best Cinematography, Best Editing, and Best Direction. Following Bey in nominations are Eminem and Iggy Azalea, with seven apiece.
The videos for Beyoncé are as over-the-top sexy as the record, with innumerable costume changes and choreography to show Bey at her absolute sexiest. "Drunk in Love" has a looser feel, with Bey dancing on the beach alone until she's joined by the guy who inspired her to coin the term "surfboart" for girl-on-top. "Partition" is a fancier affair, with Beyoncé-as-stripper putting on every outrageous high-class stripper outfit imaginable, though she doesn't even make it to the club before "he Monica Lewinsky'd all over my gown."
The clothing in that video alone probably cost more than your house. The video for the Sia-penned "Pretty Hurts" goes for a positive message about body image with the impossibly beautiful Beyoncé struggling to compete in a series of beauty pageants. Those three videos were the ones out of the 17 made for the album that were nominated for the VMAs.
When the record came out, Rolling Stone marveled at the fact that she was able to keep it all a secret up until its release: "The sheer number of people involved in this top-secret project, and the way they all kept their mouths shut — well, it proves that basically any conspiracy theory is plausible. The nail techs alone for 17 different Beyoncé videos? That's a mountain of nondisclosure paperwork right there. You crazy for this one, Bey."
Critics interpreted the concept of a visual album as a way to keep a modern audience's attention for the length of an entire record in a climate where no one listens to albums anymore. Beyoncé's resources allow her to make videos that are basically the equivalent of short, super-sexy movies starring the biggest power couple in the music industry. Who wouldn't want to watch that?
Bey and Jay are currently on their first co-headlining tour. The On the Run tour kicked off in Miami on July 25 and will go around the country before wrapping up in Paris in mid-September. The pair announced the tour with another video, posting an epic mock movie trailer featuring a litany of their celebrity friends that nearly broke the Internet when it debuted on YouTube.
The VMAs will take place Sunday, August 24, and performances by Ariana Grande, Usher, and 5 Seconds of Summer have been confirmed thus far. Given Jay and Bey's steamy rendition of "Drunk in Love" at the Grammys earlier this year, plus the guaranteed ratings boost, MTV is likely groveling at the pair's feet to get them to perform.
More From Wall St. Cheat Sheet:
Follow Jacqueline on Twitter @Jacqui_WSCS
Want more great content like this? Sign up here to receive the best of Cheat Sheet delivered daily. No spam; just tailored content straight to your inbox.