'Big Bang Theory' Season 8: Will There Be a Wedding?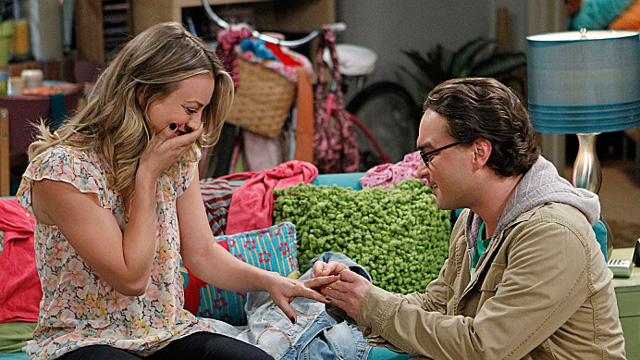 The Big Bang Theory is kicking off its eighth season this week, and with a long-awaited engagement for Penny and Leonard marking the end of last season, it seems fans have one main question on their brain: will we see a wedding soon? Showrunner  recently discussed what producers are planning in regards to the couple's nuptials, as well as revealed more specific details about what viewers can expect this upcoming season.
Though the CBS sitcom got a rare three-season renewal earlier this year, Molaro insists that the pickup hasn't changed their approach to plotting the show. While producers certainly have the option of long-term story planning now, it seems they're sticking with their episode-by-episode method of writing for now.
"There's no map between now and the end of Season 10 of when certain milestones need to be hit. When it feels like the right time, we'll go for it. We're not great at planning too far out in advance and when we have done it in the past, we end up changing our minds anyway!" Molaro said, according to TV Guide.
Translation? Fans shouldn't expect to see Penny (Kaley Cuoco-Sweeting) and Leonard (Johnny Galecki) rushing into anything any time soon. In fact, they should be set for the small screen couple's engagement to be a long one. "I don't think we feel pressure to hit these milestones," Molaro explained, later adding that he's "99 percent" certain that a trip down the aisle won't be happening this particular season.
The news may come as a disappointment to some fans, as Molara acknowledged, saying that, "I'm sure some fans want a wedding right away or babies or something, but most of them know … we try to let the show grow organically, so no wedding or babies for now." Still, it shouldn't come a huge surprise, given that the show has at least two more seasons to go. Plus, just the engagement itself will hold enough drama for Penny and Leonard, with lots of non wedding-related changes also headed their way.
As previously announced, Penny will be getting a new job working at the same pharmaceutical company as Bernadette (Melissa Rauch). The career switch changes the dynamics between her and Leonard, who is used to being the professionally successful one in the relationship. The job also causes some tension between Penny and Bernadette — conflict that is only made worse by Amy, as actress Mayim Bialik recently confirmed to Glamour.
But Penny isn't the only one undergoing changes to her career in the coming season. Sheldon (Jim Parsons) is back from his 45-day trip away, which wasn't exactly a success. According to The Hollywood Reporter, Sheldon ends up getting all of his belongings stolen while asleep on the train and has to call Leonard to come pick him up in Arizona — a choice that offends Amy. Once he finally returns, he also has to deal with switching his subject of study. The university has finally given him permission to focus on dark matter — on the condition that he also becomes a junior professor. According to Molardo, Sheldon reluctantly agrees to teach a class, but is left shocked when no one but Howard signs up for his class.
Meanwhile, Raj is still happy with his new girlfriend, Emily. The two remain in the honeymoon phase of their relationship and viewers should expect to see a lot more of the two of them together. Unfortunately, not all of the characters are thrilled with her growing presence in the group. Things change when Emily meets the rest of Raj's friends, particularly Penny. The two girls reportedly get off on the wrong foot when they first meet and Penny has to go out of her way to try and win her over.
Fans will have to stay tuned to see what else Sheldon, Penny, Leonard, and their other returning favorite characters get into this season, but it's clear there are plenty of new twists headed our way. The Big Bang Theory's season eight kicks off with a one-hour premiere on September 22 on CBS, before returning to its usual Thursday night slot on October 30.
More From Entertainment Cheat Sheet:
Want more great content like this? Sign up here to receive the best of Cheat Sheet delivered daily. No spam; just tailored content straight to your inbox.