'Big Brother 21' Episode 19: The Head of Household Retained All Power Week 6
Previously in Big Brother 21, Jessica won Head of Household during a crucial period when the main alliance decided to disband. Therefore, she came together with Cliff, Nicole, and Kathryn to create a new majority alliance and possibly run the house.
Feeling empowered, she nominated Jack and Michie, the main alphas in the house who she felt made her feel powerless numerous times. In Big Brother Season 21 Episode 19, Jessica, Michie, Jack, and three other contestants compete in the Veto Competition.
Additionally, this is Christie's last opportunity to use her Panic Power before it expires. Who won the Veto Competition, and did Christie change their Golden Power of Veto to Diamond? Keep reading to find out.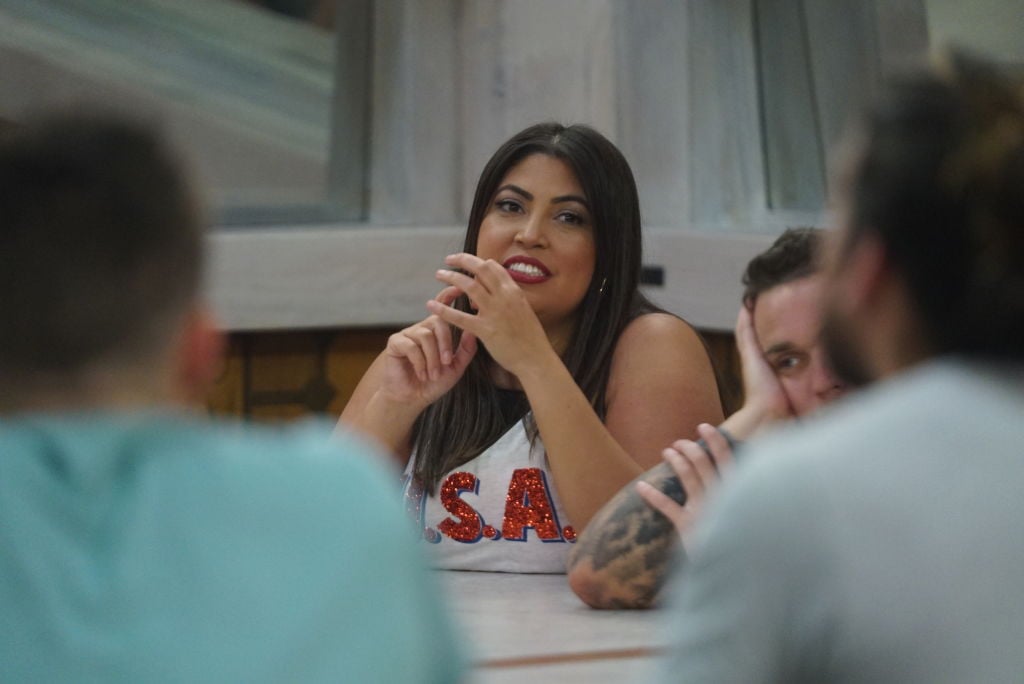 Who won the Veto Competition in 'Big Brother 21' Episode 19?
The Head of Household, Jessica, and her two nominees, Jack and Michie are already playing in the Veto Competition. Michie randomly chose Nick to join them, while Jack and Jessica chose Kat and Tommy, respectively. In this BB classic competition, the houseguests had to catapult a stuffed rocket on to a board, and are awarded the point value in the square.
Then, the eliminated campers select a prize, but the houseguests eliminated afterward have the option to keep their new prize or trade them for theirs. Kathryn was the first person eliminated, and she received the veto prize. Jack was the next one out, and he traded his Hawaii vacation to Kat for her veto.
The next eliminated houseguest, Tommy, picked the angry alien punishment, and he traded it to Jack for the vet prize. Next, Michie selected the BB explorer reward but decided on Tommy's veto instead.  Second place, Nick, chose and kept the $5,000 prize, while first-place Jessica traded her Area 21 punishment to Michie for his veto.
Because Jessica won Head of Household and the Power of Veto competition, she retained full control of the house. However, will the house save her target, Jack, and vote Michie instead?
Does the house want Michie or Jack out?
Because Christie and Tommy are still convinced Holly and Kathryn know each other, they want to split them up. Christie wanted Michie out so badly that she told Jack if he or Tommy won the Power of Veto Competition, she would use her Panic Power on them so they could nominate someone they know the house would keep over Michie.
She also wanted to use her power because if Michie won the POV, Jessica would most likely nominate another person from their side. So far, it seems as if Christie, Tommy, Analyse, and Kathryn want Michie out, while Head of Household Jessica, and her new alliance, is gunning for Jack.
Because Christie's power is now null and void, she wanted to see who Jessica wanted to send home, and was confused to learn that she wanted Jack out over Michie. She then went into the Buck Room to complain about Jessica, and Michie eavesdropped on her conversation from behind the door.
Michie tried to save himself in 'Big Brother 21' Episode 19
Christie ranted to Jack, Analyse, and Tommy about how much sense it makes for Michie to be evicted because he's the cause of the drama in the house. However, she said they couldn't push Jessica into seeing that because then she would save Michie off the block and put one of them up to prove a point.
Michie then repeated this conversation to Jessica, as a last-ditch effort to save himself from being evicted. Kat, Holly, and Nicole were also in the Head of Household room when Michie repeated the news.
Instead of Jessica getting upset with Christie, she took the information as confirmation that Nick is playing both sides and could be a reason why Michie could leave the house over Jack. Therefore, she claimed she would use the Power of Veto on Michie and put up Nick. However, she ended up not using it and kept the nominations the same.
Who will be evicted next, Michie or Jack? Watch Big Brother Thursdays at 9 P.M. EST on CBS to find out!