'Big Brother 21' Episode 22: Who Won This Season's Fan-Favorite 'Otev' Veto Competition?
Previously on Big Brother Season 21, the Six Shooters blew up, and Holly and Michie distanced themselves becoming outsiders. Another alliance, Cliff's Angels, formed during the demise of Six Shooters, consisting of Cliff, Nicole, Jessica, and Kathryn.
Also, Nick began playing both sides of the house after Isabella and Sam left. However, he finally chose to work with Christie, Tommy, and Analyse moving forward. Then, Tommy won Head of Household and immediately began trying to put Six Shooters back together, but Christie and Michie refused to work with each other again.
America's Field Trip threw a wrench in Tommy's plans with Michie winning safety and Christie ending up on the block as a third nominee. Tommy then chose to nominate Cliff and Kathryn for eviction. Who will win the Power of Veto and will they use it? Keep reading to find out.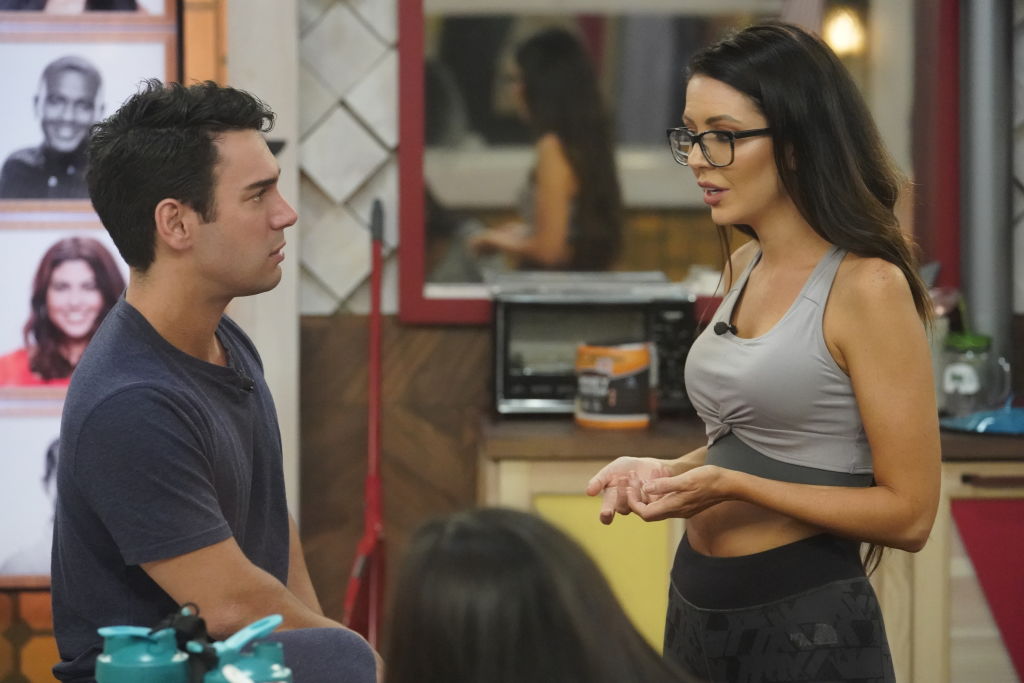 Nominees prepare for Veto Competition in 'Big Brother 21' Episode 22
Tommy's target this week is Kathryn because she has good working relationships with everyone in the house except for him. Cliff is his pawn, and Christie on the block as a third nominee was not in his plan. Therefore, he desperately wants to win the Veto Competition to save Christie and finish his reign as Head of Household by evicting Kat.
Coming off the formation of Cliff's Angels, Kathryn didn't expect to be on the block this week and believes she's following Jack out of the door. She went into a room to cry alone before Jessica and Michie came in to comfort her.
Michie asked her to pick him in the Veto Competition so he could play for her. However, he has no intentions of taking her off the block if he does win. He, as well as Jessica, wants to keep the nominations the same so they can get Christie out without getting any blood on their hands.
Cliff also came in and comforted his "daughter," saying they have two chances to get off the block and then Christie would go home over one of them. Although Cliff has been nominated at least four times, he declared to the other houseguest's photos that they would not push him out of the house because he wants to win Big Brother more than them.
He then did a little dance to calm his nerves before the competition.
Are the Six Shooters back together?
Similar to Tommy, Analyse also wants the old group working together again. She went to Michie and asked him to consider giving the alliance another shot, but he admitted he still doesn't trust Christie. He then turned it into a conversation about how they could get Christie out this week, but Analyse convinced him it's best for his game to work together.
Michie seemingly agreed, even though he desperately does not want to.
Who won the Veto Competition in 'Big Brother 21' Episode 22?
Tommy, Christie, Nick, Cliff, Michie, and Kat were the lucky six who played in this season's Otev competition. This time around, he was a Paranoid Penguin who pooed on the contestants when he got too worked up. In the musical chair style competition, Michie was the first one out, followed by Cliff.
In a moment which brought Jessica and Nicole to tears, Kat grabbed the rope, pushing Cliff off. She felt terrible for playing so hard and possibly being a reason why her "dad" could go home, but he told her to pull it together and fight.
Unfortunately, she was eliminated two rounds later after Christie, coming down to a battle between Nick and Tommy. The Head of Household pulled out the win and retained power for the whole week. Of course, he decided to use the Veto on Christie, leaving Cliff and Kathryn still on the block.
The other girls in Cliff's Angels are now conflicted on who they should vote to evict. Who will join Jack next in The Jury? Watch Big Brother Thursdays at 9 P.M. EST on CBS to find out!