'Big Brother 21' Episode 23: Did the House Vote To Evict Kathryn or Cliff?
Previously on Big Brother Season 21, Nick finally chose a side and picked Christie, Tommy, and Analyse as his new alliance members moving forward. Cliff's Angels consisting of Cliff, Nicole, Jessica, and Kathryn also formed, leaving Michie and Holly as outsiders.
Tommy became the new Head of Household and nominated Cliff and Kathryn for eviction because they both have good working relationships with everyone. However, he would like to have Cliff on his side, whereas he believes Kat is the more significant threat to his game.
Then, America's Field Trip threw a wrench in Tommy's plans because Christie lost the competition, ending up on the block as a third nominee. Determined to make sure the week went his way, he won the Power of Veto and used it on his closest ally.
Will Cliff or Kathryn join Jack next in The Jury next? Keep reading to find out.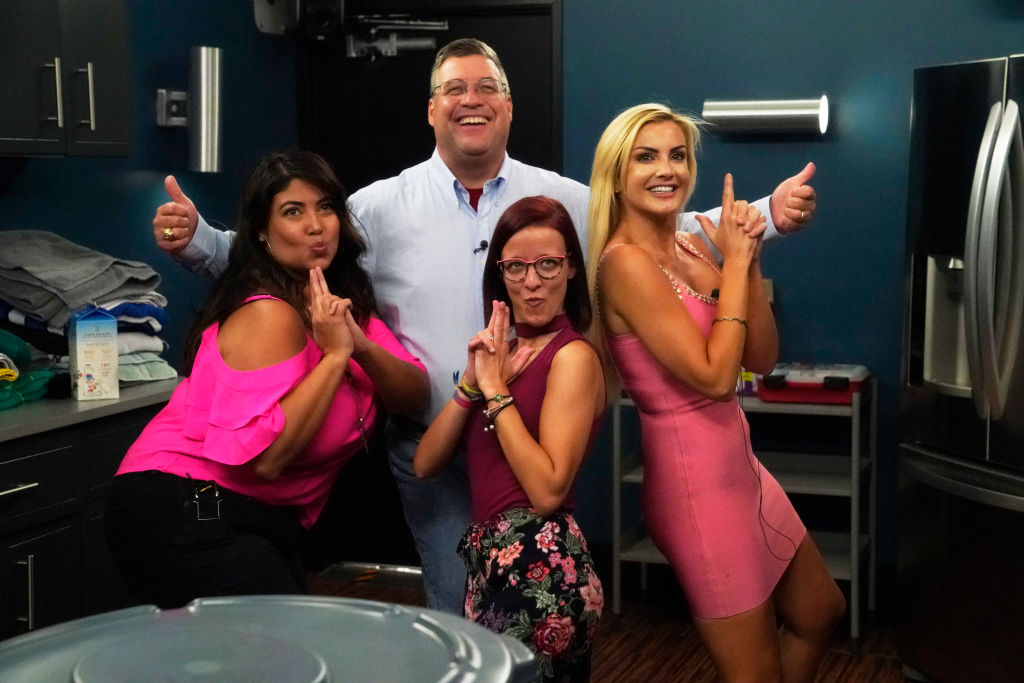 A new Six Shooters formed in 'Big Brother 21' Episode 23
On the day before eviction, Kathryn woke Michie up because she was paranoid about going home. Michie promised her she was safe, and Kat went about trying to find her fourth vote to keep her in the house. She campaigned to Nicole and said she wanted to honor their Cliff's Angels alliance whether she or the petroleum engineer survive the eviction ceremony.
However, she was too late as Nick already approached Nicole and Cliff with a plan that would guarantee them a spot in the final six. Christie and Nick came up with another alliance of six to band together and gun for Michie and Holly. The new group consisted of Analyse, Tommy, Christie, Nick, Cliff, and Nicole.
While Nicole wanted time to think about it after Nick initially approached her, Cliff agreed to join the group "in a heartbeat." He then talked to Nicole about it, and she began to feel uneasy about the pact because Jessica was not included.
So, she made one of the worse moves of the season by telling the plus-sized model that she, again, was left out of something. Nicole suggested they both team up with Michie and Holly and keep Kat, forcing the new six to change their game plan.
Even though Nicole asked her not to tell anyone, Jessica promptly marched into Kat's room and informed that everyone is conspiring against her. However, Jessica explained the new alliance as Cliff's idea and told Kat he was the one running around the house, making deals with everyone.
Hurt by the man she called her father; Kat confronted Cliff about the alliance to which the petroleum engineer admitted joining. He claimed he didn't mean to hurt her and intended to take the four of them to final, but he had to accept the deal to keep himself and Nicole safe.
Nonetheless, Kat made it clear she was disappointed in Cliff and wanted him to reject the deal because it didn't protect Jessica as well. Jessica also warned Holly about the new group of six, who of course, immediately told Michie.
Did Kathryn or Cliff join Jack in The Jury in 'Big Brother 21' Episode 23?
In one of the most epic speeches in Big Brother history, Kathryn pointed out the skills she admired in her block buddy, Cliff. However, she also called him out for making deals behind her back. She also warned the contestants that Nick and Cliff are the ones manipulating everyone and will make it the end.
Cliff apologized to Kat again for how she perceived his actions and then, in Maury-style fashion, declared he was not her father. Everyone except for Jessica voted to evict the marketer, and they walked arm-in-arm to the door. She only hugged the plus-sized model but told everyone else she loved them, before exiting.
All the contestants were dressed and ready to go for their next Head of Household competition, the slip and slide fan-favorite. Who won the HoH, and which houseguests will they nominate for eviction? Watch Big Brother Sundays at 8 P.M. EST on CBS to find out!