'Big Brother 21' Episode 26: Christie Manifested a Miracle, and a New Hoh Is Crowned
Head of Household Jackson did not nominate Nick after he created an alliance to get Jackson and Holly evicted. Therefore, the nominees, Christie and Analyse, thought something was going on. They confronted the therapist, but he claimed he's just well-liked, and never made any deals with Jackson.
Not convinced, Christie masterminded a plan to expose Nick in front of everyone during Taco Tuesday. Did the blow-up cause anyone to consider keeping Christie instead of Analyse? Additionally, host Julie Chen Moonves announced a new BB twist, and a new Head of Household is crowned.
Keep reading to find out what happened in Big Brother 21 Episode 26.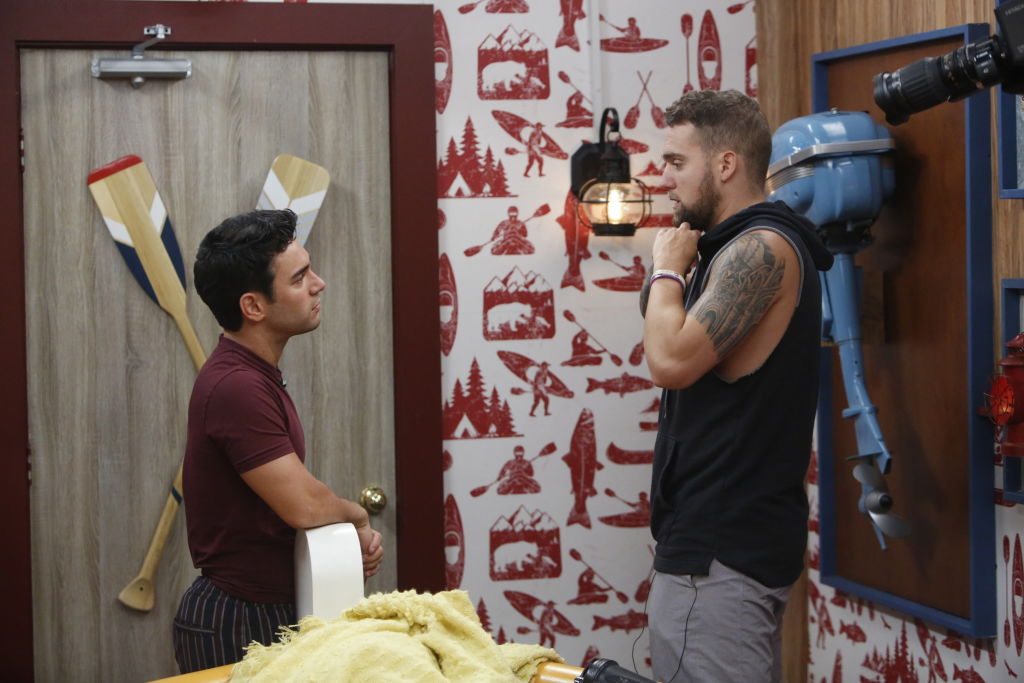 Christie blew up Nick's game during Taco Tuesday
Because Nick managed to stay off the block after creating the six-person alliance to get Jackson and Holly out, Christie assumed he made a deal with Jackson.
Therefore, she went to the current Head of Household to tell him about Nick's sneaky ways, attempting to create another target in the house so she could stay. The boutique owner explained to Jackson that Nick is pitting everyone against each other so he can skate to the end.
Jackson, eager for someone else to be a target besides him, encouraged Christie to expose him. While she was in the RV talking about her Taco Tuesday blow up plan, Nick eavesdropped and got extremely upset.
Shown in the Live Feeds but not during the broadcast, Christie went back to the Head of Household room because she began to have second thoughts about ruining their family dinner. However, Nick burst into their room and told her to keep his name out of her mouth.
He also told her to blow him up like she said, so they gathered everyone in the kitchen for "an extra spicy Taco Tuesday." Christie began by explaining he masterminded the alliance to get Jackson and Holly out, but then lied and told them they were good when Jackson won Head of Household.
She also accused him of throwing every HoH competition because he's good with everyone and doesn't have a target. The boutique owner ended by pointing out that Nick is skating to the finals with his manipulative gameplay, which she commended.
The therapist shot back that everyone knew the game he's playing because he's been nothing but honest and transparent with all the houseguests. The only person who seemed to be out of the loop was Jessica, who didn't think she was his target. Christie's last-ditch effort must have worked because Holly began questioning if they should keep Analyse.
Did the houseguests vote to evict Analyse or Christie on 'Big Brother 21' Episode 26?
While the Live Feeds showed several deliberations between different houseguests about who they should evict, the broadcast only showed Jackson and Holly considering their options. Holly declared she wanted Nick out, and by eliminating Analyse, he will lose a close ally.
She also claimed Analyse would float to the end. Even though Christie has been Jackson's target for a few weeks, he admitted she made valid points. Live Feed viewers watched Christie notify Jackson that she would want to team up with him and Holly and work with them until the end.
This made Jackson very happy who explained to her that he nominated her because he sees her strengths. However, he didn't want the boutique owner in the house if she were using her abilities against him. Therefore, it changed his mind because Analyse offered him nothing and never said she would work with him. Everyone except for Nick voted to evict the soccer star.
Who is the new Head of Household?
At the Big Brother 21 Episode 26 Live Eviction, Julie Chen Moonves notified the houseguests about the new twist called Prank Week. The competitors were kept awake the previous night memorizing bird calls from a "BB Birdwatch Tour."
They even formed study groups, and Tommy and Nick created a dance because they assumed it was for the upcoming Head of Household competition. However, it was all for nothing and a part of Prank Week.
For the new HoH contest, Prank Shot, the houseguests had to roll a ball down a plank. When the ball fell, it landed in a row marked with a point value.
The houseguest who received the most points after one turn won HoH, and the two competitors who got the least points earned a punishment. Holly went first and set the pace, receiving a whopping 50 points. No one matched her, and she won, keeping the showmance in power.
Because Cliff and Nicole tied with the second-least amount, they along with Jessica receive the punishments this week. Additionally, Holly, as Head of Household, will get pranked by America's Prankster. America votes for someone who will choose one of her nominations and pick the re-nomination if one is vetoed off.
Who will America choose to prank Holly? Watch Big Brother 21 Sundays at 8 p.m. EST on CBS to find out.