'Big Brother 21' Spoiler: Has Holly Allen and Jackson Michie's Showmance Come To An End?
With a combined eight competition wins, Jackson Michie and Holly Allen could be considered one of the most powerful showmances in Big Brother history. Even though they are in control for another week, the two got into a fight after Jackson tried to tell Christie something that Holly didn't want to him to repeat.
It ended up snowballing into a more significant argument, and viewers began noticing there was trouble in paradise. Keep reading for a complete breakdown of the dispute between Jackson and Holly.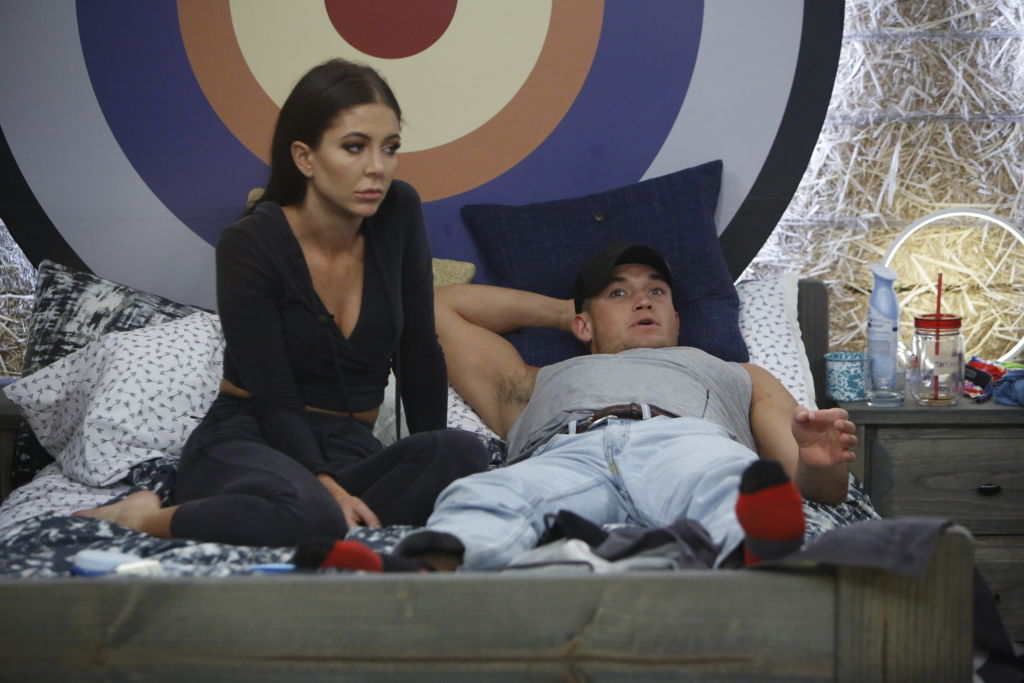 Jackson Michie and Holly Allen's fight began
While eating at the table, Jackson brought up something that Holly told him that he wanted to tell Christie. However, Holly blocked her boyfriend from saying it because it's not funny. Instead of dropping it, Jackson begged her to let him whisper the three-worded secret to Christie, but Holly refused and began to get upset.
After the couple started to argue, Christie and Tommy took responsibility for the situation and said they were egging it on. The following day, the Houseguests had an HoH lockdown causing the Live Feeds to be down for almost an hour.
When they came up, viewers saw Jackson asking Holly to get her clothes. When she clarified if he wanted her to move out, he said he didn't care it was her stuff, and they went downstairs.
Holly Allen called Jackson Michie a name
After Jackson began talking to Cliff, Christie, and Tommy in the living room about baseball, Holly walked over and started talking to Jackson, in the middle of their conversation. He immediately told her he did not want to discuss the situation there and they would talk about it later.
Unsatisfied with his answer, Holly stormed out of the living room and called Jackson an "f*****g a*****e." She went to lay on the bed in the outside bedroom, and Christie followed the pageant beauty to see if she was okay.
Holly Allen talked to Christie Murphy about her relationship problems
Christie joined Holly on the bed, and the pageant queen admitted she was upset that Jackson didn't touch her all night or say good morning to her early that day. She said she even gave him a cup of coffee, and he took it from her and walked away without saying thank you.
Holly continued explaining her frustration with Jackson, saying she feels like she was cast to be in a showmance, even though she has her own value. When she tried to explain that to him, she said he shut down and began ignoring her.
Christie pointed out Jackson shutting down is his defensive mechanism because both of them feel insecure about the situation and how they're being portrayed to America. She also reminded Holly she's overly emotional about the situation because the pageant beauty is on her menstrual cycle.
Holly also noticed similarities between Jackson and her ex-boyfriend because she said he used to ignore her for days, and they worked together. The pageant beauty concluded her vent session by saying she wants to be viewed as a competitor, not just the girl in a showmance.
Therefore, she believes that even though Jackson is not directly responsible for her annoyance, he can still fix it.
Holly Allen and Jackson Michie got into another argument
Holly and Jackson continued to ignore each other until she finally approached him in the Head of Household room begging to talk. Jackson explained that he didn't deserve for her to call him that name when he's supported her so much in the house.
The server continued saying that she embarrassed him on national television and compared her actions to those of his ex-girlfriends. Unable to express herself, Holly left the room crying, and Jackson eventually followed her and finally held her.
He walked her back into the HoH room where she continued crying until apologizing for calling him a name. Jackson explained that despite Holly continually bringing up his age and insinuating she's embarrassed by him, he's done nothing but support her and can't understand why she disrespected him.
Holly explained to her boyfriend that he's her best friend in the house, so she overshares as a result. However, he didn't want to continue talking about it and tried to end their talk again. The conversation seemingly ended with Jackson saying he wanted Holly to be happy with or without him, and then he went to hang out with some of the other Houseguests.
Jackson returned to the HoH room and asked Holly why he was her punching bag. He continued and repeated her offensive comment to him and said she looks like a mean girl because she plays with her hair all the time. Irritated by his "mean girl" comparisons, Holly turned around and faced away from him.
Therefore, Jackson said they'll talk in the morning because she doesn't want to have a mature conversation. They continued to argue about the comment she made until she finally admitted that her frustration stems from how hard she is on herself.
Understanding her point, Jackson said he believes Holly is "unbelievably special" and even though he cannot make her see it, he'll continue to be her number one fan and cheerleader. This brought the pageant queen to tears, and Jackson gave her a pep talk until they eventually went to bed. Will Jolly (Jackson and Holly's couple name) make it? Keep watching Big Brother Sundays at 9 p.m. EST on CBS to find out.