'Big Brother 21′ Fans Including Isabella Wang Are Loving the CBS Edit Of Jessica Milagros' Dramatic Fall
In the first Big Brother 21 twist, the Houseguests had to vote for a Camp Director on Day One. Jessica Milagros, a passionate plus-sized model, campaigned for the position but lost by a few votes to Jackson Michie. As part of his duties, he had to banish four Houseguests and chose Jessica as one of them.
She found her way back into the house, becoming the only banished person not to be evicted or sent to Camp Comeback. Still on the outside of the major alliances, Jessica attempted to join the female-only Black Widows including Isabella Wang, Kemi Faknule and Nicole Antony.
But, Bella exposed the alliance, only making Jessica a huge target again. She ended up winning Head of Household and nominated the two alpha males in the house, Jack and Jackson. The plus-sized model also won the Veto Competition that week, ensuring one of her huge targets' eviction.
Jessica then rallied the votes and got her primary target, Jack, eliminated that week. Even though she has yet to win another competition, the plus-sized model also stays under the radar and has managed to avoid being nominated. After Nick's eviction, Jessica competed with the other Houseguests in the legendary wall competition for Head of Household.
Why does Jessica's performance in the competition have everyone laughing? Keep reading to find out.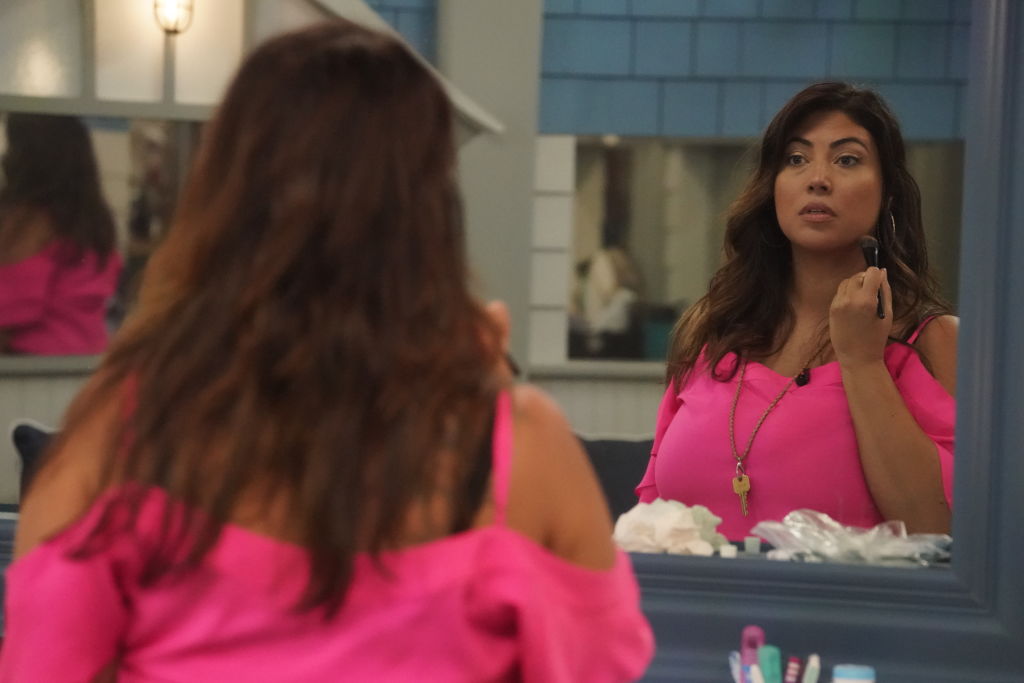 Jessica Milagros fell in the Head of Household competition
The Houseguests played the fan-favorite wall competition where they must hold on to a titling wall for as long as possible. They also had to endure ghost boulders, hitting them square in the chest, rain, and smoke blasting out from behind them.
Jessica began feeling her body start to give out and warned the other Houseguests she would fall soon. The plus-sized model then screamed and fell with her arms outstretched, landing smack dab on her face. If one time wasn't funny enough, the CBS production team replayed her falling several times to music for the special effect.
'Big Brother 21' Fans loved the CBS edit of Jessica Milagros
Former Big Brother 21 contestant, Isabella Wang, took to her Instagram story to laugh about the clip. First, she posted a screenshot of her television screen as Jessica fell, and captioned it #CBSEdit4TheWin.
Then, Bella reposted a video of the history-making fall and claimed production has "been doing her dirty all season." Fans posted memes and GIFs of their reactions after seeing the fall and others admitted they watched the loop several times.
Jessica Milagros potentially the next Juror
Jackson won the Head of Household competition and chose to nominate Christie and Jessica for eviction. He plans to get rid of Jessica and then have Christie and Tommy target Nicole and Cliff, and vice versa, so he and Holly can skate to the finals.
He told the boutique owner she was just a pawn while in the shower, and Christie said she trusts him even though she suspects Jackson and Holly are working with Cliff and Nicole.
Jackson then brainstormed with Cliff about how he would break the news to Jessica because he was expecting her to freak out. They decided that he should tell her several memory and mental competitions are coming up that Jessica could win.
When Jackson explained this to the plus-sized model, CBS edited her conversation to make it look like she responded, "like, like, like, like, I suck a**" after he said he would nominate her for eviction.
However, on the unedited Live Feeds, Jessica explained to Jackson that she didn't believe she was a mental threat but still respected his decision. Will Jessica be saved from elimination with the Power of Veto? Keep watching Big Brother Wednesdays at 8 p.m. to find out.