'Big Brother 21': Was Julie Chen Wearing a Pot Leaf Necklace on Live Eviction Show?
Julie Chen is causing controversy on social media again with her choice of accessory during the live eviction episode of Big Brother. The television host wore a necklace with a marijuana leaf pendant that made people question it on Twitter.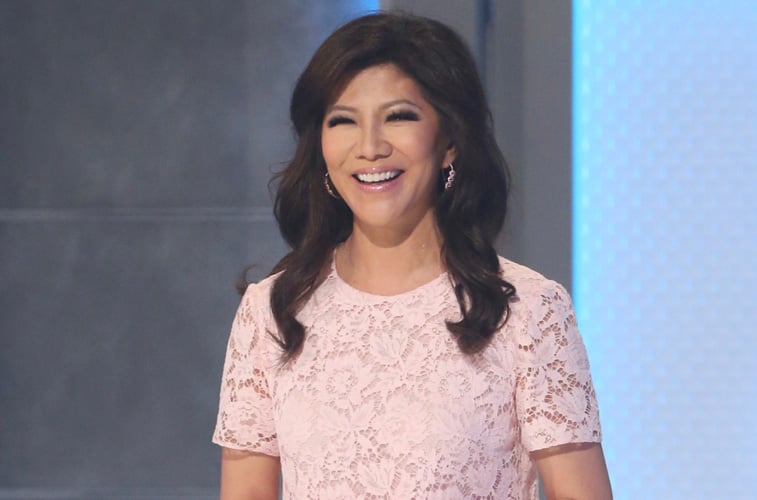 What 'Big Brother' Fans Are Saying About Julie Chen's Necklace
Julie Chen received many compliments for her look during the live episode of the CBS reality show. The presenter had messy hair, a t-shirt and necklaces that made her look more casual than what she normally wears on the eviction nights. Even the houseguests complimented her outfit and hairdo when she connected with them to cast their votes to evict.
What was the most shocking was her necklace that had what looked like a marijuana leaf upside down and Twitter fans were fast to react online and make comments about the accessory Chen wore.
"Julie Chen has a pot leaf necklace on. Is she a stoner?" one fan questioned.
"Anyone else notice Julie Chen-Moonves' pot leaf necklace tonight on BB?" another viewer tweeted.
"Julie Chen is wearing a marijuana leaf necklace, that's dope," a television watched quipped.
"Julie Chen's necklace is an upside down pot leaf. That's the sign of the devil. Julie Chen is the devil?" another viewer pondered.
"Julie Chen got [don't give a f***] vibes tonight with wild Erika Jayne hair lookin bomb and did ya'll peep the weed chain?" a fan wrote.
"Is Julie Chen wearing an upside down weed leaf tonight? She looks amazing tonight," another fan tweeted.
Julie Chen Reacts To Comments On Twitter
Julie Chen got the memo of her controversial necklace and even took to Twitter to address it.
"You like my necklace? Gee thanks, just got it," she wrote while referencing Ariana Grande's song "7 rings." Chen lastly added: "Lighten up guys."
Her reaction caused even more reactions from her fans.
"Love your sass tonight girl. Keep it up," a viewer replied. "Everybody on Twitter is talking about your necklaces," a fan wrote. "Julie Chen Moonves, queen of the stoners," said another Twitter user. "Mary-Jane Moonves," another fan wrote.
Julie Chen's Previous Controversy Using a Racial Slur
Season 21 of Big Brother has been controversial that even Chen dipped her toes in creating polemic headlines. It all happened two weeks ago when she confronted the evicted houseguest Jack Matthews during his exit interview to address insensitive racial comments he made in the house.
Matthews had directed his gross statements to an African-American contestant, Kemi Fakunle, and an Asian-American contestant, Isabella Wang. The controversial houseguest called Kemi a "bitch" and "dogsh**" during conversations with other housemates and even used threatening language toward her saying he "wanted to stomp a mudhole through her chest."
During Matthews' interview, he told Chen: "Okay, well, I will say that the 'stomp the mudhole comment' was based on something that Sam [Bledsoe] said last season when she was frustrated, and I don't think there was any personal vendetta behind saying that."
Due to time, Chen was unable to show the goodbye messages the remaining houseguests left for Matthews because they wanted to address the pressing issues. With no time left, Chen used a word that has been deemed a racial slur.
"We didn't gyp you out of goodbye videos…," she told Matthews.
The word has become common but the word gypped has racist origins according to Jake Bowers, the editor of Travellers Times. "Gypped is an offensive word, it is derived from Gypsy and it's being used in the same context as a person might once have said they 'jewed' somebody if they did an underhand business transaction," he told The Telegraph.
Viewers took notice and demanded an apology for the usage of the word on live television.
"Julie Chen dropped a racist term on its own, terrible but the irony of it, this was right after dragging a houseguest across the stage for using a term 'rice pudding' referencing an Asian player," a fan tweeted.
"Will somebody please address Julie Chen Moonves' politically insensitive comment: 'we won't gyp you out of your goodbye messages' to recently evicted houseguest Jack. This came seconds after grilling him about his questionable 'rice pudding' comment," a fan of the reality show wrote on Twitter.
Chen never addressed the controversy like she did tonight on any of her social media accounts nor during the live CBS broadcast. Could it be that her controversial accessories tonight be the answer some of the fans were waiting for?