'Big Brother 21': The Most Recent Evictee Explained Their Gameplay In Julie Chen Moonves Interview
BB21 contestant Kathryn Dunn found out the b***hes were conspiring against her, as they evicted her in a vote of six to Jessica Milagros' one. She was in an alliance of one and became the first woman of the season to win a Veto Competition, but never won Head of Household.
She aligned with Cliff Hogg, Milagros, and Nicole Anthony to form Cliff's Angels, and seemed to be on her way to possibly run the house. However, her downfall came when Jackson Michie let the cat out of the bag, revealing she and Holly Allen knew each other before entering the Big Brother house.
Therefore, Tommy Bracco became convinced Michie, Allen, and Dunn were a trio and made it his mission to evict Dunn. His plans came to fruition when he was Head of Household, and nominated her and Cliff for eviction.
Dunn sat down with host Julie Chen Moonves, in a "friggin Lumberjack outfit," to discuss why she thought she would be the Tyler Crispen of the house and reacted to her houseguests' goodbye videos.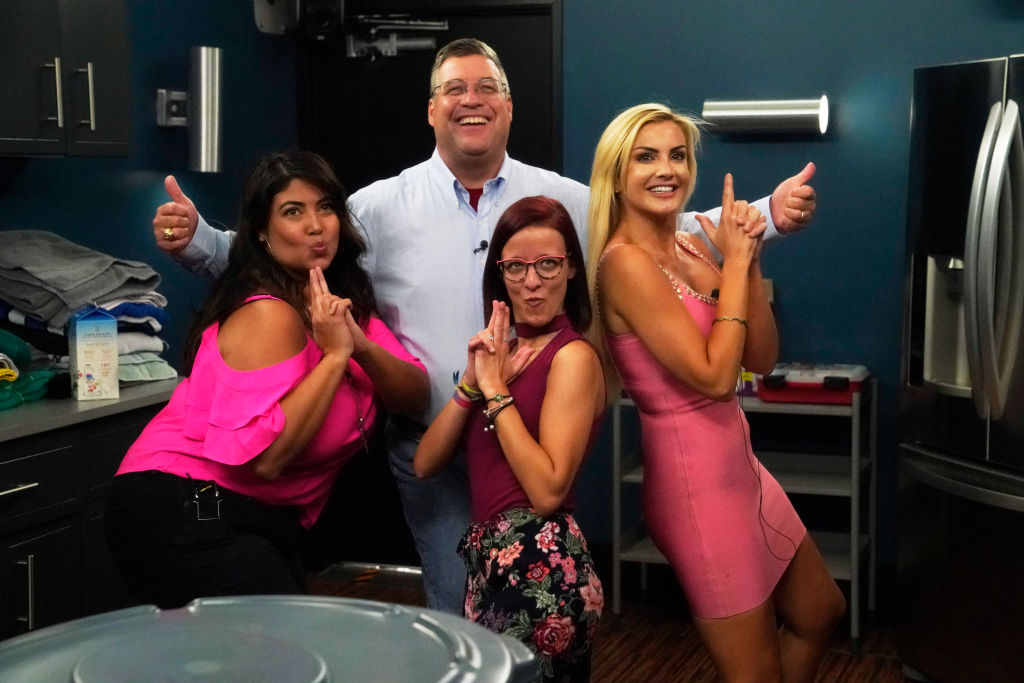 Kathryn Dunn talked her gameplay
After Anthony revealed the new six-member alliance to Milagros, the first person she told was Dunn. However, Milagros explained it to Dunn in a way that made Hogg sound like he was the one who came up with the final six plan.
Extremely hurt by her close ally, the marketing executive confronted Hogg about the alliance, which didn't include Milagros, and told him she was disappointed in him. The engineer tried to explain to her that he was committed to the Angels. However, he had to do what was best for him to stay in the house.
In her eviction interview with Moonves, she explained she didn't use the information about the new six to stay in the game because she felt like Anthony was already too wrapped up in Maccarone. The Texas native also admitted she was confused by the preschool aide's loyalty to Maccarone because he had been so rude to her.
Dunn explained her gameplay was to build individual relationships with everyone in the house because houseguests don't usually vote out people they like. Additionally, she admitted she became so emotional in the house toward the end because she knew she was leaving without making any big moves as Head of Household.
Kathryn Dunn opened up about her houseguests
It's clear throughout Dunn's interview that she did not like Maccarone. She called him "skeezy," and said he enjoyed flirting with everyone, which wasn't a part of her game. Dunn also explained why she felt so betrayed by Hogg, saying she genuinely believed in Cliff's Angels. But, she called him a "savage player" and accused him of making deals that didn't include them.
Additionally, Dunn described her relationship with Holly Allen dating back to at least 2013 because they both work in the pageant industry. She claimed they never hung out socially, but did have common friends and was relieved to see a familiar face in the house.
When Moonves asked her who she believed to be the biggest threats left in the house, Dunn honesty answered she has no idea who she would vote in Jury but thinks Christie Murphy runs the house. She also called Analyse Talavera out for being her "right-hand man, who doesn't do anything."
However, Dunn acknowledged Maccarone as a strong player but felt he doesn't deserve the win.
Kathryn Dunn reacted to her goodbye videos
Her "father," Cliff, left a message apologizing again for hurting Dunn but reiterated he had to stay in the house by any means necessary. Michie and Talavera both told Dunn they were sorry, and are looking to seeing her outside of the house.
Her final two partner, Allen, said she was grateful for the experience because they are now so much closer. Maccarone explained he had to do what's best for his game, and Bracco and Anthony called Dunn, a friend for life.
Her best friend in the house, Milagros, left her a message saying she couldn't wait for her to meet her husband after the show. Finally, Christie claimed she liked Dunn on a personal level but thinks she's smarter and stronger than she leads on.
However, the marketing executive called Christie out for being fake and accused her of leaving that message so she could get her vote from Jury. Watch Big Brother Sundays at 8 P.M. EST on CBS!