'Big Brother 21' Spoiler: Zingbot's 'Zings' and the Houseguests' Reactions
After Head of Household Holly and America's Prankster selected their nominees, they, along with three other Houseguests played in the Veto Competition. Additionally, the well-loved dissing robot Zingbot has returned to the house to trash talk the competitors.
Because Zingbot dissing the Houseguests is recorded for broadcast, the Live Feeds did not catch what he said verbatim. However, they discussed it amongst each other once the robot left. What did Zingbot say to the Big Brother 21 Houseguests, and how did they react?
Keep reading this spoiler to find out.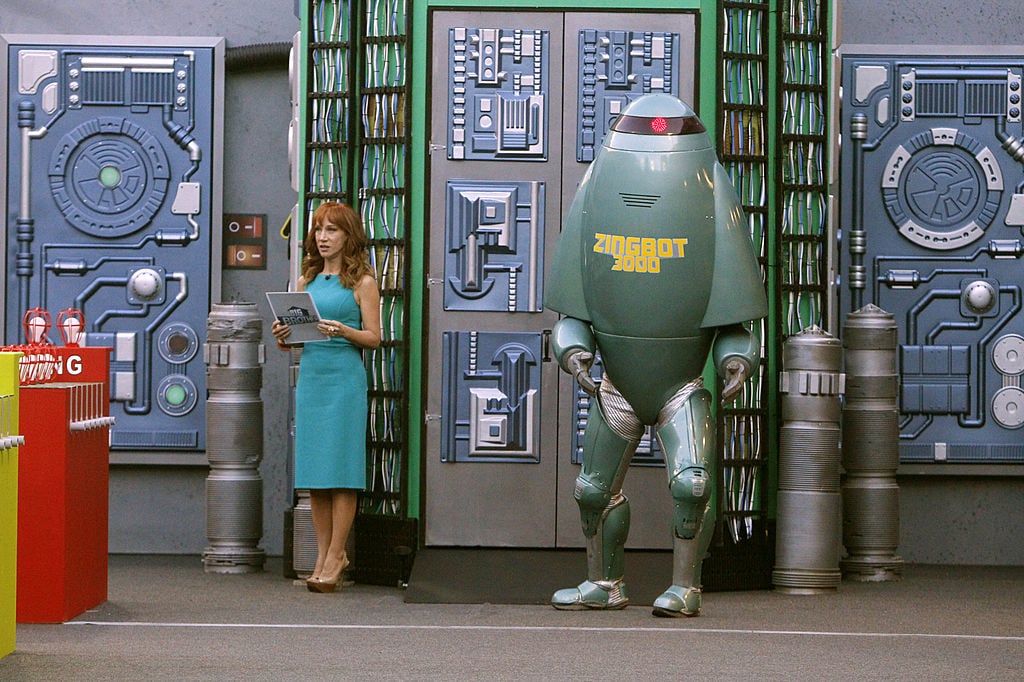 What were the 'Big Brother 21' Houseguests' zings?
The robot called Nicole a boring loser with no friends and Jessica a "snoozefest." He referred to Holly as an old buzzard and mentioned Cliff's "bodacious body." As the Live Feeders know, Christie loves her food and Zingbot called her out on it, as well as the way she chews.
The robot zinged Nick's hair and Tommy's overuse of the word "amazing." According to Jackson, Zingbot's exact diss to him included, "Should I call you Jackson, or should I call you Michie? Or should I call you what you are, a pompous douchebag?"
How did the Houseguests react to their zings?
Overall, they thought this season's zings "flopped" and were "lame." Zingbot's diss offended Jessica, and when Big Brother asked her to stop obstructing her microphone, she responded, saying, "Why would you care? I'm a snoozefest, aren't I?"
Later, when talking to Christie, Jess said she felt she got the zing because she doesn't say what "they," presumably producers, want her to say. Even though Nick claimed he didn't care about Zingbot's diss, he brought it up several times and shouted out his barber.
Other Houseguests are concerned about what America thinks of them. Holly believes she is being portrayed as a mean girl, and Christie is worried about viewers not liking her blunt personality and thinking she's "a fraud." However, Cliff assured Christie that she's her own worse critic.
Although Jackson seemed not to care about his zing, he admitted to Holly he didn't want everyone to view him as a douchebag. The server explained, "I quit working out shirtless, quit going around shirtless, changed the things I wear, changed the things I do, changed when I workout.
Literally, have tried to gain f*****g weight to be more approachable and relatable for this f*****g show, so more people would think 'oh he's not such a f*****g tool.' I am doing everything that I can."
The following day, Holly claimed she woke up in "excruciating pain" for no reason, and she thinks it's because Zingbot called her an "old buzzard."
What else happened on Day 67 besides Zingbot?
The Head of Household, nominees Nick and Christie, Jackson, Cliff, and Jessica all played in "Free the Zing." The Veto competition was similar to the Big Brother 16 Battle of the Block, infamous for when Caleb threw it, causing Frankie to compete on his own, although he ended up pulling out the solo win.
Jackson won his second Veto in a row and already promised Holly he would not use the power to save anyone. However, Nick approached him, attempting to strike a deal where Jackson saved him off the block so he could nominate someone to send Christie home.
The server stood firm to his word to his lady and told Nick he could not save him, but he should talk to Holly. After speaking with the pageant beauty the following day, he doesn't seem to have convinced her and is still her primary target.
Therefore, Jackson will most likely keep the nominations the same and follow through with the plan to evict the therapist. Watch Big Brother Sundays at 8 p.m. EST on CBS to find out what happens.