Big-Budget Fantasies Rule the Kingdom of the Box Office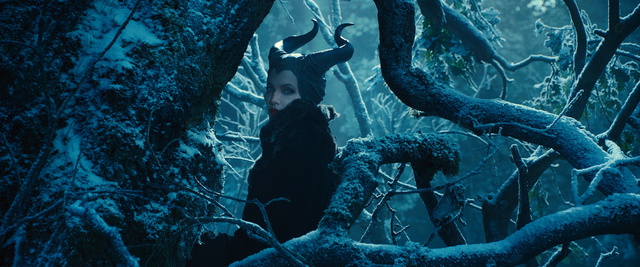 Are live-action fantasy films having a moment? The Angelina Jolie-starring Maleficent brought in $70 million its opening weekend, despite lukewarm critical reception. It slayed Seth MacFarlane's A Million Ways to Die in the West and held off X-Men: Days of Future Past, which has only brought in $160 at the box office domestically, but has a very nice worldwide gross of $513 million in just two weeks.
Maleficent, directed by special effects guru Robert Stromberg, depicts the early days of the title character, an insidious sorceress with high cheekbones and piercing green eyes. The Eleanor Audley-voiced character from Disney's gorgeous 1959 animated classic, filmed in the extremely wide 2.55 aspect ratio (but cropped on all subsequent home video releases, sadly), is one of the most terrifying characters. Stromberg's film channels Wicked and gives the character a sympathetic backstory with societal relevance regarding gender roles.
Since 2010, when former auteur-turned-studio-lackey Tim Burton spent $200 million to turn Alice in Wonderland into a Johnny Depp epic, big-budget fantasy films have been on the rise. They aren't necessarily frequent, like superhero movies, but they make a huge, unwavering impact at the box office, on the Internet, and with critics and moviegoers. Directors want to helm them, producers want to produce them; they make money and present an opportunity to earn a fat check while adding relevance to your name.
Alice in Wonderland is arguably responsible for the deluge of big-budget, live-action reimaginings of classic fantasy stories; with a box office north of $1 billion, it's the 16th highest grossing film of all time, and the only non-Lord of the Rings or Harry Potter film in the top ten highest grossing fantasies of all time. (Stromberg earned an Academy Award for his art direction on Burton's film.)
Sam Raimi was next with his (terrible, awful, no good, very bad) prequel to The Wizard of Oz. With gaudy effects galore and a distant James Franco masquerading as someone who cares, Oz the Great and Powerful was all kinds of disappointing. Logically flawed, technically inconsistent, uninspired, lazy, and lacking any sort of personal style, it was a tremendous step down from Raimi's previous flick, Drag Me to Hell (a smaller budget return to horror, replete with personality.) Oz was made on a swollen budget of around $215 million and earned a little more than double that at the box office, a profitable but disappointing turn.
The newest filmmakers to be wrangled by the allure of box office glory are Kenneth Branagh, formerly known as an acolyte of Shakespeare and a formidable thespian, and Bill Condon, known for directing the last two Twilight movies. Branagh recently wrapped filming on Cinderella, which gleefully reverse the usual casting of beloved Cate Blanchett and perpetually villainous Helen Bonham Carter, putting Blanchett in the role of the wicked stepmother and Carter in the role of the Fairy Godmother. It remains to be seen if the film will be as clever as its casting; given Branagh's jarring descent from the Oscar-nominated Hamlet to Thor and Jack Ryan: Shadow Agent, the film might be terrible, but who knows. It comes out next March.
Condon will be directing Beauty and the Beast. He's had an interesting career, and the announcement that he'll be the maestro of of a fantasy blockbuster isn't exactly shocking. He lacks a signature style, which means his aesthetics won't clash with whatever the producers want, and his final Twilight movie made over $800 million. They can say "from the director of Breaking Dawn" in the trailer, which is worth quite a bit.
Condon won an Oscar for his adapted screenplay of Gods and Monsters, the sentimental but exquisitely acted melodrama about Bride of Frankenstein director James Whale. Ian McKellan was nominated for an Oscar for his work as the openly gay director, and he practically holds the film together. Brendan Fraser is also quite good as the director's reluctant muse. Remember when Brendan Fraser used to, like, actually act?
Condon earned further (inexplicable) acclaim for Dreamgirls, and was then snatched up to direct the last two Twilight films. His most recent effort, The Fifth Estate, received unfavorable reviews, and his upcoming A Slight Trick of the Mind reunites the director with Ian McKellen, who stars as an older Sherlock Holmes.
Disney also has a live-action Jungle Book in the works, though no one is attached to direct yet. (Jon Favreau's name has been mentioned.) The proliferation of live-action, big-budget adaptations of classic fantasy stories — remakes of Disney cartoons, really — can be likened to the proliferation of superhero movies over the last 14 years. They're pretty safe bets, guaranteed to make money, and they're easy to market. Beauty and the Beast practically sells itself, and having the Twilight director's name attached, regardless of his actual talent (or lack thereof), will undoubtedly boost ticket sales. Expect this trend to continue as Maleficent makes a killing at the box office.
More From Wall St. Cheat Sheet: