'Big Little Lies:' How Many Episodes Long Is Season Two?
In Big Little Lies, murder, mischief, and motherly instincts intertwine in the small town of Monterey. When an unlikely friendship grows between five disparate women – on the grounds of a shared secret – the chaos bound to ensue is anyone's guess. 
Starring Reese Witherspoon, Meryl Streep, Nicole Kidman, Shailene Woodley, and Laura Dern, the series boasts one of HBO's most impressive ensembles to date. And though fans wish Big Little Lies was here for the long haul – as we can't get enough of Mary Louise's menacing sobriety and Madeline Mackenzie's quick-tongued attitude – the show was never meant to live beyond season one.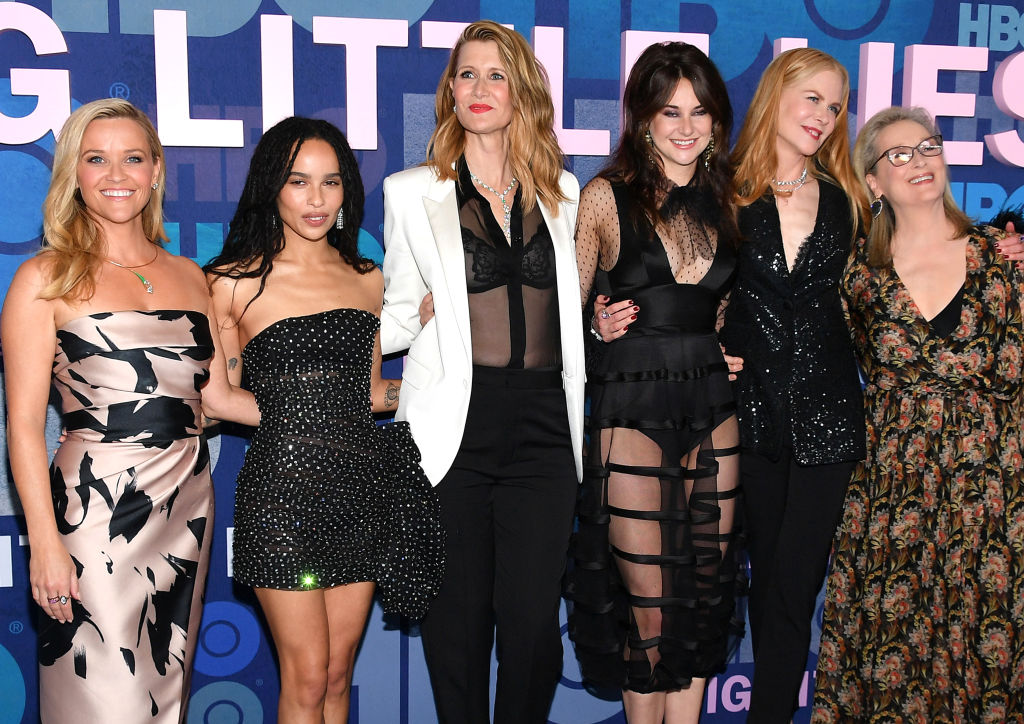 Based on Liane Moriarty's best-selling novel by the same name, Big Little Lies received a season two after Moriarty agreed to pen a novella as a follow-up to her original work. This way, the cast could satisfy viewers' wishes with one more season, so Big Little Lies is coming to a close for good. Before you know it, Madeline and Jane will become mere memories. The actors will go back to their careers, and we may never see them all share the screen again.
There are only two episodes left of 'Big Little Lies:' Season 2 will feature 7 total episodes 
So far, viewers have witnessed five suspenseful, heartwrenching, edge-of-your-seat captivating episodes of Big Little Lies. With five down, there are only two episodes remaining, adding to a total of seven episodes for season two. 
*'Big Little Lies' episode 5 spoilers ahead*
With only two episodes left, fans wonder how the show will squeeze in all the opened plotlines yet to be fully explored. Will Nicole Kidman's Celeste win the custody battle, or will Mary Louise sweep in for the kill? Mary Louise has the best lawyer in town, and with Celeste displaying zero willingness to split custody, the fallout is anyone's guess. 
Will all the husbands discover the truth, and put their wives on blast? Will Ed ever forgive Madeline for her infidelity? And, if so, can their marriage survive another grandiose lie? She kept the truth regarding Ziggy's father from him, which didn't go over well. A murder may evidently be the last straw for Ed. 
As for Jane Chapman, based on the fallout of events in episode five, fans have prophecized that she's falling for an undercover cop. Can Jane emotionally manage this discovery? If Corey turns out to be with the fuzz – and a man manipulating Jane's emotions to discover the truth – how will Jane cope with the blow of such an exploitative act, from a man she let close to her child?
Big Little Lies has several inquiries left unanswered. The show is bound to take us even further into the mysterious, and often heartbreaking, depths of its main characters. Thus, be sure to catch the next episode, as loose strings are bound to start fusing quickly.
'Big Little Lies' season two finale: Fan theories 
With Big Little Lies offering up twists and turns at every turn, fan theories concerning the finale keep sprouting up all over the internet. So, let's explore some of the most common ones.
Many fans believe that Bonnie's guilt will get the best of her, leading the young woman to commit suicide. However, the events of season five hint at the possibility that she clears her conscience under oath. 
As Bonnie struggles to cope, will the truth concerning Raymond's death come to light? Not much is known about Perry's father's death, and many believe that Mary Louise may have been behind the act. If it was Mary Louise, she may come to discover the truth regarding her son and keep the Monterey Five's secret.