'Big Little Lies': No One Is Opposed to a Season 3, But Will It Happen?
While the case is always made that you should never do a sequel to something already perfect, Big Little Lies on HBO this year proved us all wrong.
The second season ended up being just as fascinating, dramatic, and insightful as the first season was about domestic abuse.
For Season 2, we realized there was plenty more room to explore about what the aftermath of abuse does to a family. In this case, it was Meryl Streep stepping into the picture playing Celeste's mother-in-law, Mary Louise.
This role alone brought the second story to life, not including likely garnering Streep and the cast more Emmys in 2020. With S2 looking at how to repair souls after the death of Perry Wright, are there other compelling family aspects Season 3 could explore without feeling forced?
The entire cast is on-board for a third season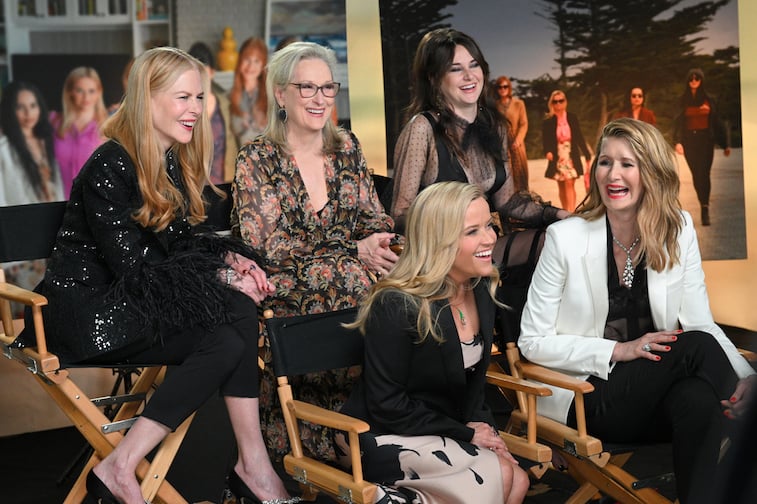 According to Parade Magazine, all of the main cast are in agreement on doing a Season 3, or at least by word of Laura Dern. Imagining the entire cast wanting to come back yet again is a bit amazing, even though Kidman has been quoted as saying the cast knows this is as good as it gets in the realms of writing and acting.
What we don't know yet is whether writers David E. Kelley/Liane Moriarty and director Jean-Marc Vallée would be available again. No doubt Kelley could formulate some brilliant ideas with Moriarty, though Vallée was already a bit skeptical about coming back for season 2. He thought (at the time) that the first season should have stood alone.
Well, such an argument can still be made for 98% of things. Because there's still so much to tell about domestic abuse and what it does to the psyche of women/families, we say there's plenty more to tell here.
Where could a third season really go? One thing for sure is the above Parade interview with Dern states none of the cast would do it unless everyone would be willing to return. Plus, they all want to give it a rest for a while and not delve in so fast after such a successful second go-round.
Where else can the story go?
One of the greatest aspects to the second season of Big Little Lies was having the specter of Perry within the family's midst without having him show up as a ghost (other than flashbacks).
Streep's Mary Louise character became a new classic TV character and one that stunned viewers at her initial quiet intensity. She was going to defend her departed son to the end until Celeste presented to the court a video showing Perry abusing her. It was taken by Celeste's son, leading Mary Louise to finally exit the family's life.
Let's not count out Mary Louise coming back in a third season. Plus, we have all the other characters as well and their own arcs to explore. Healing is now one of the main subjects the series is exploring, something we'll probably see extend even further.
Part of this may come with Bonnie (Zoë Kravitz) now likely going to prison for killing Perry. Dealing with the aftermath of that, including what happens to Skye, her daughter, plus her stepdaughter, Abigail, would be heartbreaking TV.
Of course, Nathan would probably take custody, but what if we see what happens when Bonnie comes out of prison?
Exploring future marital issues
Maybe a lot of harrowing life lessons were learned about marital abuse, though it didn't stop Jane and Corey from linking up romantically by the final episode. Is this where the future of the show really lies?
Just when everyone thinks they've conquered abuse in their lives, it can probably happen again. Not that we want to promote the idea of it happening if Jane and Corey marry. Some even suggested earlier this year Corey was a secret informant for the Monterey Five, a rumor proven untrue by the end.
Then again, abuse is the core of what the original book explored, creating another thread of the haunting thought the same awful things keep recurring.