Why 'Big Little Lies' Probably Won't Be Back for Season 3
With only two episodes remaining in the current season of Big Little Lies, fans want to know if there will be a season three. If you remember, the show took a long hiatus between the first two seasons as no one seemed sure that the show would return for a second season.
Now, amid rumors and various reviews about the current season, questions are coming up about the status of a third season. HBO hasn't announced its plans for a renewal yet, but early murmurings say that season three might not happen.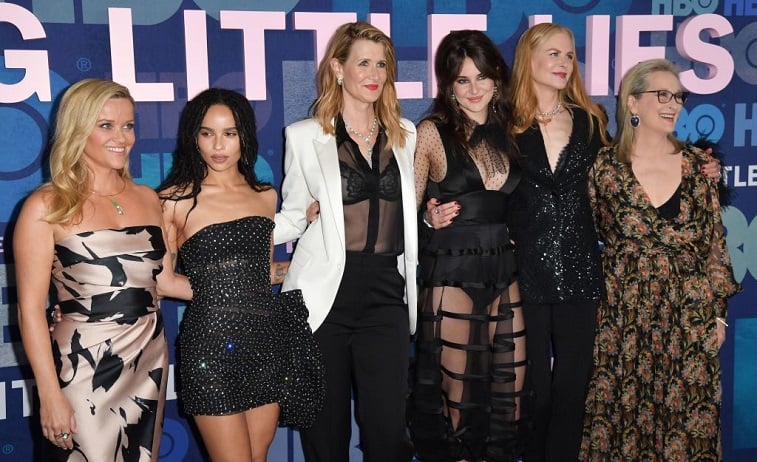 HBO head says renewal is not likely
In an interview with TVLine, HBO president Casey Bloys stated that the show's continuation is "unrealistic." The reasons? One of them has to do with the difficulty in wrangling all the actresses together to shoot season three.
"I love this group of people – I would do anything with them. But the reality is, they are some of the busiest actresses working in Hollywood. We have deals with some of them — Nicole [Kidman] is doing her next show with us. I just think it's not realistic."
It's believed the women who make up the Monterey 5 will have their major storylines wrapped up by the end of this season, though in theory, the show could still go on. Will they all go down as a collective for Perry's death? Is Bonnie going to tell the cops the truth or end up drowning as we saw in her mother's visions? There are questions surrounding whose marriages will survive the season and whose will fizzle out for good. It's possible that fans will see permanent closure with these stories and say farewell to the characters for good.
Other signs it may be over for 'Big Little Lies'
Recently, rumors have been swirling that there is drama behind the scenes of the hit series. This past week, IndieWire dropped a bombshell when it reported that season two director Andrea Arnold lost creative control when all episodes were turned over to HBO executives and BLL's season one director, Jean-Marc Vallée.
To sum it up, it was claimed that Arnold's work was redone to match the visual style of Vallée, all without her knowledge. Although Arnold directed every episode of season two, IndieWire states she had no communication with Vallée during the process of working on it. But higher-ups were concerned that their styles didn't match up, and handed over Arnold's finished cuts to Vallée. Deadline reports that to the contrary of everyone's assumptions, Arnold was not given free rein for her work on the show.
In response to the story, HBO issued a statement about the rumor, saying:
"There wouldn't be a Season 2 of 'Big Little Lies' without Andrea Arnold. We at HBO and the producers are extremely proud of her work. As with any television project, the executive producers work collaboratively on the series and we think the final product speaks for itself."
Additionally, the actresses on Big Little Lies are said to have their hands full with other projects. Bloys mentioned that Kidman is working on The Undoing for HBO, while Shailene Woodley is voicing the character Arkie in an upcoming animated film. Zöe Kravitz has been tapped to play in High Fidelity, a TV series for Disney's streaming service. And Meryl Streep? The esteemed actress has about three or four projects on the burner, including the The Prom with Nicole Kidman.
The last episode of Big Little Lies airs on July 21, and while HBO has already announced a renewal for Euphoria mid-season, there's been no official word for BLL. Fans will have to keep waiting for the final answer, but so far, it looks like a no-go.