Fan Theories: What Would Season 3 of 'Big Little Lies' Be About?
HBO's Big Little Lies Season 2 finale left us wanting more of the Monterey Five once again. Since the airing of the season 2 finale fans have been contemplating what happens to Bonnie (Zoë Kravitz) and the rest of the group after she, seemingly, confesses to the big lie. 
Various theories are out there surrounding whether the five mothers would go to jail or be left with a slap on the wrist. One thing that is certain is that fans would like to see more of this stellar cast — Reese Witherspoon, Nicole Kidman, Laura Dern, Shailene Woodley, and Kravitz — together again. Let's explore what might happen if HBO renews Big Little Lies for a third season.
'Big Little Lies' Season 2 recap
In the first season of Big Little Lies, Celeste (Kidman) is brutally attacked by her husband, Perry ( Alexander Skarsgård) and then her friends step in and try to stop him. In the middle of the battle, Bonnie jumps in and pushes Perry down the stairs, where he falls to his death.
Madeline (Witherspoon) insists that the group lie to the police and instead say that Perry slipped and fell. The entire second season of the show is devoted to the fallout of this big lie and how it is affecting each of the Monterey Five. In the last minutes of the season 2 finale, we see the group convene at the police station, presumably to confess.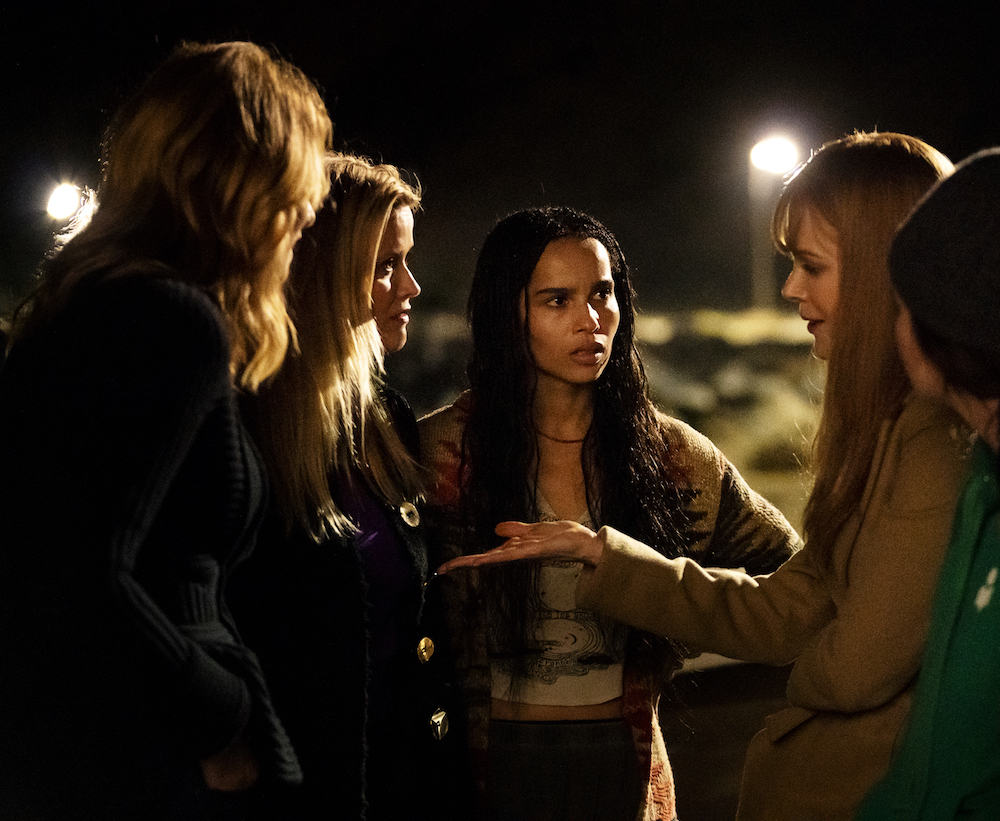 Theory 1: Celeste loses her boys and the Monterey Five are charged with murder
Users on Reddit recently got into a heated debate regarding whether or not the lie Madeline told automatically results in murder charges for the five women involved. "Once they lied as a group it automatically becomes conspiracy and murder charges," said one Reddit user. 
Many fans feel that the third season of the series might entail what happens to the group as well as their children and husbands while they go to trial. Many users agree that Celeste (Kidman) would consequently lose custody of her children to Meryl Streep's character (Mary Louise Wright) essentially undoing everything that was just won in season 2.  
Theory 2: The Monterey Five are let off the hook, based on self-defense
Other fans believe that they will not be charged with murder since they did not intend to kill Perry. Bonnie was acting in self-defense of the entire group. 
Another Reddit user believes that instead of a murder charge, "it becomes an obstruction of justice."
Additionally, a fan of the show believes, "They also now have this new evidence on the twins iPad that would corroborate self-defense." This viewer is referring to a video that shows Perry physically hurting Celeste.
Instead of a murder case, there could be a shorter trial where the five simply are given a slap on the wrist for not coming forward sooner. The plotline would continue onward where each of the character's story arcs left off, but none of the women would go to jail in this scenario.
Fans are begging for a third season of 'Big Little Lies'
Whether you believe one of thesetheories about what might happen in a possible season 3 of Big Little Lies or not, we can all agree on one thing: We want HBO to renew the show and bring this phenomenal cast back together again.
One user on Reddit pleaded, "I really hope there's a season 3. The ending of season 2 was really good but they never really gave closure on the situation with the lies around Perry's death. I felt like it was mainly centered around Celeste's case with her boys and Mary Louise towards the end."
While HBO has not officially renewed Big Little Lies for the third season, there have been a few rumors that Kidman and Witherspoon are on board. At this point, we will all have to continue to theorize about what might happen after the Monterey Five confess until anything becomes official.