Bill Burr and 'It's Always Sunny' Team Are a Match Made in Comedy Heaven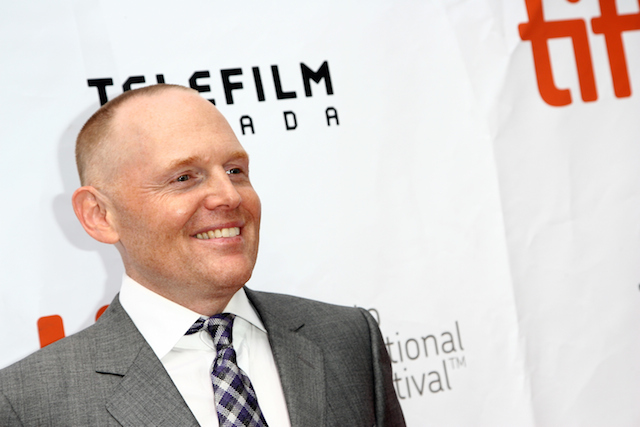 Comedian Bill Burr has inked a deal with the gang behind It's Always Sunny in Philadelphia for his own TV comedy and the show has just been given the greenlight by Sunny's home FX according to Deadline. Pariah will star Burr as a volatile TV personality who gets fired after throwing a temper tantrum on air. Leaving show business causes him to realize that he has no skills applicable in any other aspect of life.
Rob McElhenney, the creator of It's Always Sunny and actor who plays Mac on the show, is set to direct Pariah, which was co-created by It's Always Sunny producer-writers John and Dave Chernin. Sunny actor-producers Charlie Day and Glenn Howerton will produce alongside McElhenney.
Burr is a politically incorrect, man's man type who has had roles on Breaking Bad, New Girl, and Date Night in addition to various stand-up comedy specials. He recently made a controversial appearance on Conan on which he claimed that women were ruining the NFL. "You know what makes women happy? Nothing. Nothing makes women happy and that is why they are slowly taking over the NFL because it annoys them that we can just sit there with like a pizza and a drink and be like 'That not holding!' and enjoy ourselves," Burr explained to Conan. He also referred to the NFL's breast cancer awareness week as one of womankind's attempts to ruin the sport by dressing "everyone in the NFL like newborn baby girls."
It's Always Sunny in Philadelphia is like the white-trash version of Seinfeld: a show about a group of highly immoral people who are at their funniest when doing the most depraved things the writers can think of. The show is going into its tenth season.
Burr is a good comedian for the people behind Sunny to throw their rudest and most out-of-line jokes behind. His already controversial reputation means that his fans will appreciate the type of humor that the Sunny writers are best at and a new show with a new actor and a new premise will give those writers fresh material to work with rather than attempting to keep working with what's available on It's Always Sunny.
It's Always Sunny has gotten rave reviews for the show's bizarre and fearless humor. "Just as Curb Your Enthusiasm so boldly and brilliantly attacks taboo subjects, so does It's Always Sunny in Philadelphia, though the humor is spread from one clueless, self-centered ass to four, clueless, self-centered slackers," said San Francisco Chronicle TV critic Tim Goodman.
That critical acclaim has continued through the show's nine year run, which is a huge feat in television where oftentimes shows' writers run out of juice after the first few seasons and coast on autopilot until they're killed by lackluster ratings. The ninth season has a Metascore of 85, indicating nearly universal acclaim among critics by the review-aggregating site Metacritic.
This spring It's Always Sunny was picked up by FX for an eleventh and twelfth season, guaranteeing the show will run through 2017 and making it the longest-running live-action comedy in cable history, Deadline reported. As Sunny keeps up the laughs, Pariah will give McElhenney, the Chernins, Day, and Howerton a new show to put their politically incorrect bite into and Burr is the a good fit for such a venture.
More from Entertainment Cheat Sheet:
Follow Jacqueline on Twitter @Jacqui_WSCS
Want more great content like this? Sign up here to receive the best of Cheat Sheet delivered daily. No spam; just tailored content straight to your inbox.