Bill Murray Has a 'Ghostbusters 3′ Dream Team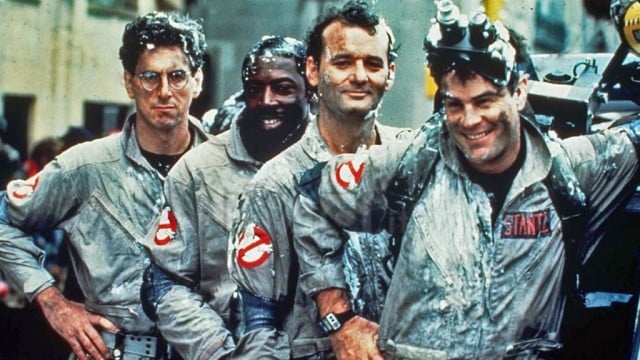 Not everyone is on board with the purported all-female version of Ghostbusters 3, but apparently Bill Murray is. The star of the classic comedy recently voiced his support for the reboot and even offered some suggestions on which actresses should join the cast.
The actor has made it very clear that he's not interested in creating another sequel to the beloved 1980s franchise and has no involvement in the rumored future film. But unlike many Ghostbusters fans, he seems to have no qualms about the idea of a female-driven iteration. "I'm fine with it," Murray told The Toronto Star. "I would go to that movie, and they'd probably have better outfits, too."
The comic actor didn't stop there. Murray went on to propose several names of actresses that he'd like to see don the Ghostbusters gear, including his St. Vincent co-star, Melissa McCarthy. "Melissa would be a spectacular Ghostbuster. And Kristen Wiig is so funny — God, she's funny!" he said to the Star. "I like this girl Linda Cardellini a lot. And Emma Stone is funny. There are some funny girls out there."
Cardellini is widely known for playing Velma in the Scooby-Doo films and recently had reoccurring guest roles on Mad Men and New Girl. Stone, like McCarthy, has also previously worked with Murray. The two co-starred in the 2009 horror comedy Zombieland and a still-unnamed upcoming project from Cameron Crowe.
Murray's positive reaction is notable, since the potential women-only reboot has gotten largely mixed reactions from fans of the original films, many of whom have detracted the idea altogether. But perhaps the actor's support will help convince them otherwise — especially if his suggested lineup is the one featured in the purported project.
Despite what critics of the all-female Ghostbusters 3 say, Murray is right about there being no shortage of "funny girls out there." There are plenty of talented actresses — some widely recognized, some not yet — with enviable comedic timing to choose from who could do an amazing job at bringing this reboot to life. That being said, his suggested lineup is certainly on point. Individually, all of the actresses he suggested are rock-solid performers, and Wiig and McCarthy, in particular, are big box office draws. Collectively, they're pretty much a dream team for any comedy.
While it's difficult to think that any movie starring this particular group of women would be anything but a success, it's important to remember that all casting choices for this film are purely speculative. There have been many rumored versions of Ghostbusters 3 over the years, and the female-centric reboot has yet to even be confirmed. In fact, this isn't the first time Stone has been attached to a Ghostbusters 3 film. Last year it was rumored that she'd been offered a part in a different version of the project, which revolved around a group of college students. The actress reportedly passed on the role.
Meanwhile, McCarthy and Wiig have also previously been named as frontrunners the most recent female-centric iteration of Ghostbusters 3. But again, that name-dropping is all theoretical. McCarthy herself recently revealed that she has yet to be approached about the project, although she also maintained she hasn't ruled out the possibility. If anything, she seems just as excited about the idea of the rumored cast as the rest of us. "Listen, if the people I think are doing it are doing it, I must never question them," she said, per The Toronto Star. "That's taking on a legend, a legendary movie. But I would do anything with those ladies, anything at all."
If the all-women Ghostbusters 3 does ever come into fruition, it's likely that director Paul Feig will be at the helm. Though former Ghostbusters director Ivan Reitman was originally thought to be leading the project, he recently confirmed that he wouldn't be returning to the franchise. Now, Sony is reportedly in negotiations with Feig to lead the reboot. It's not a surprising choice, given the filmmaker's previous success with female-driven movies like Bridesmaids and The Heat (which starred two of Murray's suggested picks, Wiig and McCarthy, respectively).
For now, it seems fans will have to see if all this talk ever comes to anything. Still, one thing's for sure: If the movie ever gets green-lit and manages to snag even half of the speculated cast, it will be a flick worth getting excited over.
More from Entertainment Cheat Sheet:
Want more great content like this? Sign up here to receive the best of Cheat Sheet delivered daily. No spam; just tailored content straight to your inbox.