Billy Bob Thornton's Psycho 'Fargo' Role May Beat Co-Star's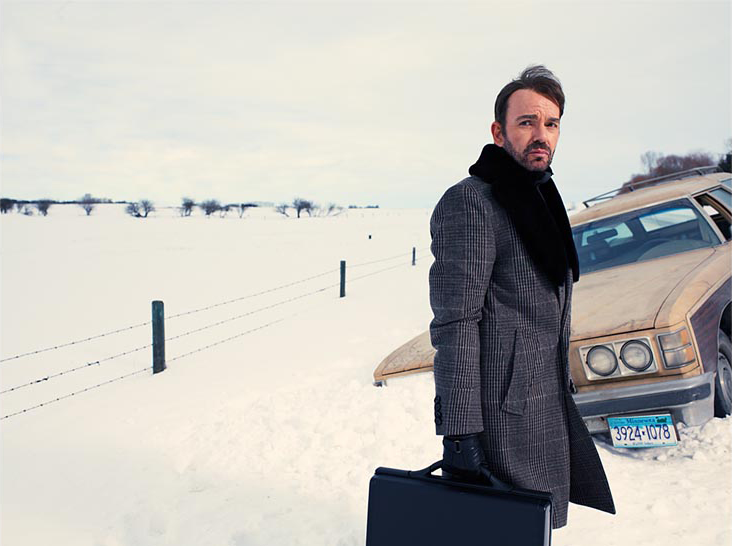 Billy Bob Thornton is nominated for an Emmy award for his performance as the mysterious hitman Lorne Malvo on Noah Hawley's TV miniseries re-telling of the Coen brothers' 1996 cult classic Fargo.
The show stars Billy Bob Thornton as charming hitman Lorne Malvo and Sherlock's Martin Freeman as average insurance salesman Lester Nygaard. Like the movie, it explores everyday life in the Midwest and how that life is disrupted (or not) by brutal violence. The story hinges around violent crime and the inexperienced police officers attempting to solve it. Malvo, a drifter, pushes the violence into action and drags the inept Nygaard along for the ride, while police officers Molly Solverson and Gus Grimly — who comes all the way to the town of Bemidji from Duluth due to his sense of guilt for a mistake that only made the case worse — try to make sense of the possibility that organized crime could have reached their neck of the woods.
The entire leading cast — Martin, Alison Tollman (who plays Molly Solverson), and Colin Hanks (who plays Gus Grimly) — are up for Emmy awards, as well as Hawley for the show's writing, but Thornton is the biggest name attached to the project and, as the star, looks the most likely to take home the trophy.
Thornton has built his career on bad boy roles like Armageddon, Bad Santa, and Love Actually. Shying away from big blockbusters, Thornton has always preferred to style himself as a character actor, and the character of Lorne Malvo continues the strange bad guy parts that he's gravitated towards. Malvo begins the series with a certain quirky likability typical of Coen brothers films, but as the ten episodes unfold, he becomes more openly psychopathic.
Thornton credits much of the success of the character to Hawley's writing. "The script was so well written that I didn't have to really do much in order to portray the character. I think what really attracted me to it was not much that he didn't have a conscience, as he has this bizarre sense of humor where he likes to mess with people," Thornton told Collider. "It's just a very odd thing. It's in keeping with the tone of the Coen brothers to have a character like that. Noah Hawley has managed to walk a tightrope with this thing, and he does a great job."
Fargo was just a one-season affair, and up next Thornton has several independent movies on his plate. He's co-starring alongside Robert Downey Jr. and Robert Duvall in this fall's The Judge, a drama about a big-city lawyer, played by Downy Jr., who returns to his small town where his father, who is also the city judge, is suspected of murder. The Judge is set to hit theaters on October 10.
Also coming up, Thornton will star alongside Amber Heard, Johnny Depp, Theo James, and a slew of models in London Fields, an adaptation of the Martin Amis novel about a young woman with several lovers and a clairvoyant vision that one of them will murder her. Grizzly is another film in post production from the actor, which sees him starring alongside James Marsden as the actors play two brothers attempting to reconnect in the Alaskan wild but have their efforts interrupted by a Grizzly bear.
Given that Thornton already has an Oscar — for best adapted screenplay for the 1996 film Sling Blade — nabbing an Emmy might not seem like that big a deal. He was also nominated for an Academy Award for best actor for Sling Blade and 1999′s Simple Plan. Fargo brings Thornton's first Emmy nomination, but the actor believes that television is providing better work for actors his age than movies right now. Given the high quality of television that's been seen in recent years, getting an Emmy award means more than it used to.
"Well, the fact of the matter is that we Baby Boomers really have to look to television now, and not only the performers and the writers, but the audience… And when I was coming up, television was a bad word. Now, it has a cache, and actors are clamoring to go on television because it's a place that we can do the things we were doing in movies," Thornton told Collider. "You can do terrific work in television now, and have a lot of freedom."
"I appreciate anything I can get these days," Thornton said of the Emmy nomination to The L.A. Times. "I'm happy and humbled. There's so many great performances out there. They could nominate 50 people in each category, so to be picked out is really nice."
Thornton is up against his co-star Martin Freeman for the outstanding actor in a miniseries trophy. Since Thornton is the biggest star on the show, the award seems more likely to go to him if anyone from Fargo is going to take it home, but Freeman could be a dark horse if judges are impressed enough by his choice to play so strongly against type.
More from Wall St. Cheat Sheet:
Follow Jacqueline on Twitter @Jacqui_WSCS
Want more great content like this? Sign up here to receive the best of Cheat Sheet delivered daily. No spam; just tailored content straight to your inbox.
[mediagraph-partner content_url="8486264a437fe65e7f9c63ac"]