'Billy on the Street' Decides if Paul Rudd Is Hotter Than Chris Evans
Billy Eichner recently celebrated the 15th anniversary of the show Billy on the Street. In the series, Billy interviews random people on the street and is usually accompanied by celebrities in themed episodes. For the anniversary episode, Chris Evans and Paul Rudd teamed up with Eichner.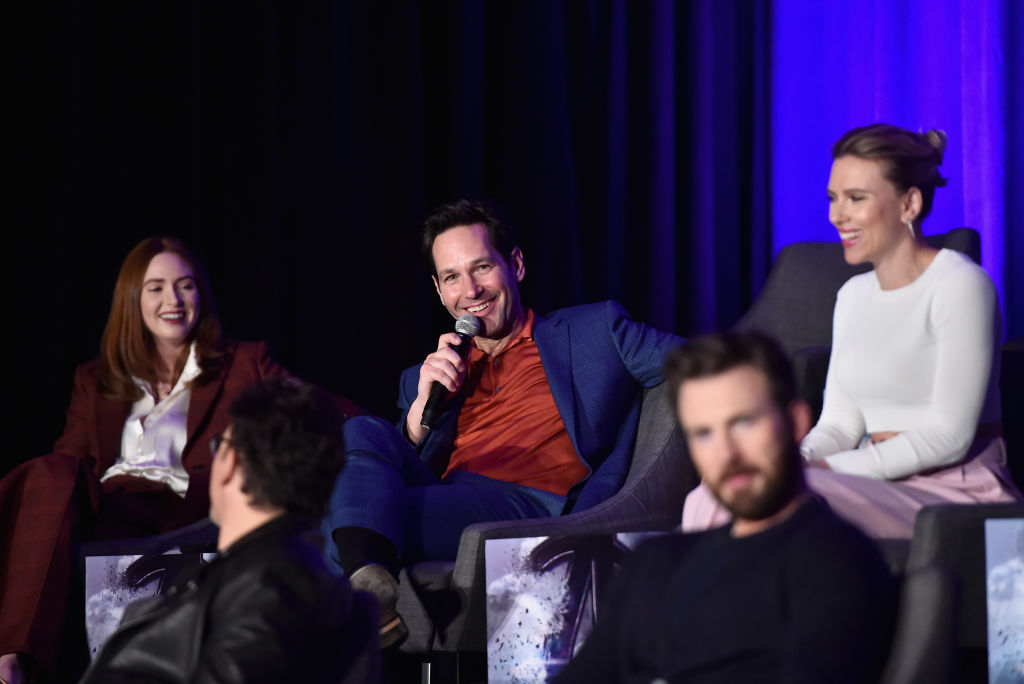 Billy Eichner asked a woman to choose between Chris Evans and Paul Rudd
Towards the end of the video, Rudd joined Evans and Eichner as they approached women on the street. With Rudd in tow, Eichner approached a woman on the street.
"Miss, for a dollar, who would you rather have sex with, Chris Evans or Paul Rudd?" He asked.
The woman responded with absolute certainty, "Paul Rudd for sure, all the way."
"Really, why?" Eichner asked.
"Because he's from Clueless and he's never ageing," she said.
Chris Evans was cut out of the rest of the interaction
Eichner agreed about Rudd's superpower of seemingly never ageing. Rudd walked up to the woman and smiled.
"Hi, you're so gorgeous," she told Rudd.
Eichner then turned to Evans and shoved him away from them.
"Can you please leave?" He yelled. "We're having a moment! Let the pretty people talk."
This is not the first Chris Evans and Billy Eichner collaboration
In 2018, a Twitter user created a mashup of audio of Eichner from Billy on the Street over a scene from Captain America: Civil War. The audio from Billy on the Street was from a segment called "Lesbian Lightning Round" and was placed over a scene of Steve Rogers running through an airport with other Marvel characters.
The mashup went viral with fans loving that the clip made it look like Evans' character was yelling "Let's go lesbians, let's go!" while running with Sam Wilson, Bucky Barnes, Clint Barton, Scott Lang, and Wanda Maximoff. Both Eichner and Evans noticed the clip as well.
"Hey @ChrisEvans this is what happened when someone put audio from Billy on the Street into Captain America," Eichner tweeted.
"That's exactly what I was going for in that moment. I'm glad someone picked up on my inner monologue," Evans tweeted.
'Billy on the Street' recreated the iconic meme
When Evans appeared on Billy on the Street, he recreated the viral meme with Eichner. At the end of the segment, Evans and Eichner took part in another "Lesbian Lightning Round." The two ran through the streets with a group of lesbians.
"Okay, guys, now Chris and I are joined by Chris' worst nightmare, a bunch of lesbians that don't care that he's hot," Eichner yelled as they ran.
At this comment, Evans could not hold back his laughter. Eichner then yelled out the iconic, "Let's go, lesbians, let's go!"
During Evans' appearance on Billy on the Street, Eichner mentioned Evans' new movie. The actor appears in Rian Johnson's upcoming film, Knives Out. The movie comes out in the U.S. on Nov. 27, 2019 and stars Evans, Daniel Craig, Christopher Plummer, Jamie Lee Curtis, Toni Collette, and Lakeith Stanfield.