'BIP': Apparently Dylan Was Terrible At Hiding That He's Engaged To Hannah G.
Dylan Barbour and Hannah Godwin got engaged on this last season of Bachelor In Paradise (was there ever really a doubt?). As soon as Hannah G. decided to stop pursuing her other options and switch her focus fully to Dylan, the couple became one of the more solid duos on the beach.
Post-finale, Dylan and Hannah seem to be doing better than ever. Fans who follow them on Instagram know that they're currently gallavanting around Paris and enjoying life as a newly engaged couple.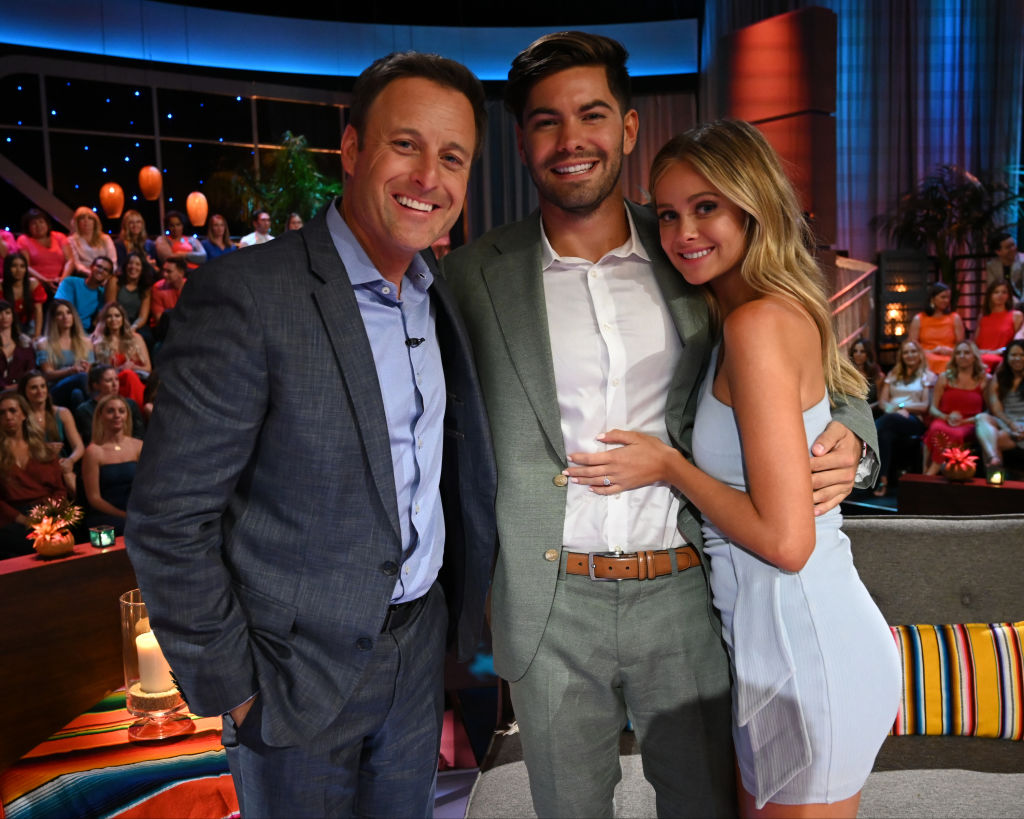 In a recent interview with Extra, Dylan and Hannah gushed over their current happiness.
"I definitely didn't know that signing up to go on a beach in Mexico could actually end as great as it did," said Hannah.
Dylan, on the other hand, said he did know a summer on the beach could end the way it did because he inteded to marry Hannah all along.
"That was my whole plan from the start so it worked out well," he said.
"He says that was his master plan," Hannah chimed in.
"To get her stuck on a beach with me for the whole summer," he concluded happily.
Dylan and Hannah are happy they don't have to hide their engagement anymore
It's standard protocol for Bachelor In Paradise couples to hide their relationship status until after the finale airs. Hannah and Dylan say they had a hard time not sharing their engagement (well, Dylan more than Hannah).
"I'm happy it's done airing, it's all out that we're together, we're engaged, because I would just yell it out of the car window and just drive so I wouldn't get in trouble. But now I can just tell people on the street," said Dylan.
Dylan admits that he was "terrible" at keeping the secret, and that he "may have let it slip a few times."
"I think I was better at hiding the secret. People would be like 'So tell me are you happy, are you together?' and I'd be like 'I don't know you'll have to see!' And he'd be like 'I'm really happy right now,'" says Hannah.
Dylan's 'Bachelor In Paradise' proposal to Hannah G.
Hannah swears that, going into the proposal, she had no idea what Dylan was going to do.
"Honestly, in the moment, I wasn't sure if he was going to do it or not. I feel like some people would have maybe an idea but I really had no clue if he was gonna actually do it. As soon as he got down I was just taking in the whole moment, like trying to wrap my brain around it, and I was like 'Oh wait I literally have one job and that's to answer' and I forgot because I was just like [so surprised]," she said.
Dylan says he definitley noticed her hesitation.
"I was literally and figuratively sweating because she wasn't saying anything, staring at me, covering her mouth so I can't see if she's smiling or about to start crying. But she said yes," he said.
As for the ring, Hannah says Dylan "did perfect."
"It's my dream ring and the meaning behind it all is even better," she said.
Read more: Why Tyler Cameron Thinks Peter Weber Is Going To Be A Great Bachelor And How He Thinks He'll Get Hurt