'BiP': Chris Bukowski Called Clay Harbor 'Just Another Guy With Commitment Issues' on Instagram
Clay Harbor from 'Bachelor in Paradise' is still feuding with Nicole Lopez-Alvar, and Chris Bukowski threw in thoughts of his own.
The latest season of Bachelor in Paradise may be over, but there's still plenty of residual drama going on with the stars. As we know, Chris Bukowski and Katie Morton fell in love on the beach — and Bukowski proposed to Morton on Decision Day. Their relationship hasn't been all sunshine and rainbows since production ended, however. During the BiP reunion, fans noticed Morton wasn't wearing her engagement ring despite her claims that she and Bukowski were still trying to make their relationship work.
Bukowski and Morton are still together, but another couple that seemed strong from the start aren't. Clay Harbor and Nicole Lopez-Alvar broke up at the end of the season. And recently, Bukowski told Harbor on Instagram that Harbor was afraid of committing.
Nicole Lopez-Alvar broke up with Clay Harbor after he wouldn't propose
Nicole Lopez-Alvar and Clay Harbor were attracted to each other right from the start. And while a few other men tried to steal Lopez-Alvar's heart, she always went back to Harbor. As for Harbor, his ex, Angela Amezcua, arrived on the beach toward the end of the season, too. And while Amezcua was busy going on dates and making new connections, Lopez-Alvar had her suspicions that Harbor wasn't quite over his last relationship.
Despite the drama, Harbor and Lopez-Alvar made it all the way to the end together. But when Lopez-Alvar wanted Harbor to tell her that he loved her, he couldn't do it. For that reason, Lopez-Alvar left him in the dust. According to Harbor's tweet, he did still want to continue dating Lopez-Alvar — he just wasn't ready to tell her he loved her or get down on one knee. Unfortunately, his slower timeline cost him the entire relationship, and the two have been dragging each other on social media ever since.
Lopez-Alvar is still slamming Harbor on social media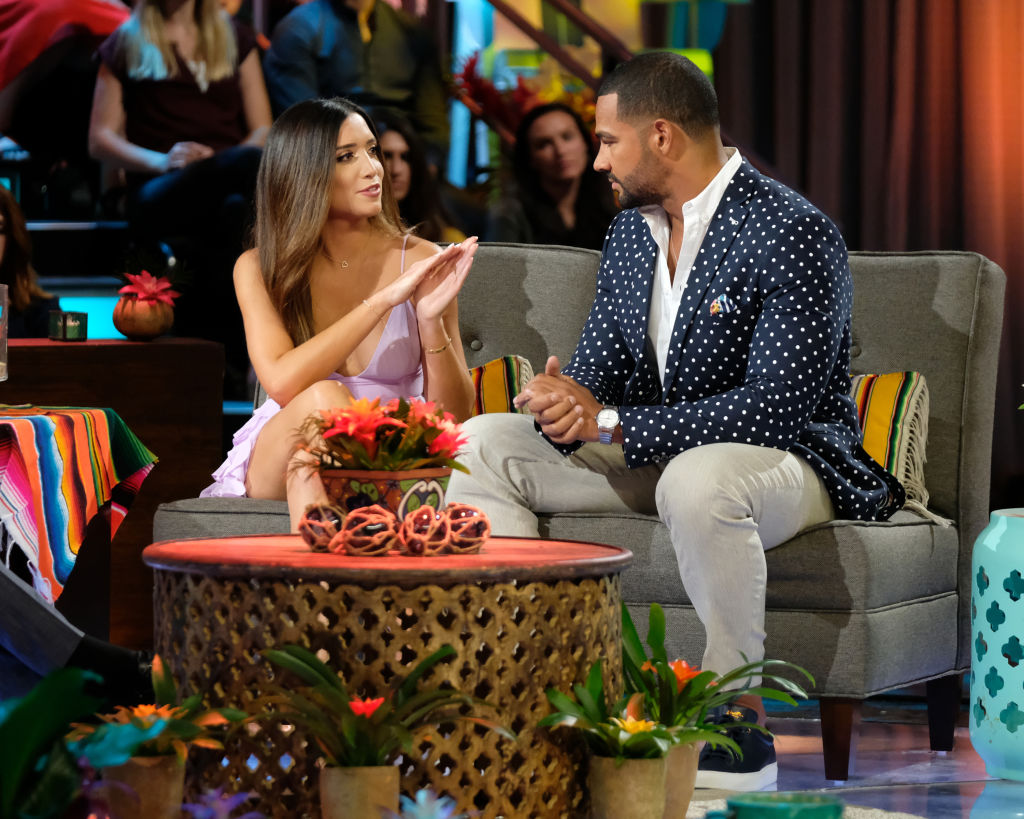 It's been a while since the BiP reunion, but Lopez-Alvar is clearly not over it. We can't forget that Harbor has also taken some shot at Lopez-Alvar, too, resulting in online feuds that fans have surely noticed. Recently, Harbor took to John Paul Jones' Instagram to make some comments. "Some things just take time," Jones captioned this post of him peacefully sitting by the water. To that, Harbor replied, "I learned engagements aren't supposed to."
Lopez-Alvar saw the post and had her own commentary to add, too. "Not everything can take as long as your gym sessions," Lopez-Alvar fired back. And when another user called Lopez-Alvar a "moron" on the same post, she had more to say. "He straight up went on two shows where the sole purpose is to find 'the one' and then he's out here 'confused' when he applied for those reality dating shows himself …," she started. Lopez-Alvar continued by saying Harbor strung her and Amezcua along and that he simply wanted his "15 minutes of fame" to see if he could get "back into his failed NFL career."
Chris Bukowski said Harbor has 'commitment issues'
Lopez-Alvar isn't the only Bachelor star commenting on Harbor. Harbor recently added a photo of himself to his Instagram with a caption about the change of seasons, and Bukowski commented, "Just another guy with commitment issues." To that, Harbor said back, "I'm not ready for Chicago winter like I wasn't ready to get engaged after 2 weeks."
Bukowski then wrote, "If you could only commit to someone like you commit to your 4 hour workouts you'd be a made man." Harbor wrote, " If I could commit like I do to my workouts I'd have 7 kids by now."
So, is there really animosity between the two stars? It seems they're just playing around, as one fan commented, "You guys realize he's joking right, they hang out all the time." If there's anyone who's clearly actually still upset with Harbor, however, it's Lopez-Alvar. And we doubt that feud is ending anytime soon.
Check out Showbiz Cheat Sheet on Facebook!