'BIP': Chris Bukowski Posts A Photo Without Katie Morton, Immediately Tells His Following Her Whereabouts
Chris Bukowski and Katie Morton didn't have the smoothest relationship on this last season of Bachelor In Paradise. Going into Fantasy Suites, Morton wasn't sure where Bukowski stood, and Bukowski seemed plagued by an inability to effectively communicate his feelings.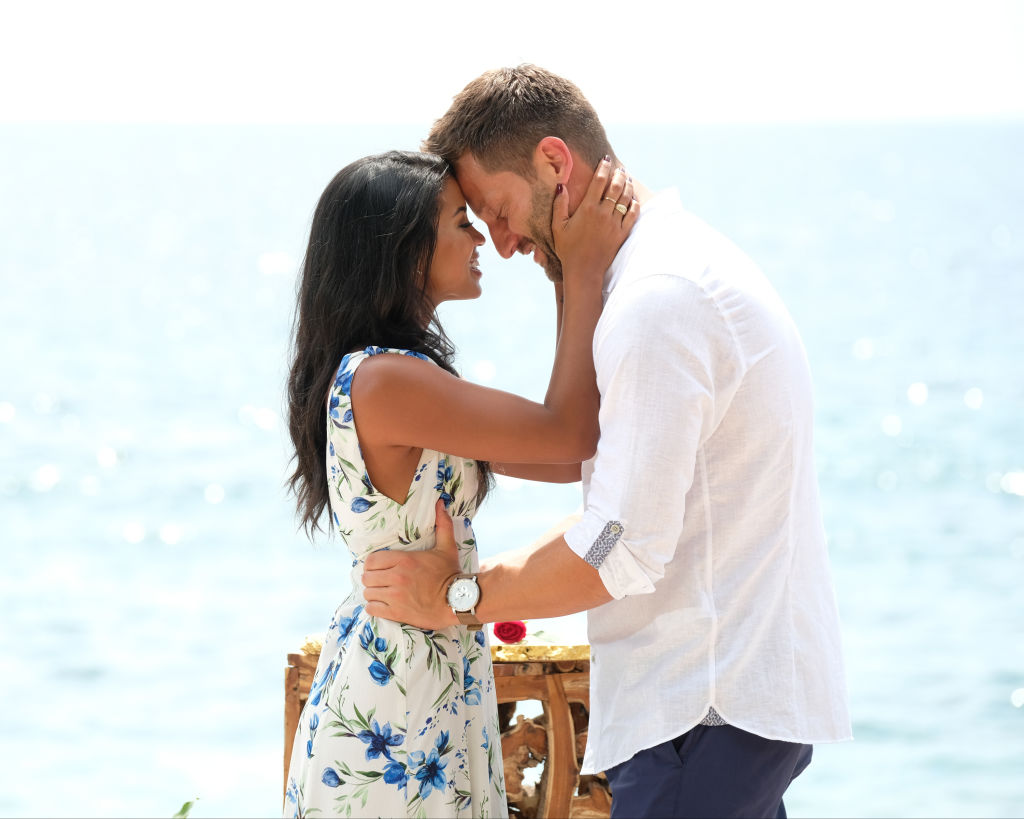 Bukwoski ended up proposing to Morton, but during the reunion, Morton wasn't wearing her engagement ring. She told host Chris Harrison that she hadn't felt properly loved in their relationship since the end of filming. Bukowski seemed blindsided by this and the two ended the episode not on great terms.
Chris Bukowski and Katie Morton are still together after 'Bachelor In Paradise'
But in several interviews and a few Instagram posts, Bukowski and Morton assured Bachelor In Paradise fans that they were still trying to make their relationship work.
"I can't promise you this relationship will be perfect (it won't be/ it isn't) and I can't promise we will last forever. Honestly, some relationships don't last after 20 years and some do, that's life. But what I can promise you is that I take this seriously, won't lose myself, I will always try my best, I will always keep it real, and we will have each other's backs," Morton wrote on Instagram.
Bukowski is a little less active on Instagram than Morton, but it seems he's learned his lesson about posting content that isn't Morton-related.
Chris Bukowski's Instagram post
He recently posted a picture of himself at The Knickerbocker Hotel in New York. He captioned the photo: "take me back to New York."
Shortly after posting, he wrote in the photo's comments section: "Since everyone will be asking.. Katie is currently in LA taking a walk around the block."
Upon the Bachelor In Paradise reunion's airing, Bukowski's social sites were filled with comments from the show's fans urging him to be better to Morton. They'd tell him to "keep her tank full" and make sure she felt loved, or else he'd lose her, they warned him.
Needless to say, Bukowski knows his following is very invested in his relationship with Morton. So when he posts a photo without her, he knows Bachelor Nation becomes nervous.
His following appreciated the update.
"that's all we wanted to know. Lol 😂" commented one fan.
"Haha! I was about to ask, where is Katie! You guys are my fav couple'" commented another.
"That's the way to handle it Chris 😂👏🏻👏🏻," wrote another.
"and we thank you!" exclaimed another fan.
As Bukowski's Bachelor In Paradise ever-changing chyron was sure to remind the show's viewers, he's no stranger to the Bachelor world. As of the BIP finale, Bukowski was sort of in hot water with Bachelor Nation regarding his relationship with Morton. He probably figures it's just easier to give his following a quick update on Morton whenever she's, literally, out of the picture.
Read more: 'BIP': Dean Unglert Says He's Relieved To Be With Someone Who's Perceived As 'Mean, Catty'–Caelynn Miller-Keyes