'BIP': Dean Unglert And Caelynn Miller-Keyes Are Surprising Each Other With Secret Trips
Bachelor In Paradise's token adventure couple, Dean Unglert and Caelynn Miller-Keyes, have been traveling together pretty steadily since they left Mexico.
Though this much traveling and the types of trips they've been going on are newer to Miller-Keyes, she says she's thankful that Unglert is bringing out her adventurous side.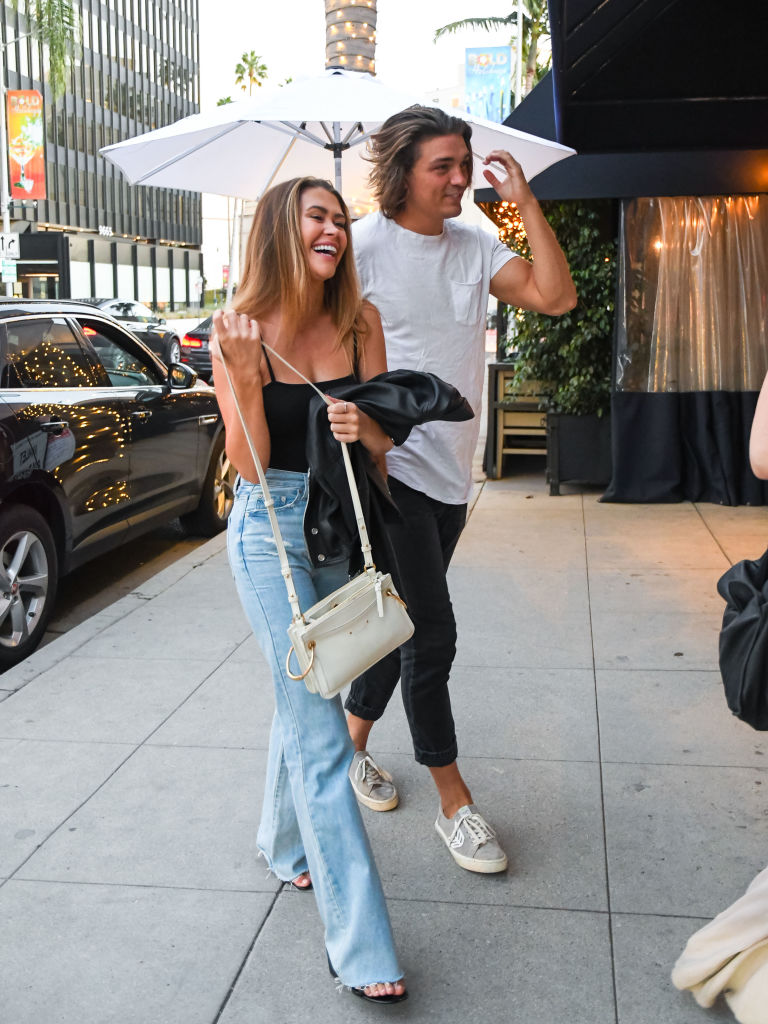 "Ok so I'm a pageant girl, people don't believe me, but I'm Miller and I'm Keyes, there's two last names, two families involved obviously, as every family, but the Miller side of my family–Dean just met my grandparents today, he met the Miller side–they're very adventurous," she told Access back in September.
Miller-Keyes continued: "They're hiking, they live in like airstreams, you know? I'm kind of embracing that side of myself that I never have before and it's been great."
Dean Unglert's surprise trip for Caelynn Miller-Keyes
Miller-Keyes and Unglert decided about a month ago to plan surprise trips for one another. The trip Unglert planned was first: Guatemala. Apparently, the surprise was ruined as soon as the couple got to the airport.
"Caelynn and I decided we wanted to take each other on a surprise trip before the end of 2019. The rules were we had to take the other person to a country they'd never been to before, it would last about seven days, and it had to be a surprise, no matter how much the other person begged to know," Unglert wrote on his travel blog.
He continued: "My surprise got ruined the second we got to the airport because we were running extremely late, the front desk was closed, and we had to plead with the agents at Avianca to print our boarding passes and let us sprint to our gate (shoutout to TSA pre-check)."
Despite the surprise being ruined, Unglert and Miller-Keyes were excited for their upcoming adventure.
"Even though the surprise was ruined, it was late at night, and we were a little bit hungry and exhausted, my excitement was piqued because I knew we were about to have some fun in a new country," wrote Unglert.
The couple spent their time in Antigua, Volcan Acatanengo, and Lake Atitlan.
Miller-Keyes wrote on her boyfriend's blog that she's glad the trip to Guatemala was a surprise because if she'd had time to research the country prior to visiting, she might have been "scared."
"Before this trip, I knew very little about Guatemala. I'm happy I didn't have time to research it beforehand because I get scared easily and sometimes put too much weight in other's experiences or opinions," she wrote.
Miller-Keyes continued: "On the second to last day, I read an article that said Guatemala is one of the most dangerous countries. I never felt that way. Our entire time in this beautiful, unique country, I never once felt unsafe. That being said, we were definitely smart while we traveled."
Caelynn Miller-Keyes' surprise trip for Dean Unglert
On Instagram, one of the former beauty queen's followers asked her when her trip for Unglert will take place.
"When do we get to find out where you are taking him?!" they asked.
"we go on my trip on the 11th of December!" she responded.
We don't have to wait much longer to find out where Miller-Keyes is taking her boyfriend. Now that Unglert's unlocked her adventurous side, the possibilities are endless.
Read more: 'Bachelor' Host Chris Harrison Takes His Girlfriend Lauren Zima Out On A Dream One-On-One To Celebrate Her Birthday