'BiP': Dean Unglert Just Snarkily Answered a Fan Who Asked Him How He Makes His Money
Dean Unglert's been on everyone's radar since 'Bachelor in Paradise,' and he just gave a sarcastic reply back to someone who asked how he makes a living.
Bachelor in Paradise may be over, but we're still busy keeping up with all the couples who are still together too. And a fan favorite from the season was certainly Caelynn Miller-Keyes and Dean Unglert. When Miller-Keyes first arrived at the beach, she was hung up on her past with Blake Horstmann — but everything changed when Unglert arrived on the scene. The two hit it off instantly, and while they had their ups and downs with Unglert coming and going from the show, they eventually decided to leave Paradise together and pursue their relationship off-camera.
We know Unglert and Miller-Keyes live quite an alternative lifestyle, and we also wonder how they're traveling so much without steady jobs. And when a fan recently questioned how Unglert makes his money, Unglert gave a sarcastic reply back.
Dean Unglert infamously lives in a van with Caelynn Miller-Keyes
If there's any couple who's willing to go out on an adventure, it's Unglert and Miller-Keyes. Unglert's long been known for his love of the wilderness, and he arrived in Paradise letting Chris Harrison know that he now lives in a van with no steady job. And while Miller-Keyes is known for her love of high fashion and pageant life, she's been making some major adjustments to also live the mobile life.
Cosmopolitan reports Miller-Keyes spoke highly of Unglert's adventurous spirit to Entertainment Tonight. She said, "In most relationships, I've dealt with, [I've had] a sort of complacency …. People are just complacent in their lives and they're happy where they're at, which is not an issue. But Dean is always searching for more and he's making me want to better myself and search for more as well. It's been great."
As for the van, Miller-Keyes noted her fashion choices have been greatly affected, but she loves her new spontaneous lifestyle and is embracing a whole new side of herself.
They both appear to make a living as social media influencers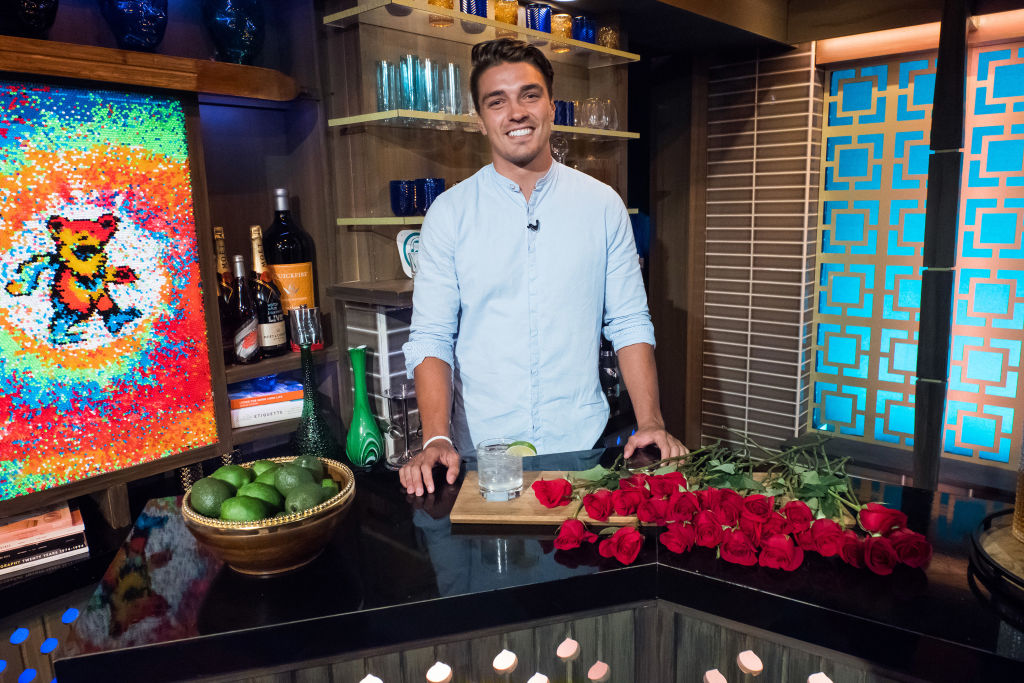 With one look at Unglert and Miller-Keyes' Instagrams, it's clear the two travel all over the place without too much rest between trips. Recently, Unglert's been to Utah, Egypt, and Hawaii in just a few weeks — and Miller-Keyes has also joined him on some of his trips. As for how they're both making their funds to go on these wild adventures, it seems it must be social media influencing. Both Miller-Keyes and Unglert are recognizable names in the Bachelor Nation world, and they've both advertised products on their pages for financial gain.
Bustle notes former Bachelorette Kaitlyn Bristowe has talked about why being an influencer is such a popular route for reality stars to go once their show is finished, too. "For somebody who has worked a regular job before, you're like, 'Oh my gosh, you're going to pay me to do that? Glorious." Not only that, but the publication also notes that those with a certain number of Instagram followers can make thousands of dollars per post.
Unglert responded to a follower who asked him how he makes money
It's clear Unglert and Miller-Keyes make a healthy living with their online presence, but others still question where the funds are coming from. Recently, Unglert posted a series of intense rock climbing photos and videos to his Instagram. In the comments, a fan asked, "Do you have a job???? It seems like all you do is play and travel!!! Who pays your way?" To that, Unglert snarkily answered, "i won the lottery."
Others seemed to support this answer, too. Another fan followed Unglert's answer with, "why should anyone question how or why! Live your best life while you can!!!" Not everyone in the comments seemed to understand this, though, as another follower asked, "I'm just curious…. How do you survive without a job????" They got no response from Unglert, however.
No matter what Unglert and Miller-Keyes are up to, it's clear they're making life on the road work for them!
Check out Showbiz Cheat Sheet on Facebook!