'BiP': Demi Burnett Pushes Back Against 'Slut Shaming' After Kristian Haggerty Breakup
Demi Burnett and Kristian Haggerty broke many fans' hearts when they broke things off after their Bachelor in Paradise engagement. Since their breakup announcement, Burnett has fielded rumors about dating various people within the Bachelor franchise. 
Burnett, who previously appeared on Colton Underwood's season of The Bachelor, recently took to social media to push back against the rumors, calling fans and critics out for "slut shaming" her and making false assumptions.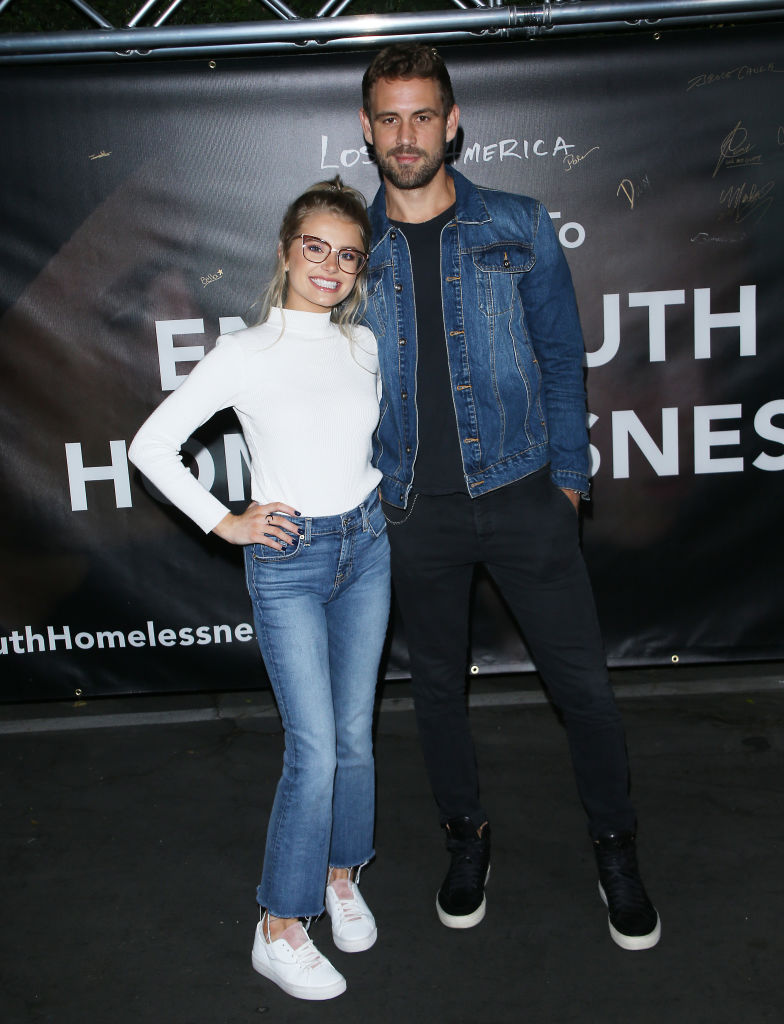 Burnett and Haggerty announced their breakup on Halloween
Haggerty and Burnett became the first-ever same-sex couple to have their love story play out on any Bachelor show or spinoff during the sixth season of ABC's Bachelor in Paradise in August 2019. Burnett came out as "sexually fluid" to her bestie and former Bachelorette Hannah Brown on the season's first episode. 
Their story arc charmed many viewers, especially when the couple got engaged on the season finale. But afterward, Bachelor Nation began to suspect that there was trouble in paradise. 
As it turned out, fans were correct. On Halloween 2019, Burnett and Haggerty released a joint statement on their respective Instagrams. They wrote in part, "With a heavy heart full of love for one another we have decided it is best for us to take a step back from our relationship. We ultimately want what is best for us in the long run and for us right now, that means being apart and growing individually."
They added that they would always be grateful for the support from fans during their time on Bachelor in Paradise, writing, "We have felt so much love and support from you all as you've followed our journey together and for that we are grateful."
Nick Viall recently denied rumors that he was dating Burnett
Soon after the breakup announcement, Bachelor fans began to wonder if Burnett was dating someone else. The Bachelor in Paradise star is often out and about for social events and work in Los Angeles and elsewhere, and she's affectionate with many of her friends.
Fans wondered if Burnett had something going on with Derek Peth, whom she dated briefly on Bachelor in Paradise, or even with Dylan Barbour (who is engaged). Pictures of Burnett getting cozy with former Bachelor Nick Viall around Halloween also sparked rumors on social media.
On his podcast The Viall Files, Nick cleared things up, calling his relationship with Burnett "platonic." "Demi is a close friend, a dear friend," he said on the episode. "We've become close and I care very much about her."
Burnett took to Twitter to criticize 'slut shaming'
On Nov. 17, Burnett finally clapped back at the various Bachelor dating rumors swirling around her. "Ya know what's f***ed? The fact that I cannot be seen with another single person without being accused of sleeping with them," she wrote. 
Burnett added that she felt she was being sexually shamed just for being friendly with people. "And it's not a positive accusation – it's essentially slut shaming me when I haven't had a sexual relationship with anyone but my hand," the Bachelor in Paradise star wrote on Twitter. 
Burnett concluded her Twitter thread, "And I personally don't give a rat's a** what people say about me. But my family sees that sh**, but I guess that's what I signed up for? Hell, I don't know, I just find it frustrating."
Bachelor Nation flocked to Burnett's social media to express their support and push back against the dating rumor machine. "I mean those are the same people that are convinced you fabricated a same sex relationship for publicity on television and checked out the moment the show finished airing," one fan wrote. "They piece together what they see on social media and it's a ripple effect."
Another Twitter user told Burnett that her reality star status didn't justify the gossip. "It's BS for people to say 'that's what you signed up for.' Yes, you signed up to go on a show to find love. Yes, you're now public eye. No, that doesn't give people the right to harass you," she wrote. "The public doesn't own you. I'm sorry you're dealing with this Demi."