'BIP': Derek Peth Has Now Commented on Both Tayshia Adams' and Demi Burnett's Instagrams
It's almost time for Peter Weber to take over the limelight as the new Bachelor — but many fans are still wondering what's going on with some Bachelor in Paradise stars. We know Tayshia Adams and Demi Burnett from Colton Underwood's season joined the cast on the beaches of Mexico in hopes of finding love. While they both left the show satisfied with their romances, it seems both ladies are single now. And Derek Peth, another BIP star who took an interest in both of them, might've noticed.
So far, we've noticed that Peth has left flirtatious comments on both Burnett's and Adams' recent Instagram posts. And fans have noticed, too. Here's what he wrote.
Derek Peth was romantically interested in Demi Burnett and Tayshia Adams on 'Bachelor in Paradise'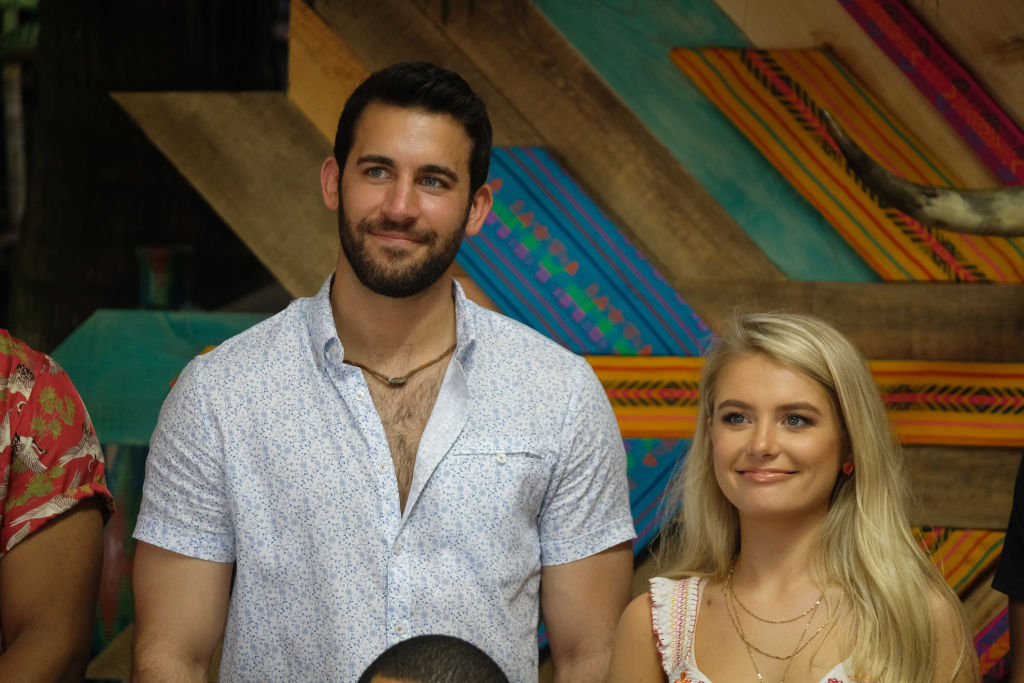 When all of the Bachelor and Bachelorette hopefuls looking for love finally arrived on the beaches of Mexico, it was Burnett and Peth who gravitated toward each other. The two of them had a steady relationship that had great promise for a long-lasting romance. Unfortunately for Peth, Burnett had fallen in love with a woman from back home, Kristian Haggerty — and Burnett chose Haggerty over Peth.
That wasn't the end of the road for Peth, however. Though he was devastated over losing Burnett, he took an interest in Adams, who also felt jilted by Blake Horstmann. While Peth and Adams also appeared to love spending time together, John Paul Jones also had a crush on Adams and insisted that he'd win the battle over her heart. Adams left the beach with no one — but at the BIP reunion, we know she chose to pursue relations with Jones over Peth in the end.
Peth seemed to draw the short straw with both of these relationships, but Burnett and Adams maintain he's a wonderful guy. And now that both ladies have ended their relationships they established in Paradise, we're all wondering if there's a chance they'd want to go back out with Peth.
He left a comment on Burnett's Instagram that had fans talking
Peth and Burnett had a well-established relationship in Paradise. And while Burnett chose Haggerty over Peth in the end, she maintained that he was a great catch and they might've stayed together under different circumstances. It seems Peth might have that in mind now, too, as he's taken to Burnett's Instagram to leave some comments.
On Nov. 10, Burnett added a photo of herself to Instagram showing off a plaid outfit with a jean jacket over the top. "Where did I park my Harley?" she captioned the post.
To that, Peth commented, "Bad Santa pt.2." And of course, fans noticed.
As one follower wrote, "petition to get Demi and Derek back together."
Another added, "time for a second chance."
Peth also left a flirty comment on Adams' Instagram
While fans would love to see Peth and Burnett get together, it looks like they're also rooting for Peth to go on a date with Adams. Peth and Adams' relationship wasn't as well developed on the show, but they seemed to have a fun time together regardless. And Peth just left an ultra-flirty comment on her Instagram photo of her in the French Alps.
"Cozy in the Chalet. Arrived to the French Alps today with @boohoo for the most epic ski trip! Can't wait to shred some fresh pow tomorrow!" Adams captioned her post.
To that, Peth commented on Adams' untied shoelace. He wrote, "need someone to tie your shoe?"
Even more fans commented on what Peth wrote to Adams than what he wrote to Burnett. One fan commented, "I'll answer for her…..yes, she does. I've needed you to tie her shoe since you left BIP. Make. It. Happen. Please, thank you, the end."
We'll have to wait and see if any of Peth's advances will lead to a date with either lady. For now, we're all hoping something will occur!
Check out Showbiz Cheat Sheet on Facebook!