'BIP': Does Tanner Tolbert Want to End the Feud with Demi Burnett?
The Bachelor in Paradise drama between Tanner Tolbert and Demi Burnett could be over. In August, Tolbert compared Burnett's pre-show relationship with a woman to other notable Bachelor Nation contestants. The back-and-forth feud sparked a Bachelor Nation debate over double standards. Read on to hear what Tolbert is saying about Burnett now.
What started the feud between Tanner Tolbert and Demi Burnett?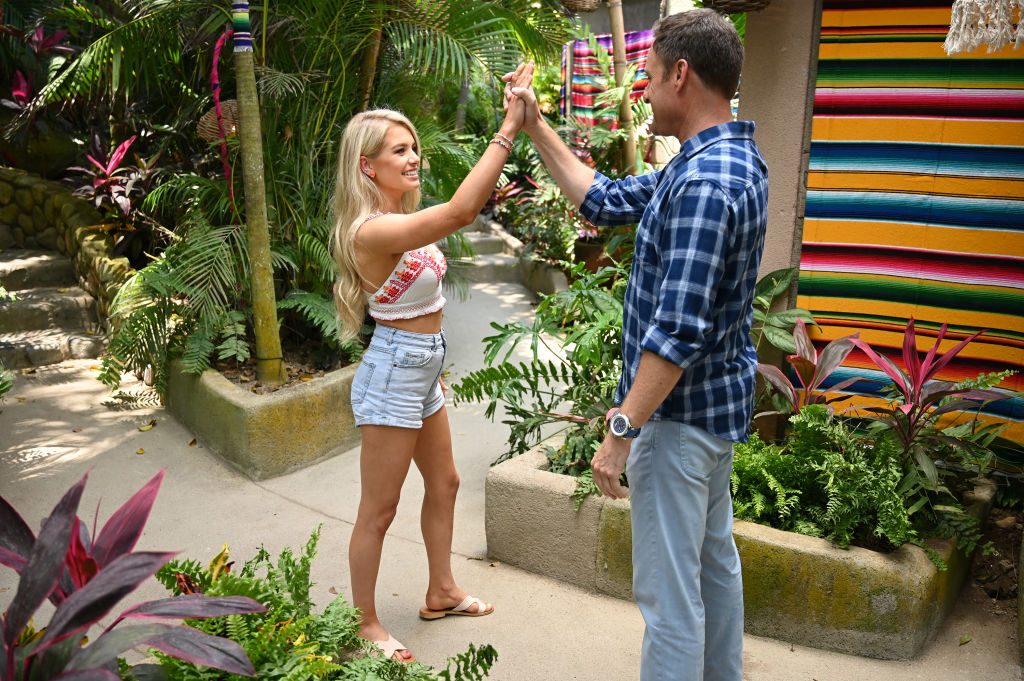 It all began when Burnett confessed to dating a woman "back home," while on the show. Burnett confided in Katie Morton during Week 2 of BIP.
"I have been dating a woman back home," she said. "I do miss her and I think about her all the time, and I am so in with her, but trying to come here and figure out stuff about myself … I really don't know what I want."
At the time, Burnett had a thing with Derek Peth, who was supportive of whatever she chose. While Peth may have been on her side, Tolbert took to Twitter to state otherwise, comparing Burnett with the alleged actions of The Bachelorette's Jed Wyatt.
It didn't stop there. Tolbert pointed to the irony of Burnett. She previously told former Bachelorette, Hannah Brown, about a contestant who had a girlfriend. That contestant was sent home.
Tolbert took some heat for dragging Burnett but Burnett fired back Tweeting the situation wasn't the same as Wyatt's. The two went back and forth like this for a while until one of the two finally buried the hatchet.
Former 'BIP' and 'Bachelorette' contestant, Mike Johnson also weighed in
As if there wasn't enough confusion, America's Bachelorette sweetheart, Mike Johnson, previously gave his thoughts on the Tolbert/Burnett feud (in case Burnett needed the extra support).
"She was upfront," he told Entertainment Tonight. "I think that Jed didn't reveal that he had someone back home until the very end, and I think that Demi revealed that she had feelings and she had been dating someone and told that to Derek [Peth] in the beginning. So, it's different," Johnson said. 
He continued: "If I could talk to Tanner, I'd be like, 'Homie, it's 2019. People have cell phones. People DM each other and text each other and slide into each other's DMs,'" he said.
"Personally, I wasn't trying to get with someone and see them on the beach, and that's what I'm gonna stick to is me and myself.
Does Tanner Tolbert want to end the feud with Demi Burnett?
As for whether the two could get past the drama and be friends, Tolbert told Entertainment Tonight, it's all good now.
"I was actually a huge Team Demi [fan]. She was actually one of my favorite contestants of all time," Tolbert said. "And we actually got together to watch week one of the NFL games with a few friends, so we actually got along great. We buried the hatchet. And all is well. At least on my end."
His wife, Jade Roper, shared her thoughts saying, "He's just a man of his own personal convictions.
"I don't change what I said, but I like Demi as a person and I wish her the best," Tolbert added.
We're not sure if the two are exactly best friends, but at least the internet fued is over and done with (for now).