'BIP': Hannah Godwin Roasts Dylan Barbour, Calls Him 'So Oily'
Hannah Godwin and Dylan Barbour are the last engaged couple from the most recent season of Bachelor In Paradise. And Bachelor Nation is happy to see them still going strong.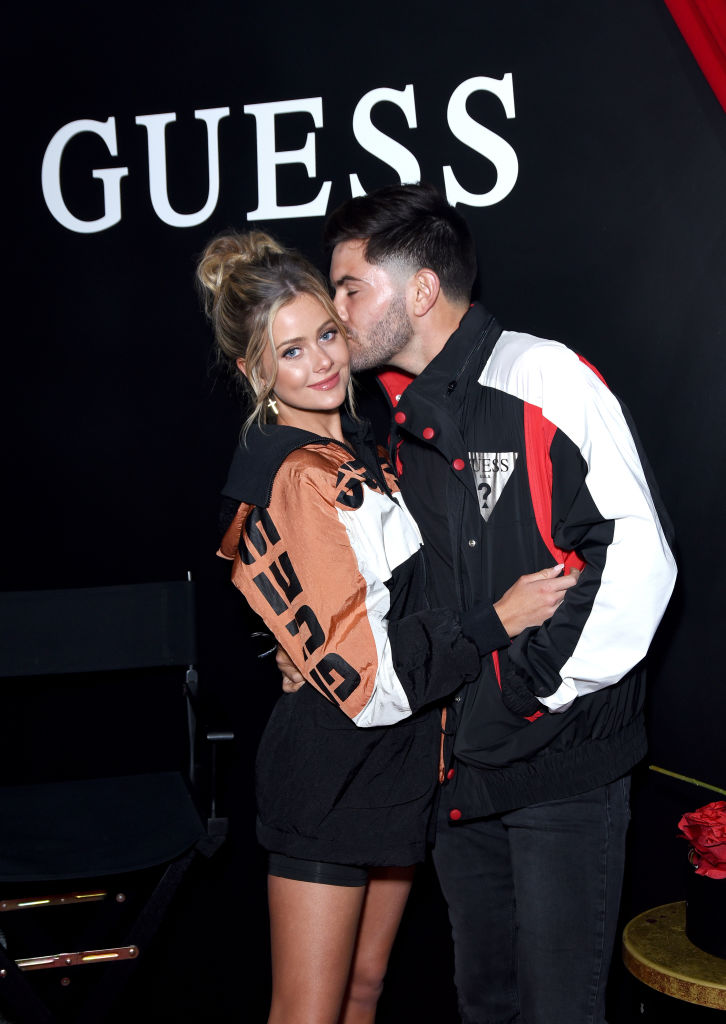 So what's the secret to their relationship? A good ol' fashioned roast now and then doesn't hurt.
Godwin just started a vlog where she shares makeup tips, outfit inspiration, and the fun outings she goes on.
Hannah Godwin's brutal Dylan Barbour roast
On one of her recent posts, Godwin, Barbour, Tyler Cameron (also of Bachelorette fame), and some of their friends attend a concert in Los Angeles. On their way there, Godwin says "Everybody say your biggest roast about Dylan."
"Dylan wears girls jeans," says one friend.
"Dylan sends like 40 tests in a row," says another.
"You have the same hair cut as me," chimes in another.
Sweet, sweet Cameron, however, has no roast to offer.
"I love Dylan. I have nothing to roast about him."
But, no fear, Godwin picks up his slack.
"He's so oily," she says, in addition to letting him know at an earlier point in the video that his outfit makes him look like Billie Eilish.
Of course, the rest of the video features a lot of Hannah-and-Dylan-being-adorable content.
Bachelor Nation was sure to take to the comments of the YouTube video to remind the couple that they're their favorites.
"nothing but love for MY godwin's," commented one fan.
"U and Dylan are the cutest," wrote another.
"You and Dylan are the dream couple😍 🔥" wrote another.
"Abhhhh Dylan and u are soooo cute "everyone say your biggest roast about Dylan " LMAOOOO," commented another.
How Hannah Godwin and Dylan Barbour maintain a healthy long-distance relationship
Godwin and Barbour were recent guests on Entertainment Tonight's "Roses and Rose."
They were asked the secret to their "relationship's success."
"I think we just place our relationship above everything else. We make an effort to see each other probably three to four times a week and talk every day non-stop," said Barbour.
Godwin also shared that she and Barbour make a point to never go to bed angry.
"We never go to sleep like angry or mad. It's just like always putting it out on the table even if it doesn't sound great, just like how we feel. I feel like that's been good," she said.
The couple added that they don't "fight" very often.
"It's more like joking. Like I feel like if we've ever had a disagreement we end up laughing at the end of it just because we're like, 'this is going nowhere,'" said Godwin.
"We just talk through it," Barbour agreed.
"It's just the most unedited way coming out of our mouths. It's like whatever we have just putting it out there," added Godwin.
Looks like we'll be seeing lots more vlog outings (perhaps a lifetime's worth) featuring the antics of Godwin and Barbour.
Read more: Months Later, 'BIP' Fans Weigh In On Whether Caelynn Miller-Keyes Made The Right Choice Leaving With Dean Unglert